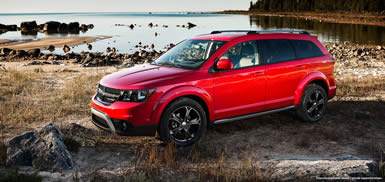 The 2016 Dodge Journey Crossroad Plus Review: It's tough to stand out in today's hyper-competitive market for crossover vehicles, but Dodge is giving it a shot by making the Journey a contender for the top value crown. In the past year I've driven lots of crossovers, those family haulers that look like rugged SUVs but are actually built and designed like cars, all of which are jostling for attention on a crowded stage. Some have fancier cabins, quieter rides, sportier handling or trendier looks than the Journey, but I don't think any provide quite the same bang for the buck that the plucky Dodge is offering.

It starts at under $21,000, which is remarkably affordable for a mid-size crossover and even more so for one that can be fitted with a third-row seat. Heck, it's priced almost as low as its pint-size, sub-compact SUV competitors that don't offer nearly as much space and versatility.

Yet even at a low price point, the Journey checks many of the same boxes as its pricier competitors. It has a spacious cabin and long list of available safety features and technologies that today's buyers favor. And it has the tall, aggressive look of an SUV that many people prefer over the warmed-over style of an ordinary sedan.

My tester came with heated leather seats, a heated steering wheel, the touchscreen navigation system, three-zone climate control and remote control start, putting the as-tested price around $32,500. I've driven similarly equipped crossovers that I thought were a good value priced in the mid- to high $30s, or even higher, so it makes the Journey's bargain stature look even more impressive. It's also impressively refined and will surprise people who haven't driven the Journey in a few years.

Several years ago, this car was panned for its refinement, or lack thereof. It's changed dramatically since then, though, with both things you can see, like a new, tight-fitting cabin with ample soft-touch points, and even more that improved under the sheet metal. Its ride has gotten dramatically silkier and quieter than it used to be, for example, although it's still not the most luxurious on the market.

Two things stood out in my drive of this crossover. One, I just loved the six-cylinder engine on my test car, a $1,700 option. The 3.6-liter Pentastar V6 makes 283 horsepower, enough to give it a meaty grunt that so many of today's eco-conscious crossovers lack. It delivers the power in a smooth, consistent way across the rev range, and gas mileage isn't too bad even when you choose the V6. It's rated for 25 mpg on the highway, a tradeoff I could live with.

And Two, I'm glad Dodge lets you configure the Journey in a wide range of ways to suit your family's exact needs. They call it the "Swiss Army knife of crossovers," and there's some truth to that.

You can get it with a four-cylinder or V6 engine, front-wheel or all-wheel drive, with two rows or three rows of seating, and with several options for changing the car's visual personality from the factory.

My tester, for example, had the Crossroads package that gives the body a unique, almost custom look with dark colored wheels, darkened headlamps and taillamps and what Dodge calls "phantom chrome" accents all around.

Still, no amount of fancy trim can hide the fact that the Journey's body remains very traditional. It's not as modern looking, you might say, as some of the sleeker, rounder crossovers out there, but it could be a good fit for people who like the upright, slightly boxy look of a classic SUV.
What was tested? The 2016 Dodge Journey Crossroad Plus with a base price of $26,095. Options on the test SUV: Customer preferred package for $1,100, the popular equipment group for $1,250, the navigation and backup camera group for $1,195, two child boosters for $225, and the 3.6-liter V6 engine for $1,700. The total MSRP price as tested including the $995 destination charge came to: $32,560

Wheelbase: 113.8 in.
Length: 192.4 in.
Width: 72.2 in.
Height: 66.6 in.
Engine: 3.6-liter Pentastar V6 (283 hp, 260 lb.-ft.)
Transmission: Six-speed automatic
Mileage: 17 city, 25 highway

Why buy it? It's a value leader in the crossover segment, trying to offer the same features and versatility of its competitors, at a lower price point. Plus its V6 engine feels wonderfully meaty. By Derek Price © AutoWire.Net - San Francisco
The Dodge Journey Crossroad Plus Bottom Line Review provided by: Tony Leopardo © AutoWire.Net
The Bottom Line: The affordably priced Dodge crossover offers a wide range of configurations and options. While it's built like a car, the 2016 Dodge Journey has the upright, rugged shape of an SUV. It's a good option for value shoppers in the crossover market. The large 8.4-inch touchscreen dominates the center stack in the Journey Crossroad Plus models, and it makes the options and accessories so much easier to control than most other crossovers in this class. And maybe, just for those reasons alone, you should "Drive one, Buy one, Today ©". Bottom Line Review provided by: Tony Leopardo © AutoWire.Net
"Tony the Car Guy" is an automotive writer, editor and publisher in the San Francisco Bay Area. If you have a question or comment for Tony send it to TonyLeo@pacbell.net or visit AutoWire.Net at www.autowire.net - And remember: "You Are What You Drive ©"

Column Name: The Journey has lots of bang for the bucks
Topic: The 2016 Dodge Journey Crossroad Plus
Word Count: 958
Photo Caption: The 2016 Dodge Journey Crossroad Plus
Photo Credits: Dodge Journey Internet Media
Series #: 2016- 04
Download the Microsoft Word version here: 2016 Dodge Journey
Download the Original Image File here: 2016 Dodge Journey