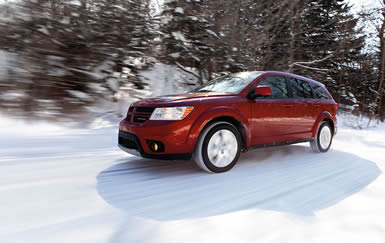 The 2013 Dodge Journey SXT Review: The Dodge Journey had a difficult start to life. It was designed at a time when Chrysler was nearly bankrupt, and it came to market in 2009 as a rough-hewn stone of a crossover. But now that the new Chrysler has had some time to polish it, the Journey has turned into quite a gem.
One of the most obvious improvements is in the cabin, where better sound insulation and suspension refinements make it one of the quietest crossovers I can recall driving. It's a drastic change in a short amount of time. It also has an unusually smart cabin layout for its class. It's a compact crossover with a starting price around $19,000, which puts in one of the most competitive categories of the automotive world.
Virtually all its competition only offers seating for five, while the Journey can seat up to seven. Dodge managed to squeeze an optional third-row seat into the back, which allows for a couple of extra passengers and gives it those bragging rights.
When equipped with the optional V6, the Journey is surprisingly SUV-like in its capability. The 3.6-liter Pentastar V6 makes a hearty 283 horsepower, which is more than ample for accelerating and passing, while getting a 25-mpg highway fuel economy rating.
The four-cylinder version of the Journey makes 173 horses, not a bad amount of power, but an outdated design and the four-speed transmission means it only qualifies for a 26-mpg highway rating. That's barely better than the V6, and considerably lower than most of its four-cylinder competitors.
Other than that, there's not much to complain about in the Journey. The interior packaging is so smart, including a "Flip-N-Stow" in-seat storage system that lets you hide things under the seat cushions, that it feels very cool in terms of clever little storage bins.
One nice feature is the large, 8.4-inch touchscreen on the Uconnect Media Center that dominated the dashboard on my test car. It responds quickly to input, has easy-to-understand graphics, and its big size makes the digital "buttons" simpler to read and push while driving.
From a styling perspective, the Journey looks a little boxier and tougher than the rounded off, jellybean shape of many crossovers these days. If you want the most sinister, sporty-looking version, Dodge offers a special Blacktop Edition with black wheels, a black grille and black mirrors.
I liked the look on my test car because it minimized the vague Grand Caravan styling cues that you can detect on the ordinary Journey. It looks like less of a family hauler in Blacktop trim.
Overall, if you're looking for a compact crossover that doesn't feel so compact, the Journey should be first on your list to test drive. It offers a lot of space and with the V6, a lot of capability for the money.
What was tested? The 2013 Dodge Journey SXT with a base price of $23,295. Options on the test car: The Blacktop Edition for $995, Uconnect 8.4 for $595 and the Popular Equipment Group for $1,195. The total MSRP price as tested including the $995 destination charge came to: $27,075.
Why hesitate? If you're looking for fuel efficiency, Dodge doesn't have a great option in the Journey right now.
Why buy it? It's one of the quietest riding crossovers and also offers a third-row seat, a rarity in this class.
Video Review: What's cool about the Dodge Journey http://bit.ly/14959Zh
By Derek Price © AutoWire.Net - San Francisco
The 2013 Dodge Journey SXT Bottom Line Review provided by: Tony Leopardo © AutoWire.Net
The Bottom Line: The 2013 Dodge Journey has a tougher, boxier look than many SUV's do. It's also available with a third-row seat, something rare among compact crossovers. With a refined quiet cabin the new Dodge Journey stands out as one of the best crossovers in its class. Plus the contrasting color stitching and the big digital display in the center of the dash gives the Journey's cabin a more luxury and premium feel. With price, seats and power there is now a Dodge Journey for just about everyone, so you should "Drive one, Buy one, Today ©"
Bottom Line Review provided by: Tony Leopardo © AutoWire.Net
"Tony the Car Guy" is an automotive writer, editor and publisher in the San Francisco Bay Area. If you have a question or comment for Tony send it to TonyLeo@pacbell.net or visit AutoWire.Net at www.autowire.net - And remember: " You Are What You Drive © "

Column Name: Journey makes a turnaround
Topic: The 2013 Dodge Journey SXT
Word Count: 793
Photo Caption: The 2013 Dodge Journey SXT
Photo Credits: Dodge Journey Internet Media
Series #: 2013- 11
Download the Microsoft Word version here: 2013 Dodge Journey
Download the Original Image File here: 2013 Dodge Journey