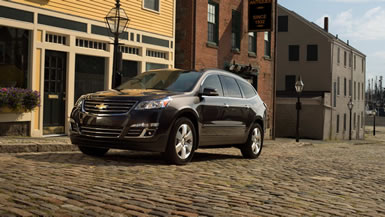 The 2014 Chevrolet Traverse Review: If I'm buying a crossover vehicle with three rows of seats, there's one question at the top of my mind: Will I feel safe putting my family in this car? In the case of the Chevrolet Traverse, the answer is yes.
It's got the requisite safety accolades, including an overall five-star rating from the National Highway Traffic Safety Administration. It's also got some innovative safety features, including the industry's first center air bags that are mounted in the front seats and designed to protect from side-impact crashes. And more important than that, the Traverse has a solid, substantial, feeling that inspires confidence from the driver's seat.
This feels like a heavy vehicle, one that drives with car-like agility but SUV-like solidity. There's a lot of meat on its bones. That kind of feeling is becoming rarer as new crossovers are being introduced with lightweight designs to save gas mileage. The best ones have some seriously eye-popping mileage numbers.
The older Traverse platform, though, does not. It's rated for just 17 mpg in city driving and 24 mpg on the highway for 2014, a sign of its age in an era when fuel economy is king. On the flip side, those mileage figures don't seem so bad if you're looking for a crossover that seems robust enough to put your children in. The more efficient crossovers often feel flimsier and slower, whereas the vault-like Traverse still has ample acceleration from its
288-horsepower engine that makes it feel safer when merging or passing on the highway.
In other words, do you want a car that feels like it's made of aluminum foil or steel I-beams? For the best fuel economy, the foil will suffice. But if you're in a wreck, you want the heaviest, thickest steel you can find, which is the feeling you get in this big Chevy.
But it's the safety features that push it toward the top of my list. That's even more true in 2014 as Forward Collision Alert and Lane Departure Warning are standard on LTZ models and optional on LT trim. It inspires confidence, and that's critical in a family vehicle.
What was tested? The 2014 Chevrolet Traverse FWD LTZ with a base price of $41,255. Options on the test car: Navigation system for $795, trailering equipment for $575 and a rear seat entertainment package for $1,445. The total MSRP price as tested including the $875 destination charge came to: $44,945.
Engine size: 3.6L V-6 DI VVT (288 hp, 270 lb.-ft.)
Transmission: Hydra-Matic 6-speed automatic
EPA Mileage: 17 city / 24 highway
Why buy it? It feels solid at a time when crossovers are getting flimsier to save gas. The LTZ cabin is one of the nicest on the market.
By Derek Price © AutoWire.Net - San Francisco
The 2014 Chevrolet Traverse Bottom Line Review provided by:
Tony Leopardo © AutoWire.Net
The Bottom Line: The Chevrolet Traverse upgrades its safety equipment for 2014. Forward collision alert and lane departure warning are now standard on all LTZ models, and optional on the LT trim. Its cabin has moved upscale with its soft-touch stitched dash materials and leather seats, and its ride has just the right amount of firmness for a car this size. The Traverse's cabin remains one of the plushest in its class and these are the things that make the Traverse stand out, even in a very competitive crossover market. That's why you should "Drive one, Buy one, Today ©" Bottom Line Review provided by: Tony Leopardo © AutoWire.Net
"Tony the Car Guy" is an automotive writer, editor and publisher in the San Francisco Bay Area. If you have a question or comment for Tony send it to TonyLeo@pacbell.net or visit AutoWire.Net at www.autowire.net - And remember: " You Are What You Drive © "

Column Name: Chevrolet crossover has substantial feel & new equipment
Topic: The 2014 Chevrolet Traverse
Word Count: 686
Photo Caption: The 2014 Chevrolet Traverse
Photo Credits: Chevrolet Traverse Internet Media
Series #: 2013- 19
Download the Microsoft Word version here: 2014 Chevy Traverse
Download the Original Image File here: 2014 Chevy Traverse