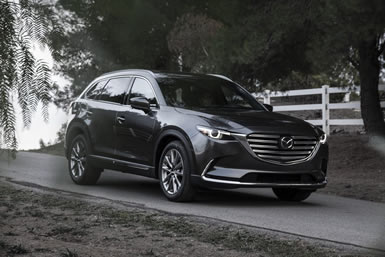 The 2017 Mazda CX-9 Grand Touring AWD Review: The Mazda CX-9 has long been one of the sportiest three-row crossovers you can buy, and certainly the sportiest in its price range. If you like that connected-to-the-road feeling from behind the wheel, you'll like the CX-9. The 2017 version takes everything up a notch. It's still got its characteristically crisp driving feel, but it's more polished now with a turbocharged engine, a modern all-wheel-drive system and a cabin that's as beautifully designed and well thought out as anything in this price class.

In fact, especially if you opt for the high-end Signature trim level, luxury is something the CX-9 does well. The new platform rides quieter and smoother than before, which provides a good starting point for any luxury vehicle, but the design and finish inside the cabin both make it seem more expensive than it is.

For example, one big piece of aluminum trim on the dash is designed to evoke the craftsmanship of Japan's famous hand-made knives, and you can get it with rosewood trim on the center console. It feels like a thoughtful, serene place to spend time.
It's also got the same upside as all the recently designed Mazda's: good fuel economy for how fast it feels.

The CX-9 is no slouch; with its new turbo engine making 250 horsepower with premium fuel and, more importantly, 310 pound-feet of torque to make it feel quick off the line. But it still manages to get a 22-mpg rating in the city and 28 on the highway, which Mazda says is the best in this class.

You could read all day about the sensors and tech features in this car, which is typical of any freshly redesigned vehicle. It has sensors that try to prevent wrecks, monitor your blind spots and adjust your vehicle speed when on cruise control to follow the car in front of you.

It can steer itself to help keep you in the center of the lane, and the steering wheel will vibrate if you start to stray over a line. It can automatically dim your bright headlights for oncoming vehicles and automatically brake to prevent or mitigate crashes.

Is it a perfect vehicle? No. There's no such thing. I wish it had more cargo space, along with a bit more room for passengers in the third row. It feels like Mazda is trying to squeeze too much stuff behind the second row in this vehicle.

Beyond that, especially if you're going to spend most of your time with the third-row seat folded down, there aren't many downsides to the new CX-9. It looks good, drives well, gets good gas mileage and makes a very practical crossover for today's families.
Pricing starts around $31,500 for the base model and ranges up over $44,000 for the Signature trim that comes standard with all-wheel drive.
What was tested? The 2017 Mazda CX-9 Grand Touring AWD with a base MSRP price of $41,970. Options on the test car: Soul Red Metallic paint for $300. Total price as tested including the $900 destination charge came to: $43,170

Wheelbase: 115.3 in.
Length: 199.4 in.
Width: 77.5 in.
Height: 69 in.
Engine: 2.5 liter turbo inline 4 cylinder (250 hp, 310 ft. lbs.)
Transmission: Six-speed automatic
Fuel economy: 21 city, 28 highway

Why buy it? It gets great gas mileage, and still feels quick and fun from the driver's seat, something unusual, not just for this category, but for all cars in general. It's a very nice, brilliant, and total package for 2017. By Derek Price © AutoWire.Net - San Francisco
The 2017 Mazda CX-9 Grand Touring AWD Bottom Line Review provided by: Tony Leopardo © AutoWire.Net

The Bottom Line: The 2017 Mazda CX-9 Grand Touring AWD remains wonderfully fun to drive for a three-row crossover while also getting better gas mileage and offering new technologies. There are plenty of things to like about it, starting with the way it looks. It's sleek and bold, with a gaping grille and swept-back lines that seem prettier than most of the boxy, SUV-looking people movers it competes with. The new CX-9 comes with standard LED lighting across the lineup too, something that was only offered on luxury vehicles until fairly recently. Plus it has a sprightly driving feel, an efficient engine and those three rows of seats. And maybe, just for those reasons alone, you should "Drive one, Buy one, Today ©".
This Bottom Line Review is provided by: Tony Leopardo © AutoWire.Net
"Tony the Car Guy" is an automotive writer, editor and publisher in the San Francisco Bay Area. If you have a question or comment for Tony send it to TonyLeo@pacbell.net or visit AutoWire.Net at www.autowire.net - And remember: "You Are What You Drive ©"

Column Name: An Impressive Three-Row Crossover from Mazda
Topic: The 2017 Mazda CX-9 Grand Touring AWD
Word Count: 850
Photo Caption: The 2017 Mazda CX-9 Grand Touring AWD
Photo Credits: Mazda Internet Media
Series #: 2017 - 03
Download the Microsoft Word version here: 2017 Mazda CX-9 Grand Touring AWD
Download the Original Image File here: 2017 Mazda CX-9 Grand Touring AWD