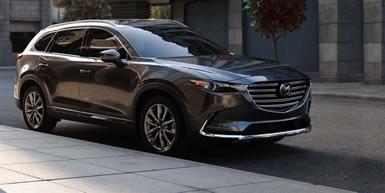 The 2019 Mazda CX-9 Signature AWD Review: Even without big trucks in its lineup, Mazda's 2018 sales numbers offer a snapshot of how America's "car" industry is no longer about cars. The final tally is in, and Mazda's line of cars, the Mazda3, Mazda6 and MX-5 Miata, dropped 13 percent last year, totaling just under 105,000 units sold. Meanwhile, its stable of crossover vehicles, the CX-3, CX-5 and CX-9, jumped up 15 percent to nearly 196,000 sales. Even a brand built around sporty driving dynamics is selling nearly twice as many truck-like crossovers as it is traditional cars. That blows my Miata-loving mind. A week behind the wheel of Mazda's biggest vehicle of all, the CX-9, helps explain why.
From a physics perspective, the CX-9 seems innately opposed to this brand's fun-to-drive mission. It rides higher, weighs more and looks portlier than anything else in the Mazda showroom, with three rows of spacious seating being its chief selling point.

From the driver's seat, though, it still delivers a sense of connection to the road that vehicles this size once lacked. Just like the sparkling handling on Mazda's sporty cars, you can tell someone who cares deeply spent a lot of time refining exactly how the steering, brakes and especially the suspension should feel.

The CX-9 was already one of the best-riding crossovers last year, but Mazda tweaked the suspension to be smoother and quieter for 2019. More sound insulation in the form of thicker headliner and carpeting materials help give the cabin a luxury-car-like silence, despite still feeling sprightly in turns.

Other new features include Apple CarPlay and Android Auto on the Touring trim and higher, along with a 360-degree parking view and ventilated front seats. The end result is a vehicle that makes more sense for American families.

Unlike the thirsty, truck-based SUVs that rose to prominence in the 1990s, driving the CX-9 doesn't require many compromises compared to a sedan. Its highway fuel consumption of 28 mpg is comparable to many economy cars in the '90s, yet it still offers the roominess, flexibly and visibility that made SUVs so popular.

Since it's based on a car platform, not built atop a ladder frame like a truck, the CX-9 doesn't have the off-roading potential or towing grunt of a traditional SUV. It can tow up to 3,500 pounds, enough to be useful but clearly not what it's built to brag about.

It can, however, be fitted with all-wheel drive to help with traction on slippery roads. There is a 2-mpg penalty for buying an AWD version versus FWD, a negligible price to pay for people who live in rainy or icy climates.

Pricing starts at $32,280 for the Sport trim and tops out at $45,365 for the upmarket Signature with its Nappa leather, real rosewood inlays and long list of safety and technology goodies.
What was tested? The 2019 Mazda CX-9 Signature AWD with a base price of $45,365. Options on the test car: Cargo mat for $100, rear seat entertainment system for $1,995, illuminated door sills for $575, premium paint for $200 and the trailer tow hitch for $450. The total MSRP price as tested including the $995 destination charge came to: $49,680.

Wheelbase: 115.3 in.
Length: 199.4 in.
Width: 77.5 in.
Height: 69 in.
Engine: 2.5-liter turbocharged four cylinder (227 hp, 310 ft. lbs.)
Transmission: Six-speed automatic
Fuel economy: 22 city, 28 highway

By Derek Price © AutoWire.Net - San Francisco
The 2019 Mazda CX-9 Signature AWD Bottom Line Review provided by: Tony Leopardo © AutoWire.Net
The Bottom Line: The CX-9 Signature AWD offers Mazda's biggest vehicle upgrades and technology packages for 2019. Plus new suspension tuning and more sound insulation give the Mazda CX-9 a smoother, quieter ride. The Signature trim level raises the CX-9's cabin to luxurious heights. Nappa leather and real rosewood inlays add an elegant look and feel.

While the CX-9 has long been one of my favorite three-row vehicles thanks to its crisp handling, quality cabin, appealing price and Mazda's reputation for longevity, it's added even more appeal in recent years with the introduction of the Signature trim level. It raises the cabin's look and feel to the level of a legitimate luxury contender, giving Lexus, Cadillac and BMW shoppers a reason to shop at a Mazda store.
Apple CarPlay, Android Auto and a smoother, quieter highway ride make this roomy family vehicle even more appealing. And maybe, just for those reasons alone, you should "Drive one, Buy one, Today ©".
This Bottom Line Review is provided by: Tony Leopardo © AutoWire.Net
"Tony the Car Guy" is an automotive writer, editor and publisher in the San Francisco Bay Area. If you have a question or comment for Tony send it to TonyLeo@pacbell.net or visit AutoWire.Net at www.autowire.net - And remember: "You Are What You Drive ©"

Column Name: CX-9 Adds New Features
Topic: 2019 Mazda CX-9 Signature AWD
Word Count: 851
Photo Caption: 2019 Mazda CX-9 Signature AWD
Photo Credits: Mazda internet Media
Series #: 2019 - 04
Download the Microsoft Word version here: 2019 Mazda CX-9 Signature AWD
Download the Original Image File here: 2019 Mazda CX-9 Signature AWD