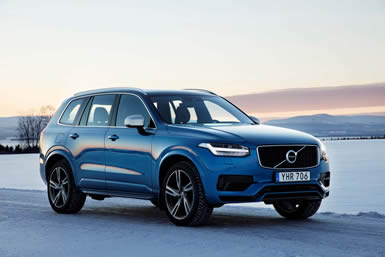 The 2017 Volvo S90 T6 AWD Review: Volvo has long been known, first and foremost, for safety. Forget about that for a minute, though, because this Chinese-owned Swedish brand has just built one of the world's best luxury cars in the new S90. With one exception, this is among the top luxury sedans I've ever driven. It has sophisticated features to pamper you, materials that make you feel like royalty and stunning design to match, putting it squarely in the same caliber as, and in some cases surpassing, the best that Mercedes, BMW and Lexus have to offer in this class. That one exception? The engine.
My tester came with what Volvo calls the T6, a supercharged and turbocharged 2.0-liter that, despite the "6" in its name, has but four cylinders. It looks great on paper, with a 316-horsepower output, but is less impressive on the road with a slightly raspy exhaust note and less low-end torque than I'd like to have at my toes' disposal. Granted, that's getting very picky. And with a starting price over $48,000, I'm going to be.
Nitpick as I might, there's not much else to complain about on the S90. The digital interface, usually my first gripe in today's luxury cars, is spectacular. Other than on Teslas, I can't think of any digital systems that have a better interface than Google or Apple can create. This one does. It feels as good as anything out of Silicon Valley with controls that are quick and easy to operate with the flick of a finger. It's also the first car to come with semi-autonomous driving features as standard equipment, Volvo says.
The Pilot Assist feature in the S90 uses adaptive cruise control and sensors to steer the car in a lane and follow traffic. Under the right conditions, it can virtually drive itself for short periods of time, but the driver still has to pay attention. I found it veering closer to roadside mailboxes than I would like, for example.
When it works right, though, Pilot Assist is a breathtaking and relaxing experience, made all the more so by S90's spa-like cabin design.
Every time I sit inside this car, I feel like exhaling a slow, deep breath. It's like driving a yoga class. Wood, metal, glass and clean European design tend to have that effect, and they all come together beautifully in the solid, silent cabin of the S90.
The exterior design is eye-catching, a bit more aggressive than most of its competitors in this conservative luxury class, perhaps, but not as unusual as its interior. To my eye, it's sleek and handsome without crossing the line into ostentatious.
If you want to have a car with monstrous power and some Earth-saving cred at the same time, Volvo offers the T8 plug-in hybrid power train. It makes 400 horsepower and a mind-blowing 472 pound-feet of torque while still delivering 29 mpg on the highway. While I haven't driven the T8 power train in the S90, I have experienced it in the bigger, heavier XC90 SUV and thought it was brilliant.
What was tested? The 2017 Volvo S90 T6 AWD with a base price of $52,950. Options on the test S90: The Inscription package for $3,300, the vision package for $1,950, climate package with HUD for $1,950, the convenience package for $1,000, the Bowers & Wilkins premium sound package for $2,650, metallic paint for $560 and 20-inch wheels for $1,010. The total MSRP price as tested including the $995 destination charge came to: $66,365. By Derek Price © AutoWire.Net - San Francisco
Wheelbase: 115.8 in.
Length: 195.4 in.
Width: 79.5 in.
Height: 56.8 in.
Engine: 2.0-liter four cylinder (316 hp, 295 ft. lbs.)
Transmission: Eight-speed automatic
Fuel economy: 22 city, 31 highway
The 2017 Volvo S90 T6 AWD Bottom Line Review provided by: Tony Leopardo © AutoWire.Net
The Bottom Line: The new 2017 Volvo S90 sets high marks as a luxury car, from its calming cabin to its sleek Swedish style and substance body. Plus it has a beautifully designed touch screen as the center piece of the S90's European-style dashboard. It's a luxury sedan that pampers you in every way: style, materials and technology. And it gets even better when you factor in Volvo's advanced safety options.
Pricing starts at $48,100 with the base T5 engine and ranges up to $63,650 for the T8 hybrid. For the luxury Inscription line, the T8 will set you back $68,150 before adding any options, which can easily push it over $80,000 if start to load it with upgrades.
And maybe, just for those reasons alone, you should "Drive one, Buy one, Today ©".
This Bottom Line Review is provided by: Tony Leopardo © AutoWire.Net
"Tony the Car Guy" is an automotive writer, editor and publisher in the San Francisco Bay Area. If you have a question or comment for Tony send it to TonyLeo@pacbell.net or visit AutoWire.Net at www.autowire.net - And remember: "You Are What You Drive ©"

Column Name: New Volvo S90 a Luxury Car That Impresses and Relaxes
Topic: The 2017 Volvo S90 T6 AWD
Word Count: 891
Photo Caption: 2017 Volvo S90 T6 AWD
Photo Credits: Volvo Internet Media
Series #: 2017 - 35
Download the Microsoft Word version here: 2017 Volvo S90 T6 AWD
Download the Original Image File here: 2017 Volvo S90 T6 AWD