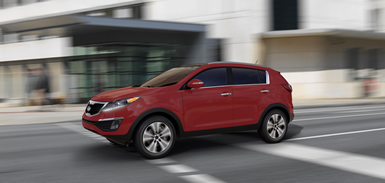 Kia Sportage Review: Back in 1995, when the midsized Explorer was king of the SUVs, Kia introduced its second model, the Sportage, a compact, car-based SUV. It actually preceded to market the vehicles that would come to dominate the segment, like the Toyota RAV4 and Honda CR-V.
The Sportage received an unremarkable restyle in 2004, but for 2011, the third generation takes things a big step forward. As part of Kia's product renaissance, it has much more visual appeal than its predecessor, and, arguably, its competition as well.
Borrowing liberally from the 2007 Kue concept car, it flaunts a higher window beltline, proportions more fitting to a tall wagon than an SUV, and dramatic statements, such as the sliced out lower side panels and tailgate and incredibly long headlamp units that wrap way around the car. The new look, created by the Kia Design Center America in Irvine, California, moves Kia into the style forefront.
The Sportage wears Kia's new "tiger nose" tabbed grille up front with a dramatically sweeping lower fascia. The top of the windshield dips in the middle. A prominent chrome band behind the side windows adds sparkle and verticality.
Under the curvaceous hood, Kia's 2.4-liter inline four-cylinder engine has more horsepower, 176, than the 2.7-liter V6 it replaces, and delivers better fuel economy as well. The EPA gives it 22 City, 31 Highway with Kia's proprietary six-speed automatic, averaging at 25 mpg. I averaged 23.3 mpg, quite reasonable for a 3,186-pound crossover. A manual six-speed is standard on the base car, and its fuel economy is actually slightly lower, at 21 / 29 MPG.
The EPA's Green Vehicle Guide lists two front-wheel-drive, automatic-equipped Sportages. Both have a Greenhouse gas score of 6 but one's Air Pollution score is a 6 and the other is a 9. Find that one if you can. The four-wheel-drive version loses one point in the Greenhouse Gas score and a couple of miles per gallon, but adds the safety factor in poor driving conditions.
The Sportage moves confidently along freeway stretches and through in-town cut and thrust driving. It doesn't bog down on uphill grades, you can hear the four-cylinder working, but the sounds are not harsh. The electric-motor-driven power steering felt like it required lots of slight corrections, but I got used to it by the test week's end.
As if to remind you it's not a sedan, the Sportage feels firm, from its seats to its dash, and the door surfaces to the aforementioned power steering. You feel the road, and don't just float along over it. The hard panels, both on the dash and monochromatic doors, are beautifully rendered and aggressively proportioned, so the lack of padding is not a great loss.
On its new platform, the Sportage has much better insulation and construction than the old one, so little disturbs you in the cabin. My tester, with the optional Navigation system with Premium Audio, provided surprisingly crisp and compelling sound as I shuffled through my iPod or selected Sirius Satellite Radio stations. A USB port is standard. My only complaint was that the "RANDOM" shuffle setting turned itself off with the car, so I had to touch the screen to reset it each time.
Sportages come in three levels, base, LX, and EX. My Mineral Silver Gray car was an EX model. Even the base car gets air conditioning, power windows, power door locks, power mirrors; SIRIUS® Satellite Radio, MP3 connectivity and Bluetooth.
On the outside, the base car features 16-inch alloy wheels and tires, body-color door handles and electrically adjustable side mirrors. The LX adds side mirror LED turn signal indicators, keyless entry, and tinted glass.
The EX trim offers more prominent 18-inch alloy wheels with lower profile tires, roof rails, a rear spoiler and chrome body trim and door handles. One friend said these wheels, polished metal with painted inner surfaces, looked like the ones on Hot Wheels cars.
Inside, LX models come standard with a tilt-adjustable steering wheel, keyless entry with panic alarm and multi-way adjustable cloth front seats. EX models go full boat with a leather-wrapped steering wheel and shift knob, telescopic steering wheel, illuminated vanity mirrors, automatic folding rear seats, a dual-zone temperature control air-conditioner with ionized filtration, and a power driver's seat with lumbar support. I liked the cooled glove box too.
Both LX and EX levels come with the EcoMinderTM indicator, perfect for optimal fuel efficient driving. Pricing begins at $18,990 for the base model, including shipping. The LX rises to $20,990 with the EX at $23,990. My tester, with the navigation system and the Premium package (leather seats, heated and cooled, a panoramic sunroof, pushbutton start, and more), the MSRP came to $28,490.
Kia, the official car of the NBA, is serious about earning additional business with more than just a lower price, higher content, and an industry-leading 10-year warranty. They've got style now.
By Steve Schaefer © AutoWire.Net - San Francisco
The Bottom Line: For 2011 Kia brings a new body style to the Sportage lineup. Sportage now adds all the luxury items you will need in this small, compact, crossover, tall wagon segment. With all-wheel drive plus a Navigation system with Premium Audio, SIRIUS® Satellite Radio, MP3 connectivity and Bluetooth, Sportage has everything you need in a clean and tightly wrapped package of style, price and size. Drive one, Buy one, Today©.
Bottom Line Review provided by: Tony Leopardo © AutoWire.Net
The 2011 Kia Sportage Unlimited Review provided by:
Tony Leopardo © AutoWire.Net
"Tony the Car Guy" is an automotive writer, editor and publisher in the San Francisco Bay Area. If you have a question or comment for Tony send it to TonyLeo@pacbell.net or visit AutoWire.Net at www.autowire.net - And remember: " You Are What You Drive "

Column Name: Kia is serious about earning additional business
Topic: The 2011 Kia Sportage
Word Count: 1,011
Photo Caption: The 2011 Kia Sportage
Photo Credits: Kia Sportage Internet Media
Series #: 2010 - 50
Download the Microsoft Word version here: 2011 Kia Sportage

Download the Original Image File here: 2011 Kia Sportage