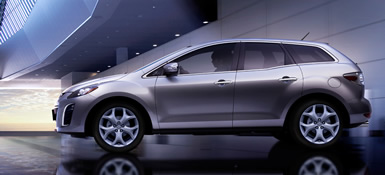 Mazda CX-7 Review: For 2010, Mazda proudly offers something less.
The CX-7 name tells you little, but this stylish vehicle is a relatively compact crossover SUV that gives you some of the sporty Miata and Mazda 3 experience in a taller hauler.
Introduced as a 2007 model and available with only a turbocharged 2.3-liter four-cylinder engine, it proudly offers, for 2010, a non-turbo 2.5-liter four. That drops horsepower from 244 to 161 and torque from 248 to 161. So where's the benefit?
Well, to start with, you save gas. EPA Fuel economy numbers jump from 18 City and 25 Highway (not that bad) to 20 City and 28 Highway (better). I averaged 21.7 mpg.
Environmentally, the larger, but less powerful engine pushes both the Air Pollution and Greenhouse Gas scores up a point, to 7 and 6 respectively. That means the new models earn EPA SmartWay status.
The naturally aspirated engine comes in the "i" series cars, SV and Sport which are front-wheel-drive only. Move up to the "s" series Touring and Grand Touring models and you'll get the extra power, a six speed, rather than five speed automatic, an all-wheel-drive option and something else, more weight.
The Touring models sit about 300 pounds heavier than the i-SV and i-Sport versions. Add all-wheel-drive and there's more than a quarter ton of difference.
As it turns out, you don't need the turbo cars to have fun. I dashed around town and down the freeway with ease. The car does what it's supposed to without drama. Getting that sporty feel in a 3,500-pound wagon is a challenge that Mazda accepts willingly, and has succeeded in providing. A five-speed manual might have added even more amusement factor, but you can't get one.
The windshield leans back at a 66-degree angle, very unlike a typical SUV, but a lot more like a crossover. Tiny windows in the massive front pillars relieve a little of the bulk but reminded me of a minivan.
The dash and controls mimic those in the Mazda sedans, driver oriented and informative. The gauges have blue illumination this year. All 2010 models get a little raised section on the dash so you can see a small display screen with driving information.
Translating Mazda's smiley face and bulky shoulders onto a high-riding wagon is no mean feat, but the Mazda folks have pulled it off nicely. The side window line tapers up to the rear for a taste of coupe despite the wagon proportions. Folding rear seats and a tailgate make it easy to stow bass instruments and chunky cargo. My tester's cargo cover had a $125 price tag on it, but it was well worth it.
The non-turbo models save you money. How much? The i-SV model starts at just $22,300, including shipping. Jump to the turbocharged Touring and you're looking at $26,550 with front-wheel drive. By the time you top out with an all-wheel-drive Grand Touring, you're looking at $33,635. That's a big range.
My Liquid Silver Metallic Sport model, with options, came to $25,590. That included a range of extras from a cargo net to fog lights to Sirius Satellite Radio. The Convenience Package ($1,750) provided a power driver's seat, heated front seats (1 level only), a power moonroof and automatic climate control. A revised leather-wrapped steering wheel with controls for audio and phone is standard.
Other than the new engine offering, the 2010 CX-7 is all about subtle refinements. "The vehicle we had to start with was already really good and well liked by consumers, so my team didn't have to start over, but simply refine," said Masashi Otsuka, Mazda's CX-7 program manager. The 2010s have many subtle upgrades, including suspension adjustments, and the new version gets a countenance that more closely matches the grinning new Mazda3.
Part of the agenda includes stuff you can't see, but will appreciate, such as improvements in body rigidity, lower noise, vibration and harshness (NVH) levels as well as reduced wind noise. Thicker materials, reinforcements and weld bonds all contribute to higher torsional rigidity. Thicker density insulation means a quieter passenger compartment.
Built in Hiroshima, Japan, the CX-7 earns five-star safety ratings for frontal and side crashes in both driver and passenger positions. Rollover numbers are four-stars, still good and probably inevitable for a vehicle that stands higher than a sedan. Active safety includes four-wheel ventilated disc brakes with ABS and traction control.
You can find a crossover in pretty much every showroom these days. Even Porsche offers one. Mazda's CX-7, with its i series, offers the essentials, motoring pleasure, nearly 60 cubic feet of load hauling when you drop the seats, environmental responsibility with reasonable mileage, and a price almost anyone can afford.
By Steve Schaefer © AutoWire.Net - San Francisco
The Bottom Line: The 2010 Mazda CX-7 is a midsized crossover that is right in the middle of everything. Its size is compact, the power level is fine, the price is affordable and the quality is great. The CX-7 is Mazda's answer to those who don't need big, but want a car that has a little bit of the things that make a car fun, reliable and sporty all rolled into a stylish package that they can live with, in an affordable price range. The Mazda CX-7 manages to meet all these bullet points, and delivers more content for the price in this crowded sales field, than anyone else.
Bottom Line Review provided by: Tony Leopardo © AutoWire.Net
"Tony the Car Guy" is an automotive writer, editor and publisher in the San Francisco Bay Area. If you have a question or comment for Tony send it to TonyLeo@pacbell.net or visit AutoWire.Net at www.autowire.net
And remember: " You Are What You Drive "

Column Name: A compact crossover taller hauler from Mazda
Topic: The 2010 Mazda CX-7
Word Count: 1003
Photo Caption: The 2010 Mazda CX-7
Photo Credits: Mazda CX-7 Internet Media
Series #: 2010 - 11
Download the Microsoft Word version here: 2010 Mazda CX-7
Download the Original Image File here: 2010 Mazda CX-7