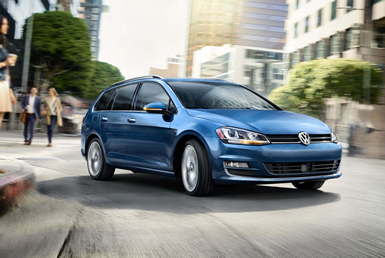 The 2017 Volkswagen Golf SportWagen Review: Small cars are better than big ones. I'm absolutely convinced of it. Of course, trying to explain that position makes me feel like the only vegetarian in a room full of meat eaters. This is America, where we always assume that bigger is better, which is why the average new house looks like a sports arena and the average new car is a crossover. Not everyone needs a crossover, though, just like not everyone needs a house where the Lakers could play in the dining room.
And to moms and dads who think their family couldn't possibly survive without a humongous off-road-looking vehicle in their driveway, this week I'm testing something that might change your mind: the new 2017 Volkswagen Golf SportWagen.

This is a car that can do 99 percent of what people actually use their crossover vehicles for in the real world. Yes, it rides down low, close to the ground, but it has a reasonably roomy back seat and generous cargo space just like many of the taller, tougher looking crossovers typically provide.

Don't believe me? Then you should've followed me to the lumber yard when I happened to be working on a do-it-yourself remodeling project and needed to pick up a load of two-by-fours.

The eight-foot boards fit into the Golf SportWagen just fine, with room to spare.
In fact, this is as good as any car at performing visual magic tricks. Its body looks compact on the outside but in reality conceals a well-designed, rugged interior that can almost do the job of a pickup truck in a pinch. It's amazing.

But what really makes me like small cars, and this one in particular, is the "Sport" side.
No matter how sporty you try to make them look, feel and sound, there's no getting around the fact that crossovers are just not designed to be slingable in corners. They're designed to ride up high like SUVs, which puts their center of gravity noticeably higher and makes them feel like they're about to roll over when you push them hard through a turn.

Even today's most driver-conscious brands, like Mazda and BMW, can't overcome Newtonian physics. Their crossovers just happen to feel less topple-prone than the competition.

This Volkswagen doesn't have to fight with Newton. Physics are on its side from the beginning as its low-slung body naturally wants to hug the road better in turns, something it does beautifully thanks to steering and suspension systems designed just for the task.

As a bringer of joy, there's no comparison. Low-slung cars like the Golf will beat the more popular, ubiquitous crossover vehicles all day long, and without much of a sacrifice in practicality. This new Golf SportWagen is versatile and enjoyable to drive in the curves.

My SportWagen tester came equipped just how I'd want to order it too, with a manual transmission and relatively spartan interior. The base S trim, starting at $21,580, comes with cloth seats but otherwise doesn't feel too stripped down, including a standard 6.5-inch touchscreen.

Yes, it may make me sound like a Donald Trump supporter on the floor of the Democratic convention, but I'll repeat it anyway. Small cars are the best. Take this Volkswagen out on a curvy road, and you'll see exactly why.
What was tested? The 2017 Volkswagen Golf SportWagen TSI S with a base MSRP price of $21,580. Options on the test car: None. Total price as tested including the $820 destination charge came to: $22,400

Wheelbase: 103.5 in.
Length: 179.6 in.
Width: 70.8 in.
Height: 58.3 in.
Engine: 1.8-liter inline four cylinder (170 hp, 199 ft. lbs.)
Transmission: Six-speed manual
Fuel economy: 25 city, 35 highway

Why buy it? It proves that the family-friendly versatility that people love in crossovers doesn't have to come with a high-riding package.
By Derek Price © AutoWire.Net - San Francisco
The 2017 Volkswagen Golf SportWagen Bottom Line Review provided by: Tony Leopardo © AutoWire.Net

The Bottom Line: The 2017 Volkswagen Golf SportWagen combines the fun, nimble handling of a compact car, with an almost SUV-like level of versatility. Its rear cargo area seems gargantuan for this size of car. And even in the base trim level, called the S, it comes with a 6.5-inch touchscreen. That down-to-Earth practicality explains the "Wagen" part of its name, but there are two other aspects of its personality that deserve attention: "Golf" and "Sport." Because it's based on the Golf, one of the most popular vehicles in the world, it gets a lot of things right. All the basics are spectacular. And as in Sport the chassis feels stout and solid, its driving manners are well-sorted out and its engine is refined, quite and powerful. And maybe, just for those reasons alone, you should "Drive one, Buy one, Today ©".
This Bottom Line Review is provided by: Tony Leopardo © AutoWire.Net
"Tony the Car Guy" is an automotive writer, editor and publisher in the San Francisco Bay Area. If you have a question or comment for Tony send it to TonyLeo@pacbell.net or visit AutoWire.Net at www.autowire.net - And remember: "You Are What You Drive ©"

Column Name: VW Shows Smaller is Better
Topic: The 2017 Volkswagen Golf SportWagen
Word Count: 907
Photo Caption: The 2017 Volkswagen Golf SportWagen
Photo Credits: Volkswagen Golf Internet Media
Series #: 2017 - 02
Download the Microsoft Word version here: 2017 Volkswagen Golf SportWagen
Download the Original Image File here: 2017 Volkswagen Golf SportWagen