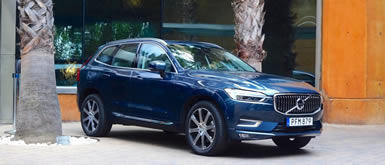 The 2018 Volvo XC60 T6 AWD Review: Forget safety. Volvo may have just created the world's best midsize SUV with the introduction of its all-new XC60. Safety features, of course, are how this Swedish brand built its reputation, adding things like seat belts, side-impact air bags and crash sensors years before other companies followed suit. But even setting aside all the XC60's safety-related bells and whistles, which are considerable, it makes a strong case for winning a "best on the planet" trophy for the way it looks, drives and feels.

Let's start with the styling. For a brand that's embodied hit-or-miss car bodies through the years, from the gorgeous P1800 in the 1960s to its rolling refrigerator boxes of the 1980's and '90s, the XC60 seems to draw from the pretty side of its family tree. It's sleek and eye-catching amid a sea of dull competitors that seem to be in a contest to see who can make the most boring, derivative crossover bodies.

From decisions that border on the ridiculous, like "Thor's hammer" headlights and stupid-huge 22-inch wheels on the option sheet, Volvo's designers aren't being timid.
That's refreshing, especially in this follow-the-leader category.

And if the outside gets your attention, just wait until you open the doors. Its cabin is a feast for the senses, from the tactile perfection of the leather, wood, metal and plastics to the carefully drawn lines that catch your eye without being visually obnoxious, a tough balancing act. Like all of today's luxury cars, a big part of the experience involves how well technology is integrated into the cabin.

The XC60, again, is among the best. A vertical touchscreen dominates the center stack, but where other cars overwhelm with buttons and menus, this one utilizes elegant simplicity. Volvo's Sensus system is intuitive to use and works even better than the in-car interfaces Apple and Google have rolled out, something extremely rare in the car world.

Driving the XC60, at least with the T6 powertrain in my tester, is invigorating but not necessarily sporty. If you want a spiritual connection to the road, BMW still reigns as king, with Mazda surprisingly close behind.


Small engines don't normally do that. I remember not too long ago when full-size, truck-based American SUVs would brag about having 300-horsepower V8s. The fact that Volvo can reliably squeeze so much power from such a tiny engine is simply amazing.
It's also something that helps with gas mileage. My tester was rated for 27 miles per gallon on the highway, not bad for a roomy, solid-feeling SUV.

Finally, there are those safety features. This car not only virtually drives itself for short periods of time on well-marked roads with the optional Pilot Assist, but it also can keep you from getting into serious trouble. If it senses you may be about to hit another car when changing lanes, it will steer you away from a collision. Same thing if it senses an oncoming car veering into your lane, potentially steering you away from a head-on crash.

Pricing starts at $41,500 and tops out at $52,900 for the T8 plug-in hybrid. Options can drive that price considerably higher, though, such as the price of my tester, $63,290. Its options alone cost nearly as much as a new Toyota Corolla.
What was tested? The 2018 Volvo XC60 T6 AWD Inscription with a base price of $44,900. Options on the test vehicle: Inscription features for $3,800, the convenience package for $2,000, the vision package for $1,100, the luxury seat package for $3,000, the advanced package for $1,900, metallic paint for $595, the Bowers and Wilkins premium sound system for $3,200, and the air suspension system for $1,800. The total MSRP price as tested including the $995 destination charge came to: $63,290.

Wheelbase: 112.8 in.
Length: 184.6 in.
Width: 83.3 in.
Height: 65.3 in.
Engine: 2.0-liter turbo- and supercharged four cylinder (316 hp, 295 lbs.-ft.)
Transmission: Eight-speed automatic
Fuel economy: 21 city, 27 highway

Why buy it? It's an all-around impressive product, including sharp styling inside and out, a powerful and supple driving feel, and leading-edge safety technology.
By Derek Price © AutoWire.Net - San Francisco
The 2018 Volvo XC60 T6 AWD Bottom Line Review provided by:
Tony Leopardo © AutoWire.Net
The Bottom Line: The Volvo XC60 gets an all-new design for 2018 that raises it to the top of a hotly contested market for premium midsize SUVs and crossovers. The new XC60's cabin is dominated by a huge touchscreen that runs the Sensus system, one of the rare examples of a car company designing digital interfaces as well as Google or Apple. It's just brilliant.
If you want prodigious power, a reasonably supple feel and a quiet ride from a cabin that feels like it was carved from granite, the XC60 doesn't disappoint. Its 2.0-liter, four-cylinder engine is both turbocharged and supercharged to make a mind-bending 316 horsepower. This is all from a redesigned Volvo that now is among the world's best midsize SUVs. And maybe, just for those reasons alone, you should "Drive one, Buy one, Today ©".
This Bottom Line Review is provided by: Tony Leopardo © AutoWire.Net
"Tony the Car Guy" is an automotive writer, editor and publisher in the San Francisco Bay Area. If you have a question or comment for Tony send it to TonyLeo@pacbell.net or visit AutoWire.Net at www.autowire.net - And remember: "You Are What You Drive ©"

Column Name: The new XC60 Raises the Bar
Topic: The 2018 Volvo XC60 T6 AWD
Word Count: 952
Photo Caption: The 2018 Volvo XC60
Photo Credits: Volvo Internet Media
Series #: 2018 - 17
Download the Microsoft Word version here: 2018 Volvo XC60
Download the Original Image File here: 2018 Volvo XC60