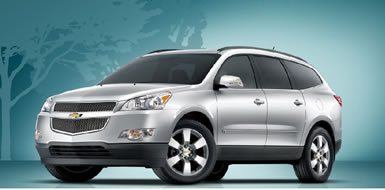 Chevrolet Traverse Review: As families move away from SUVs, they still need a way to carry everyone together, and still want to be safe while they're doing it. Chevy now offers the all-new Traverse crossover vehicle to help them.
Crossovers offer the virtues of sport utility vehicles, but are built on more comfortable car platforms. So they drive like sedans, but give a "command of the road" feeling, while offering three-row seating and room for masses of cargo. They are still big.
The Traverse borrows its styling from the exceptionally attractive Malibu sedan. The Chevy face is now a large shield grille split neatly across its upper midsection, with chiseled, angled headlamps. Today's bumpers are so neatly integrated that the Traverse appears to have none at all.
The muscular sides create a solid feeling. The lower window edge turns up behind the rear doors, conveying a bit of sedan shaping. But at nearly two and a half tons, the Traverse can haul up to eight people, and the third row actually holds adults.
Inside is a surprisingly sporty, Corvette style instrument panel that borrows from the Malibu's design scheme. In an appealingly rendered light and dark gray with silvery accents in my tester, it flaunted Audi-style teardrop shaped main gauges and plenty of storage cubbies. There's a handy center console bin with a spring-loaded lid, a roomy glove box and a dash top compartment.
The seats were some of the most comfortable I've experienced in a GM product, firm feeling and nicely shaped. Other than one slightly misaligned trim piece on the right front door, the fit and finish were excellent throughout.
Motivating this new Chevy is a mighty 3.6-liter V6 with the power of a V8, but with better fuel economy. With its direct injection technology, the engine puts out 288 horsepower and 270 lb.-ft of torque with dual exhausts, and 281 horsepower with a single exhaust. Direct injection is efficient because it sprays fuel directly into the engine cylinder. And the engine's special pistons reduce emissions during cold starts.
EPA fuel economy is 17 City, 24 Highway. I averaged 16.2 mpg, which isn't sensational, but for the size and passenger capacity, it's better than some other vehicles. The EPA's Green Vehicle Guide rates the Traverse at a 7 for Air Pollution and 5 for Greenhouse Gas, a little above average.
All Traverses get a six-speed automatic. With six gears, you can have a wide range of ratios, starting at a steep 4.48:1 first for a quick takeoff and a tall overdrive ratio of 0.74:1 in sixth gear for maximum fuel economy and reduced noise and vibration.
The Traverse is assembled in Spring Hill, Tennessee, in the same plant where for many years Saturns were built.
Chevy offers its new "ultimate family vehicle" in the typical levels - LS, LT and LTZ. My Cyber Gray tester was the midlevel LT, with front wheel drive. The LS is well equipped, but the two upper levels add conveniences.
Highlights of the LT package are mirrors with blind spot viewing sections, rear parking assist, automatic dual-zone climate control and an upgrade to 18-inch wheels. The LTZ adds heated and cooled front seats, a navigation system, a rear camera, heated windshield washers and bold 20-inch wheels. Standard dual exhausts mean the full 288 horsepower's on tap.
The Traverse has five-star crash test results for frontal and side crashes, and four stars for rollover. Although it was designed with a lower center of gravity than an SUV, it also has GM's rollover sensing system, which can activate the head curtain side-impact air bags and tighten up the seatbelts if the system's sensors decide the car is rolling over.
Further contributing to safety is a strong vehicle structure and a set of electronic braking systems. Dynamic Rear Proportioning balances front and rear brake balance, Hydraulic Brake Boost increases braking force if the engine vacuum is temporarily low, and Panic Brake Assist stomps extra hard on the brakes in emergency situations, even if the driver has stopped doing so.
You also get GM's StabiliTrak electronic stability control, a traction control system, and tire pressure monitoring system to keep you safe. All of the traction and braking systems listed above work without driver intervention.
Prices start at $28,990 for the LS, rising to $31,545 for the LT and $39,810 for the loaded LTZ, including destination charges. My tester added the California Edition Package at $1,445 with 20-inch aluminum wheels, dual exhausts and a fine Bose speaker sound system, bringing the total MSRP to $32,990.
The Traverse is aimed at buyers of the Honda Pilot, Toyota Highlander, Ford Flex and others. It's a very handsome and satisfying piece, nearly silent on the road, pleasant to drive, and nicely styled. It's fascinating to note how different it is from its competitors, despite their common mission. It's nice to know that you still have choices out there in today's crossover market.
By Steve Schaefer © AutoWire.Net - San Francisco
Chevrolet Review provided by Tony Leopardo © AutoWire.Net

Column Name: Traverse is Chevy's ultimate family vehicle
Topic: The 2009 Chevrolet Traverse
Word Count: 885
Photo Caption: The 2009 Chevrolet Traverse
Photo Credits: Chevrolet Traverse Internet Media
Series #: 2009 - 34
Download the Microsoft Word version here: 2009 Chevy Traverse
Download the Original Image File here: 2009 Chevy Traverse