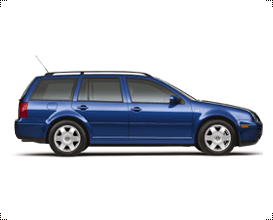 SAN FRANCISCO: Station wagons are making a comeback as people who never plan to drive off-road see they offer the convenience of a small SUV with better fuel economy as well as handling and riding nicer. They are very popular in Europe where BMW, Audi, Mercedes-Benz, Volvo, and Saab all build station wagon versions of their excellent sport sedans. Many of these are now offered in the North American market as well. Now, Volkswagen is offering a wagon version of its best selling Jetta.
Jetta wagons come in lots of versions - GL, GL TDI, GLS, GLS TDI, GLS 1.8T, GLS V6 and GLX V6. The GL and GLS use a 2.0-liter, four-cylinder engine. The TDI stands for the 1.9-liter, four-cylinder turbocharged diesel engine. VW is still the only automaker that sells a diesel in the U.S. The 1.8T features a 1.8-liter, four-cylinder turbocharged gasoline engine in the sportiest of the Jettas. The V6 is Volkswagen's unique fifteen-degree narrow-angle 2.8-liter VR6 six-cylinder engine. All versions come with a five-speed with overdrive manual transmission. A four-speed automatic overdrive transmission is optional with all except the performance-oriented 1.8T that uses a five-speed Tiptonic automatic transmission. Incidentally, by mid-year the VR6 Jettas should be available with either a 6-speed manual transmission or Tiptronic. Jettas feature a 14.5-gallon fuel tank.
ENGINE SPECIFICATIONS
ENGINE HORSEPOWER TORQUE EPA FUEL ECONOMY
(Ft-lb) Manual Automatic
City/Highway MPG City/Highway MPG
2.0 115@5200 rpm 122@2600 rpm 24/31 23/29
TDI 90@3750 rpm 155@1900 rpm 42/49 34/45
1.8T 180@5500 rpm 174@1950 rpm 24/31 22/29
VR6 174@5800 rpm 181@3200 rpm 19/28 19/26
All Jettas come with an anti-lock brake system (ABS). There are dual front and side airbags plus front and rear side-curtain airbags. Traction control is standard on the GLS VR6, GLS 1.8T and GLX.
Prices start at $18,200 for a base Jetta GL 2.0 and climb to $26,925 for a GLX with an automatic transmission. Even the Jetta GL comes relatively well equipped with air conditioning, heated outside remote mirrors, a rear window defroster, tinted glass, power door locks with keyless remote, tilt/telescoping steering wheel, roof rails and an AM/FM/cassette stereo. With the GLS you also get power windows, cruise control, and AM/FM/CD/cassette. The GLX adds halogen fog lights, 16-inch alloy wheels, 200-watt Monsoon sound system, automatic climate control, a trip computer, heated 8-way power front seats, leather seating, real wood trim, steering wheel controls, power glass sunroof, rain-sensing wiper system, and power seats.
Like the Jetta sedan, the station wagon's interior shouts "quality." The GLX I tested featured luxurious leather, top-notch plastics and well-done wood trim that rivals that found in other German luxury cars costing thousands more. Instrumentation, which is blue/red-lit at night is easy to read, but you have to do have to take your eyes off the road to operate the sound and climate control system, at least when you are new to the vehicle.
With its 174-horsepower under the hood, the GLX I tested provided outstanding performance coupled with smooth running and conservative fuel consumption. Later in the year, there will an even more potent 201 VR6 engine. Handling, steering and braking was in the same league as the best sport sedans I have driven recently. However, except for hardcore driving enthusiasts, the optional sport suspension and 17-inch wheels probably will provide too harsh a ride. The standard suspension provides a firm, yet more compliant ride.
The rear section provides 34 cubic feet of carrying capacity, which grows to 70 cubic feet with the 40/60-split rear seat folded down. While, front seat occupants are treated to a roomy and comfortable ride, those in the rear might be a bit cramped, especially if the front seats are pushed back.
If you want a world class, German-built sports wagon, but don't want to pay a Bimmer or Benz price tag, the VW Jetta Station Wagon is worth a look and a test drive. By Bill Siuru © AutoWire.Net - San Francisco

Byline: Syndicated content provided by Tony Leopardo © AutoWire.Net
Column Name: A world Class German Built Sports Wagon
Topic: 2002 Volkswagen Jetta Station Wagon
Word Count: 713
Photo Caption: 2002 Volkswagen Jetta Station Wagon
Photo Credits: Volkswagen Internet Media
Series #: 2001 - 39
Download the Microsoft Word version here: 2002 VW Jetta Station Wagon
Download the original image file here: 2002 VW Jetta Station Wagon 14k