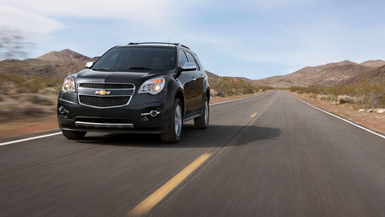 The 2013 Chevrolet Equinox Review: When Chevrolet introduced the current generation Equinox a few years ago, it raised eyebrows primarily for one reason: it was rated for 32 mpg on the highway. That was good enough to make it stand out as a fuel-sipping crossover at a time when most of its competitors were hitting the high 20s at best. But, in that unavoidable automotive tradeoff, it also meant Chevy sacrificed some performance to get that impressive gas mileage number.
Great fuel economy always comes from small, dinky engines. Period.
For people wondering what the Equinox chassis is capable of when fitted with a meaty, powerful engine, the answer is finally here. It's now available with a 301-horsepower, direct-injected V6 that lets drivers wring some serious performance out of it, making it drive more like a Cadillac than a Chevy. The difference is remarkable.
I've always liked the Equinox, but only in a logical way. It gets good gas mileage. It's built with decent quality in the "New GM" style. It's priced right, starting under $24,000, or about the same as a good mid-size car these days. With more than 300 horses, though, the whole vehicle changes into something that's lovable for emotional reasons in addition to the logical ones. It transforms the Equinox into a driver's car, something I'd never considered before.
The new engine also exposes just how well engineered the Equinox's chassis is. It changes direction crisply, even under hard acceleration on wet roads, something all but impossible to sense with the smaller, more efficient power plant that struggles to push the car to its limits.
The 3.6-liter engine is also wonderfully responsive thanks to the same direct-injection technology that Cadillac uses to raise pulses in its CTS sports sedans. It delivers a high-end thrill that's unusual in Chevrolet products.
Unfortunately, this engine is a $1,500 upgrade that's only available in LT trim and higher, so you'll have to pay at least $28,000 to get it.
It also drops the gas mileage drastically, which shouldn't be a surprise to anyone shopping for a 300-horsepower car. With front-wheel drive, it's rated for 17 mpg in city driving and 24 mpg on the highway.
The other big change for the Equinox this year is the addition of Chevy's MyLink system that lets you integrate your cell phone with the vehicle. With it, you can stream Internet radio stations, play audio from your phone and use hands-free voice controls, all the kinds of whiz-bang technologies that cars are racing to adopt this year.
As a whole, the new engine does a good job keeping the Equinox fresh and relevant amid a white-hot market for crossover vehicles. It's one of the most popular vehicles in one of the most popular segments of the automotive market, and the new monster V6 only begs one question. Why wasn't it offered sooner?
What was tested? The 2013 Chevrolet Equinox AWD LTZ with a base price of $32,265. Options on the test car: The 3.6-liter engine for $1,500, 18-inch wheels for $1,000 and MyLink Radio with Navigation for $795. The total MSRP price as tested including the $825 delivery fee came to: $36,385.
Why avoid it? The new, optional V6 engine gets far worse gas mileage than the base engine.
Why buy it? A new, powerful engine transforms it into a driver's car. It's also just as smart as ever with MyLink and has plenty of storage spaces and a quiet cabin. By Derek Price © AutoWire.Net - San Francisco
The 2013 Chevrolet Equinox Bottom Line Review provided by:
Tony Leopardo © AutoWire.Net
The Bottom Line: The 2013 Chevrolet Equinox, one of the most popular crossover vehicles sold today, is now available with a new responsive, direct-injected impressive V6 engine with 301 horsepower and Chevrolet's MyLink system. MyLink uses a touch-screen interface to link with your cell phone, stream the Internet, play music and use hands-free voice controls. The new Chevrolet Equinox has been upgraded to keep it at the top of the compact crossover list, so, you should "Drive one, Buy one, Today ©"
Bottom Line Review provided by: Tony Leopardo © AutoWire.Net
"Tony the Car Guy" is an automotive writer, editor and publisher in the San Francisco Bay Area. If you have a question or comment for Tony send it to TonyLeo@pacbell.net or visit AutoWire.Net at www.autowire.net - And remember: " You Are What You Drive ©"

Column Name: New engine freshens Equinox
Topic: The 2013 Chevrolet Equinox
Word Count: 778
Photo Caption: The 2013 Chevrolet Equinox
Photo Credits: Chevrolet Equinox Internet Media
Series #: 2012- 30
Download the Microsoft Word version here: 2013 Chevy Equinox
Download the Original Image File here: 2013 Chevy Equinox