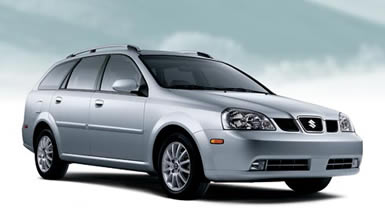 San Francisco:

With gas prices growing, some people are becoming disenchanted with hulking SUVs and are reconsidering the good old fashioned station wagon as family transportation. You canít buy a Ford Country Squire with fake wood paneling anymore, but there are several compact wagons that perform people and cargo moving duties quite well. The 2005 Suzuki Forenza is one of those.

Based closely on the Forenza sedan that debuted last year, the wagon doubles the effective trunk space of that sedan to 24.4 cubic feet. Drop the rear seat and you can pile in nearly 62 cubic feet of your favorite stuff. Not bad for a tidy 15-foot-long vehicle.

Like the sedan, the Forenza has a clean, European style, and thatís no accident. The esteemed Italian house of Pininfarina had a hand in the design. I think the Forenza wagon looks like a 7/8 scale Audi A4 Avant. What makes it a fascinating value proposition is that a well-equipped Forenza is half the price of the German car. Built in Korea, the Forenza Wagon looks and feels substantial and seems well screwed together.

The wagon comes with a reasonably peppy two-liter four-cylinder engine that cranks out 126 horsepower and 131 lb.-ft. of torque. In normal driving, the engine, which is sourced from Australia, goes about its business without complaint. It would be unlikely to hit the 140 mph shown on its speedometer, Iím guessing, but it is no slug either. Mileage is 21 City and 28 Highway with the stick; the automatic gearbox drops that to 20/26.

A manual five-speed is standard on the entry S and midline LX levels, while the upscale EX model comes only with a four-speed automatic, which is optional on the S and LX. The automatic carries a hold mode switch, which can be useful in grabbing traction in snow, for example.

The Forenza Wagon may come in three levels, but none of them is bare bones. Even the S gets standard niceties like speed sensitive power steering (youíll smile in parking lot maneuvers), four wheel disc brakes, an AM/FM/CD/cassette stereo with eight speakers and steering-wheel-mounted controls, air conditioning, a tachometer, power windows and locks, and heated power outside mirrors. The LX adds a sunroof, cruise control, remote keyless entry, alloy wheels, a leather wrapped steering wheel and shift knob, fog lamps, and a little storage bin under the front passenger seat. For leather seats and standard anti-lock brakes, pick the EX model.

The interior is simple, clean, and looks like someone actually thought about what would look nice there. My only nitpick was the silvery plastic trim, which although it was a hit aesthetically, was already showing some wear near the shifter where a previous driver had set something hard. There is enough sound insulation and sealing to keep it pretty quiet inside the Forenza Wagon, an appealing benefit in a modestly priced conveyance.

My Fantasy Black test unit was the LX model, which is likely the big seller. It had only the anti-lock braking system as an option, at $500. Anti-lock braking systems (ABS) are becoming commonplace now. They apply braking pressure on and off automatically much faster than your or my foot can, which helps your car stop safely in a shorter distance in emergency situations.

Along with its recent influx of new products, Suzuki wants to give prospective buyers peace of mind that their purchase will retain value and prove reliable in the future. The company doesnít want you to worry about what will happen if there is a problem with your car. So, they offer an incredible warranty package, which includes a seven year, 100,000-mile powertrain limited warranty, a three-year, 36,000-mile new-vehicle limited warranty, and free roadside assistance during the effective dates of the second warranty. Best of all, the warranties go with the vehicle to a new owner. This helps keep up resale values and shows that Suzuki has confidence in their products.

My LX tester, with the optional ABS brakes and a $545 destination and handling fee, came to $17,694. You can pick up the base S model with no extras for just $13,949 plus destination. Thatís a pretty amazing car for the price. By Steve Schaefer © AutoWire.Net - San Francisco

To see the 2005 Suzuki Forenza Wagon click on www.suzuki.com or call your local Suzuki dealer for more information.

Byline: Syndicated content provided by Tony Leopardo © AutoWire.Net
Column Name:

A pretty amazing car for the price
Topic: The 2005 Suzuki Forenza Wagon
Word Count: 785
Photo Caption: The 2005 Suzuki Forenza Wagon
Photo Credits: Suzuki Internet Media
Series #: 2005 - 33 Download the Microsoft Word version here: 2005 Suzuki Forenza Wagon

Download the Original Image File here: 2005 Suzuki Forenza Wagon