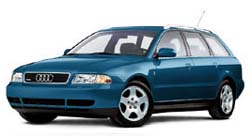 SAN FRANCISCO: Audi's new Avant line (Avant is the Audi word for station wagon) continues to impress consumers as one of the best-built wagons on the market today. The A4 line offers both a powerful Turbo-charged 1.8 liter-4 cylinder and a smooth running 2.8 V6, the latter of which our test vehicle came equipped with. Finished in a deep blue metallic, our A4 Quattro all-wheel drive wagon became a topic of conversation everywhere we took it. Many spoke of the performance and German build characteristics, which are exactly what one expects from the land of Volkswagen-Audi.
The base A4 Avant comes very well equipped, and includes the legendary Quattro 4-wheel drive, an inviting and well appointed cabin, CD sound system, 16-inch tires, traction control, air conditioning, and a host of other power and safety features. The interior elegance is prevalent, with proper fit of dashboard, seating, and passenger comforts. The 2.8 V-6 option also includes things like real wood trim and upgraded leather appointments. All instrumentation is easy to see and the controls are designed with driver in mind. You won't find yourself fidgeting around inside an Audi, as the engineers knew up front ease of use and placement of controls are important to any design, especially those from Germany. Overall, the cabin receives an A-plus from this writer, and is one of the best to come off European assembly lines. There's ample front leg and head room, with tighter quarters in the rear (common in the compact class).
Our tester also featured the optional power sunroof, which is activated by a unique rotating dial that determines the size of the roof opening with a quick flip of the switch. There's no holding in any moonroof buttons until the desired adjustment, which means the driver can return his or her hand to the wheel quickly. We like this very much.
Outwardly, the Audi A4 Avant is indeed a wagon, yet it looks like a sports car when sitting still or driving down the road. The rear hatch and cargo area sits lower on the chassis, giving a sleek and aerodynamic quality that competing wagons have yet to capture. The overall aesthetic quality of the Audi A4 Avant is, well, avant-garde.
Under the hood, the 2.8, 200-horsepower, V-6 is smooth and driveable, although it lacks some of the power we've come to expect from other V-6 engines. It's five-valve per cylinder Double Overhead Cam design lends nicely to a smooth power curve, yet it still took 17-seconds to travel the quarter mile at about 85-mph. However, in Audi's defense, this little six is more a high winder in rpm characteristics than, say, GM's V-6 engines, which are basically "all done" at 5,000 rpm. So, in higher rpm situations, like passing someone at 65-mph, this engine performs very well. It just doesn't have much off the line.
Our Quattro came with the 5-speed manual transmission, which shifted well and offers more engine control than the Tiptronic 5-speed automatic, the latter which is more "gizmo" than a "manual automatic" in true makeup. In most on highway situations, the full automatic mode works fine, although in mountainous locales, the Tiptronic controls the revs better, and allows shifting by way of driver preference instead of engine computer. (We tested an A8 with the Tiptronic).
A note here on some built-in safety features. The Audi line for '99, which includes A6 and A8, features a "dual threshold" air bag system that deploys with less force when an occupant is not buckled up. Side air bags, too, help protect front occupant and driver from severe side impact collisions. This is yet another Audi plus when comparing it against the competition. On the road, Audi A4 devours road bumps and holes, and dishes up serenity not found in many cars. It's quiet, nimble, and well mannered, and looks just as good, too.
The Quattro suspension is superlative, with a four-wheel drive traction control and highly developed anti-lock brake system working in tandem with the now famous Quattro all-wheel-drive system. The car weighs in at 3,500 pounds, and there's 31 cubic feet of cargo room awaiting owners for those larger loads. The wheelbase is 102.6, and EPA numbers are 17 city and 27 highway. Be it snow, mud, rain or whatever, the Audi A4 Quattro will motivate through, and do so with a touch of class.
The Avant compact wagon is classified as a 5-passenger, which we feel is a fair assessment. Several times during our weeklong test, we loaded the Audi up to capacity with no problem of any sort. The only area where there is a bit of a squeeze is the aforementioned back seat area, where, if larger adults are asked to share some space, legroom becomes minimal. This is actually the only area where Audi lacks, but the occurrence is common in most all compact makes. Other than that, Audi A4 is a big winner.
Of course, good things don't come cheap. Our test model came in at a tad over $35,000 from a base of $31,040, which equates to top of the line A4 status. As for other Audi A4 pricing, the standard 1.8-liter 4-cylinder Avant starts at $26,440, while 4-cylinder sedans start at $23,700. You'll need $28,390 for the 2.8 Sedan, but neither come with the Quattro all-wheel drive, so expect to pay another $1,650 if you opt for the great AWD system, which we highly recommend. To compare, an A8 top of the line will run over $70,000, while comparable A6s will easily top $40,000.
Regardless of choice, Audi is a class car. The A4 Quattro Avant wagon, however, is one of the best of the bunch, with looks, performance and value all built into one. By Greg Zyla © AutoWire.Net - San Francisco

Byline: By Greg Zyla © AutoWire.Net - San Francisco
Column Name: Looks, Performance & Value
Topic: '99 Audi A4 Avant Quattro
Word Count: 952
Photo Caption: '99 Audi A4 Avant Quattro
Photo Credits: Audi PR
Series #: 1999 - 40