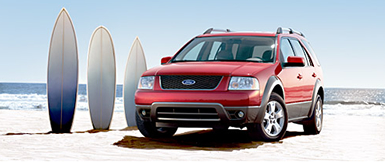 San Francisco:

Ford Motor Company relies on its broad line of sport utility vehicles to generate profits. The problem is that sales of big SUVS are dropping rapidly, as much from changing consumer tastes as the rising price of gasoline. For 2005 the all-new Freestyle represents Fordís foray into the crossover market.

With the looks of an SUV, the comforts of a sedan, and generous hauling capacity, crossovers address the needs of families, but they are lower than tippy SUVs and offer more car like handling and comfort. The Freestyle sits on a proven platform adapted from corporate cousin Volvo, and its refined 3.0-liter powerplant puts out better mileage and lower emissions than a big SUV.

The Freestyle looks like an Explorer left too long in the oven. It mirrors the Explorerís aggressive, rugged style, with upright proportions, an offroad-ready face, large wheels with bulging fenders, and a squared-off tail.

The Freestyle stands four inches lower than the Explorer. Conversely, it is more than ten inches taller than a Ford Taurus station wagon. Thatís what Ford refers to as Command Seating. Freestyles are marketed in three familiar lines - SE, SEL, and Limited and come with or without all-wheel-drive. My Silver Frost test unit was an SEL with all-wheel drive.

The SE is pretty well loaded, with 17-inch wheels, AM/FM/CD player, air conditioning, antilock brakes, an anti-theft alarm, and power driverís seat, windows, locks, and mirrors. The SEL brings dual-zone air conditioning, a leather-wrapped steering wheel and shift knob, a premium sound system, an electronic message center, and some appearance enhancements. The Limited adds heated outside mirrors, a super audio system, and heated leather chairs.

With todayís taller vehicles, you can slip right in without dipping down and hurting your back. Once you climb in, you will notice that the Freestyleís interior looks an awful lot like an SUVís, with big, shiny vent outlets, a front passenger grab handle, and a massive center console. The new Ford design template is clean and easy on the eyes.

In the SE and SEL models Ford gives you artificial carbon fiber trim, and with the Limited you get a sincere copy of wood burl. The design is first rate, but the materials are just OK and not truly luxurious. There is a pop-up bin on the dash top that would be perfect for melting a Milky Way bar into an amorphous blob on a summer day.

With the third row seat, you can accommodate seven in the Freestyle. A pushed-up roofline gives third row passengers some extra headroom. The seats fold down easily for cargo hauling duty. All Freestyles use a refined version of Fords trusty 3.0-liter Duratec V6 engine, which generates 203

Horsepower and 207 lb.-ft. of torque. Performance is greatly enhanced by connecting it to a continuously variable transmission (CVT). This type of automatic keeps an engine at its most efficient rpm at all times, compared to a standard automatic.

The Freestyleís CVT transmission uses two variable-size pulleys connected by a metal chain. The system produces torque in a continuously variable ratio, depending on driving demands. The benefits include more power when you need it and better fuel economy numbers.

The Freestyle earns ratings of 20 mpg City, 27 mpg Highway with the front-wheel-drive model, 19/24 with all-wheel drive, on regular gas. My AWD tester averaged 17.3 mpg, still a significant improvement over an Explorer. The Duratec is extremely clean running, meeting especially tough federal pollution standards. And you donít need an engine tune-up for the first 100,000 miles.

In daily use, the CVT doesnít make the familiar sounds of a conventional automatic transmission, but it works just fine. I might have liked a little more grunt on major uphill freeway stretches, but around town, even on steep hills, the car sailed along contentedly.

Being based on a Volvo platform, the Freestyle gets some distinct safety advantages, including the Safety Canopy, which gives all three rows of passengerís head protection during side impacts and rollovers. Volvoís Side Impact Protection System (SIPS) dissipates crash forces under the seats and away from the passengers. The front passenger seat airbag deployment varies depending on the weight of the person sitting there, and the drivers airbag goes off differently based on the position of the seat track and whether the belt is buckled or not.

The SE starts at $25,715, including destination charges. The SEL model is $1,400 more, and the Limited jumps $2,000 over the SEL. All-wheel-drive adds $1,800, and any options further increase the sticker price. My test car included leather seats ($795), a power moonroof ($895), the Front Row Comfort Package ($495), the Family Entertainment DVD system ($995) and more, topping out at $33,530.

If the Freestyle gets families out of SUVs and into tall wagons, then Ford will be doing the world and itself a favor. I got very comfortable driving the 2005 Ford Freestyle over its test week, and probably you will too. By Steve Schaefer © AutoWire.Net - San Francisco

To see the 2005 Ford Freestyle click on www.ford.com or call them at 1-800-392-FORD (1.800.392.3673) for more information.

Byline: Syndicated content provided by Tony Leopardo © AutoWire.Net
Column Name:

Fordís first crossover tall wagon
Topic: The 2005 Ford Freestyle
Word Count: 904
Photo Caption: The 2005 Ford Freestyle
Photo Credits: Ford Internet Media
Series #: 2005 - 36 Download the Microsoft Word version here: 2005 Freestyle

Download the Original Image File here: 2005 Freestyle