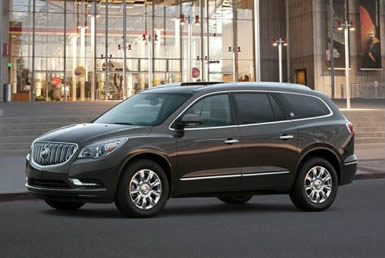 The 2014 Buick Enclave Review: Buick has built its reputation on producing and selling some large, fine and fancy sedans. With all the changes in the auto industry, Buick has found itself in 2013 marketing a likeable and capable crossover SUV, which may be the best thing they sell today. So, why not have a Buick SUV with all the trimmings?
The redesigned grille is as toothy and shiny as the one gracing the 1953's. Even inside, there is more chrome trim than you'll find on any Chevrolet, including the brand logo on the steering wheel, the clock, the knobs, vents and panel edges. The gently curving instrument panel has five chrome rings that contain a 140-mph speedometer and a tachometer with no visible redline. My tester featured full instrumentation, including oil pressure and temperature gauges, not just a set of lights.
I was surprised at the strange pattern on the artificial wood trim in the cabin and by the sticky feeling of the plastic around the interior door handles, but otherwise, the trappings inside seem quite elegant.
The Enclave is a two-and-a-half-ton, three-row family vehicle, powered by a robust 3.6-liter V6 engine. It generates 288 horsepower and 270 lb.-ft. of torque, which makes it quick to respond. Properly equipped, the Enclave can tow up to 4,500 pounds. My tester had optional all-wheel drive, which aids in poor weather and surface conditions, but is not an invitation to take the Enclave over rough off-road terrain.
The EPA gives the AWD Enclave 18 mpg as the Combined fuel economy number (16 City, 22 Highway). Front-wheel-drive models are rated 17/24. I averaged 16.1 mpg during a week in my Cyber Gray Metallic test car. Green numbers are a mid-pack 6 for Smog and 4 for Greenhouse Gas.
My tester had an old-fashioned real key, not just one of those blobs of plastic that start the car by being nearby when you press the Start button. You have to insert it into a keyhole on the steering column and turn it. Another old-fashioned item is the gear selector area, which somehow channels the moderne look of the 1930s. You'd have to see it to know what I mean.
But to make it a car of today, there's a thin strip of LEDs that runs over the door tops and around the dashboard below the windshield. At night, it emphasizes the dramatic, sweeping lines. And of course, safety abounds here. This is the industry's first front center airbag, which can protect passengers from crashes to the opposite side of the car. Also, the Forward Collision Alert and Lane Departure Warning get your attention when you may be heading toward a collision. I found the former to be a bit quick to flash, but I didn't run into anybody.
The premium 10-speaker Bose sound system made my extended commutes much more bearable. And, for rear passengers, there was an overhead fold-down display and two sets of earphones that are hidden in the center console, for shortening the experience on long-distance trips.
New for 2014 is text message support and XM Tune Select. With text message support, you are alerted to new messages and can view and respond to them, legally, through the features of your smart phone. XM Tune Select lets you create alerts for favorite songs or artists, and is available only on Enclaves with the Navigation system.
There's no shortage of space in the Enclave. Depending on whether the middle row of seats is two buckets or a bench, the car holds seven or eight passengers. There is more than 23 cubic feet of room behind the third row of seats, and if you fold the second and third rows down, there's more than 115 cubic feet. Buick reminds you that that beats several luxury crossover competitors. Of course, there's all the stuff you expect here, including heated and cooled seats with eight-way power adjustment for both front seat passengers.
There's a power liftgate and a rearview camera system. The sunroof takes up almost the entire roof. And Buick's IntelliLink radio touch screens let you hook up numerous wireless devices.
Prices start at $39,665, including shipping. The Premium all-wheel-drive model, like my tester, begins at a base MSRP price of $48,165.
I grew comfortable with the Enclave over my test period. The ride was firm but not harsh, certainly not like a land yacht. The features worked well and the car delivered what its looks promised. Although I don't need a car this large with my small family, I began to see why someone might want one.
By Steve Schaefer © AutoWire.Net - San Francisco
The Bottom Line: The 2014 Buick Enclave: The public has become enthusiastic over crossover SUVS, the ones built on car-style unibody platforms. Unlike the truck-based pioneers of this body style, these new models are simply bigger, taller cars. And there's no mistaking that this is a Buick. The Enclave has the power, room and luxury you would expect from Buick, and the Enclave delivers. With all the available technology packages, towing packages and All Wheel Drive the Enclave can be equipped the way you want it, and at your price point. This is a Luxury SUV for everyone, and maybe, just for that reason alone, you should "Drive one, and Buy one, Today ©"
Bottom Line Review provided by: Tony Leopardo © AutoWire.Net
The 2014 Buick Enclave Bottom Line Review provided by: Tony Leopardo © AutoWire.Net - "Tony the Car Guy" is an automotive writer, editor and publisher in the San Francisco Bay Area. If you have a question or comment for Tony send it to TonyLeo@pacbell.net or visit AutoWire.Net at www.autowire.net - And remember: " You Are What You Drive©"

Column Name: There's no mistaking that this is a Buick
Topic: The 2014 Buick Enclave
Word Count: 1,007
Photo Caption: The 2014 Buick Enclave
Photo Credits: Buick Enclave Internet Media
Series #: 2014 - 21
Download the Microsoft Word version here: 2014 Buick Enclave
Download the Original Image File here: 2014 Buick Enclave