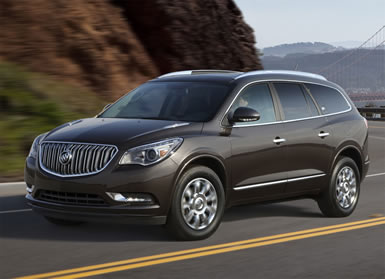 The 2013 Buick Enclave FWD Premium Group Review: One of the weird things about reviewing new cars, a bizarre world where you drive a different, brand-new car every week, is that your expectations change so much with each vehicle. If I drive a $15,000 economy car today after driving a $100,000 luxury car last week, how is that fair? Is the cheap car really bad, or does it just feel bad because I spent seven days sitting in the Taj Mahal?
That's why I try to hit a mental reset button after each vehicle, so as not to set my expectations too high. After driving a fancy Cadillac SRX last week, for example, I tried not to expect as much from the Buick Enclave, a crossover from a brand that traditionally sits a click lower than Cadillac on General Motors' totem pole.
Want to know the weird thing? I think I like the Enclave even better than I did the Cadillac. This big Buick has a softer ride than the SRX, which seems fitting in a luxury crossover. If I wanted a sporty ride, I'd pick a sports sedan instead of a bulky, pseudo-sporty crossover.
It's also incredibly practical, with three rows of seats and minivan-like storage options. And unlike some three-row crossovers, it actually has a decent amount of cargo space in back when the third-row seat is in place. That makes it a good car for family road trips.
If you're cross shopping with the Cadillac, and with a fully loaded price in the $50,000 range for the Enclave, you easily could be in the one area that the Caddy wins is in technology. The Enclave lacks the "gee whiz" appeal of the SRX's fancy new CUE digital interface, opting instead for more traditional buttons and radio dials.
But in terms of the interior trim, the Buick definitely has Cadillac-level quality. Gentle lights sweep around the cabin, from the back seats all the way across the dash, something that gives it an elegant, spaceship look at night unlike anything else on the road. The materials are top-notch, too, with soft leather seats and classy stitching on the dash and door trim.
Buick made a long list of improvements to the Enclave for 2013. It's not an all-new design, but it comes close with freshened exterior styling, a new instrument panel and interior lighting, an updated six-speed automatic transmission, new suspension design and more standard equipment.
The end result is a luxury vehicle that rivals some of the best crossovers in the world, including the category's standard-bearer, the Lexus RX. If your idea of a Buick crossover is built around the old Rendezvous, you'll be in for a shock. Pricing starts at $39,340 for the base front-wheel-drive Enclave and ranges up to $48,520 for the Premium Group package with all-wheel drive.
What was tested? The 2013 Buick Enclave FWD Premium Group with a base price of $45,625. Options on the test car: The rear-seat entertainment system for $1,445 and a power sunroof for $1,400. The total MSRP price as tested including the $825 destination charge came to: $49,295
Why hesitate? The soft ride won't appeal to people who like their crossovers sporty, and its traditional cabin doesn't have the high-tech wow factor of some rivals.
Why buy it? It's a spectacular luxury crossover with three rows of seating, a quality cabin and a smooth, silent, highway ride.
By Derek Price © AutoWire.Net - San Francisco
The 2013 Buick Enclave FWD Premium Group Bottom Line Review provided by: Tony Leopardo © AutoWire.Net
The Bottom Line: The 2013 Buick Enclave FWD Premium Group model is one of the top luxury contenders. With updated styling the new Buick is clean and upscale looking, matching its position as one of the smoothest luxury crossovers on the market. The Enclave's interior was also updated for 2013, including a new instrument panel, new door trim panels with real stitching and new climate controls. With 3 rows of seating, ample storage space and a super smooth ride this new Buick should be at the top of your luxury crossover list at around $45K. You should "Drive one, Buy one, Today ©"
Bottom Line Review provided by: Tony Leopardo © AutoWire.Net
"Tony the Car Guy" is an automotive writer, editor and publisher in the San Francisco Bay Area. If you have a question or comment for Tony send it to TonyLeo@pacbell.net or visit AutoWire.Net at www.autowire.net - And remember: " You Are What You Drive © "

Column Name: Enclave moves upscale
Topic: The 2013 Buick Enclave FWD Premium Group
Word Count: 800
Photo Caption: The 2013 Buick Enclave FWD Premium Group
Photo Credits: Buick Enclave Internet Media
Series #: 2013- 04
Download the Microsoft Word version here: 2013 Buick Enclave
Download the Original Image File here: 2013 Buick Enclave