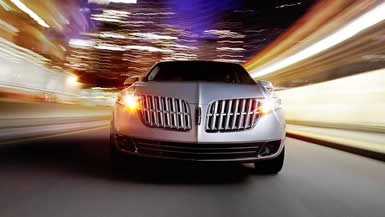 2011 Lincoln MKT Review: As Lincoln goes after today's luxury vehicle buyer, it can't simply offer big sedans or rely on the Navigator SUV to pull the load. The MKT crossover SUV offers comforts and high tech features galore in a distinctive package to attract luxury crossover intenders.
Based on Ford's sleek Flex, the MKT has a completely different personality. It seats six or seven, depending on second row seating configuration. And combines the comfortable car like handling and performance with the high up seating and the cargo carrying benefits of a SUV.
There is a distinct air of nostalgia in Lincoln's designs. A split-wing grille is part of its plan to differentiate the brand. Harking back to early-mid 20th century models, the design combines smoothly integrated bumpers and horizontality with retro, bringing back some of the glamour and appeal that has been lost.
The overall design of the MKT is stunning, besides the stylish face, a chamfered line runs along the sides, kicking up dramatically at the end of the rear doors. The rear tapers down to full-width taillamps, definitely a look back to the 1960's and 70's. These, however, contain high-tech LEDs.
A posh interior is a must for a luxury crossover. The Canyon Premium leather inside my White Platinum Tri-Coat Metallic tester looked and felt plush, with its heat and cool settings and 12-way power adjustment for driver and front passenger. The second-row passengers' optional bucket seats get recline and lumbar adjustments, and a center console where they can select climate and seat heating settings. It includes a refrigerated compartment.
Drivers look onto a silver-accented steering wheel, instrument panel and dash that flow across one door, around the dash and onto the other. Materials and fit-and-finish are very good, and other than some fussiness with the center console armrests, they feel solid. The artificial woodgrain trim, neatly enclosed in thin chrome edges, is enthusiastic in its graining.
You can order your MKT with Ford's 3.7-liter Duratec engine that puts out 268 horsepower and 267 lb.-ft. of torque, which is good for a V6. However, opt for the new Ecoboost 3.5-liter V6, and you receive 355 horsepower and 350 lb.-ft. of torque. Using twin turbochargers, it gives V8 power with V6 fuel consumption.
The EPA says 16 City, 21 Highway (average 18 mpg). I averaged 19.6 mpg in mixed driving, which is very good for a 4,900-pound vehicle. The EPA green scores for the MKT are a respectable 6 for Air Pollution but just 3 for Greenhouse Gas.
The Ecoboost MKT offers brisk performance and, thanks to carefully computer-designed insulation placement and wind noise reduction, you hardly hear it working. The suspension keeps things level and firm enough to please the driver, yet compliant and smooth for the passengers.
As a luxury vehicle, many features come standard, and you can add more with the check of a box. My tester had a power liftgate and third-row seats that elegantly folded themselves down, providing a flat, carpeted cargo space. The second-row passengers have their own pull-up sunshades. Everyone can enjoy the standard Sirius satellite radio programming and the SYNC voice-control system.
I tried using SYNC to change musical selections on XM. I often had to repeat my requests to get it to respond, and I had to ask it in steps: Audio > Sirius > Preset 3, for example. It's faster to reach up and touch a button. The same goes for raising or lowering the ambient temperature or working with the navigation system. Anything that keeps the driver's eyes on the road is good, but the SYNC system still seems less intuitive than I'd like it to be.
My tester had automatic headlights and brights. It politely lowered them whenever another car approached. The collision warning system beeped and flashed a red bar of lights in the dash top if I approached a stopped car without braking. This is a great safety feature, but it went off in some innocuous situations.
Prices for MKTs start at $44,995, including destination charges, for the 3.7-liter model with two-wheel drive. Add $1,995 to that for all-wheel-drive or $5,000 to it for the 3.5-liter Ecoboost model (which comes with all-wheel drive standard).
My tester, with the Elite Package, sparkling paint job, second-row buckets and console, and collision warning system, totaled out at $58,370. The Elite Package in my tester added a sensational power panoramic vista roof, a helpful blind spot warning system, theater-style THX Surround Sound and a voice-activated navigation system.
We'll see if fine efforts like the MKT will resonate with buyers and develop an enthusiasm for not only these larger models but also for the upscale smaller cars that regulations and changing buyer tastes will require in this decade. By Steve Schaefer © AutoWire.Net - San Francisco
The Bottom Line: The 2011 Lincoln MKT is a luxury crossover that makes its mark with the vintage look of past Lincolns, in a new hi-tech way. This distinctive look, coupled with a luxury-laced interior, on top of a solid chassis, makes for a great ride. The new Lincoln seems like it just drove away from the front door at the Country Club, with you at the wheel. You will always standout from the crowd driving a new MKT Lincoln, and this is what a Luxury Crossover SUV should do. "Drive one, Buy one, Today ©"
Bottom Line Review provided by: Tony Leopardo © AutoWire.Net
The 2011 Lincoln MKT Bottom Line Review provided by:
Tony Leopardo © AutoWire.Net
"Tony the Car Guy" is an automotive writer, editor and publisher in the San Francisco Bay Area. If you have a question or comment for Tony send it to TonyLeo@pacbell.net or visit AutoWire.Net at www.autowire.net - And remember: " You Are What You Drive © "

Column Name: Standout from the crowd in a new Lincoln MKT
Topic: The 2011 Lincoln MKT
Word Count: 1,014
Photo Caption: The 2011 Lincoln MKT
Photo Credits: Lincoln MKT Internet Media
Series #: 2011- 06
Download the Microsoft Word version here: 2011 Lincoln MKT

Download the Original Image File here: 2011 Lincoln MKT