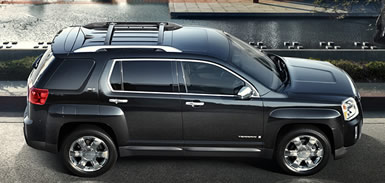 GMC Terrain Review: GMC has long been known for its tough work trucks and luxurious SUVs. That's what this brand is all about. Lately GMC has taken an abrupt turn by creating the Terrain, its most car-like vehicle to date.
This compact SUV is the opposite of everything else in GMC's lineup, which consists mainly of big, heavy, body-on-frame trucks. Instead, the Terrain feels light and nimble, driving with the agility of a mid-size sedan.
In reality, this crossover vehicle is a Chevy Equinox with GMC badging, and that's a good thing. The Chevy version is a great car, one of the best crossovers to hit the market in the past few years, so sprinkling a little GMC flavor on it doesn't hurt.
The styling differences are noticeable if you park the Equinox and
Terrain side by side, and personally, I like the GMC version a little better. It has a bolder grille and more upright styling compared to the rounder, softer Equinox. Still, the Terrain isn't as noteworthy for its looks as it is for its driving feel. And it excels at that.
Driving a Terrain feels, oddly enough, like driving an Acura, with a firm, sporty suspension and relatively quiet cabin. It's a luxurious feel, but not in the soft, smooth, floating way you'd find in a Lexus or Mercedes.
It moves with a certain zip and spunk. While its four-cylinder base engine isn't exactly thrilling, it's more buttery and responsive than a lot of General Motors engines, but definitely not fast, but it makes up for it with great gas mileage. It's rated for 32 mpg on the highway, an eye-popping number for a vehicle this size. And that size might surprise you.
The Terrain is classified as a compact SUV because it competes with cars like the Honda CR-V and Toyota RAV4, but don't be fooled. These vehicles aren't really compact anymore. The Terrain has a cargo area similar to what you'd find in a true, truck-like, mid-size SUV a few years ago, and the second-row seat is spacious enough for three adults.
GMC tries to provide a premium feel for the passengers too. Aside from the good ride, the cabin comes with standard goodies like a rear-view camera, with a display that shows up in the mirror, and lots of high-end options like remote vehicle start, Bluetooth phone capability, a power rear liftgate, navigation system with a hard drive, and a dual-screen DVD player for the back seat. Pricing starts at $24,995, or $26,745 with all-wheel drive.
Considering it comes with some premium technology and nice standard equipment, including that wonderful direct-injection base engine, it's not a bad price at all. In fact, if GMC wants to keep moving in this car-like direction, they won't hear many complaints with vehicles like the Terrain in their lineup.
What was tested? The 2010 GMC Terrain FWD with a base price of $24,250. Options on the test car: None. The total MSRP price as tested including the $745 destination charge came to $24,995.
Why avoid it? Chevy sells a different version of this car with a slightly lower starting price.
Why buy it? It drives with an agility and sophistication you don't normally see in GMC trucks. It has a quiet cabin, good ride and gets an impressive 32 mpg on the highway. By Derek Price © AutoWire.Net - San Francisco
The Bottom Line: The new 2010 GMC Terrain feels light and agile and is a handsome crossover vehicle with a more upright, aggressive look than its close cousin, the Chevy Equinox. The Terrain offers comfortable seating for five, has a generous cargo area in back, plus it gets an impressive 32 mpg on the highway. The real bottom line on this new GMC is that it's a great ride for a great price, with good utility that goes a long way on a gallon of gas.
Bottom Line Review provided by: Tony Leopardo © AutoWire.Net
"Tony the Car Guy" is an automotive writer, editor and publisher in the San Francisco Bay Area. If you have a question or comment for Tony send it to TonyLeo@pacbell.net or visit AutoWire.Net at www.autowire.net
And remember: " You Are what you Drive "

Column Name: GM's truck brand makes car-like crossover
Topic: The 2010 GMC Terrain
Word Count: 750
Photo Caption: The 2010 GMC Terrain
Photo Credits: GMC Terrain Internet Media
Series #: 2010 - 08
Download the Microsoft Word version here: 2010 GMC Terrain
Download the Original Image File here: 2010 GMC Terrain