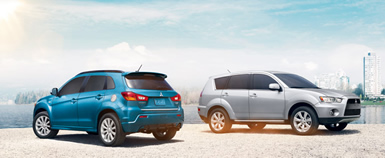 2011 Mitsubishi Outlander Sport Review: Mitsubishi is well known among the young tuner crowd for its powerful Lancer Evolution high-performance sedan. Years ago, the Eclipse sporty coupe was a hot seller. The company also has marketed various SUVs through the years, notably the Montero. With the Outlander Sport, they are trying to get the best of both worlds, at an affordable price.
Aimed squarely at the successful Honda CR-V and Toyota RAV4 compact SUVs, the five-passenger Outlander Sport shares a 105.1-inch wheelbase with the larger seven-passenger Outlander, but is cut down to fighting trim. Its body stretches more than 14 inches less overall and comes in at just over a ton and a half in its lightest form.
Smaller "crossover" SUVs tend to have more carlike styling, and the Outlander Sport follows that trend. You can see the contours of the Lancer along the sides (and a bit of BMW too). The face wears the squared-off fighter jet intake look of the Evolution. Despite its fierce visage, the car looks almost cute, especially in the pert Laguna Blue of my test car.
Inside, Mitsubishi keeps it modest, with supportive cloth seats, but you get a nice leather-wrapped steering wheel and some padding on the dash and door panels. The seat heater buttons are tucked into the inside edges, but I was glad to find them during a cold spell. Overall, the styling matches up with an increasing batch of competitors.
Variations are simple, the ES and higher-level SE model, like my test car. Both models employ a 148-horsepower 2.0-liter four-cylinder engine. The ES comes standard with a manual transmission while the SE gets a CVT (continuously variable transmission), which is optional on the ES.
You can have two-or four-wheel drive. My four-wheel-drive tester featured a knob the size of a Reese's Peanut Butter Cup on the center console between the seats to switch from two to four traction wheels.
Every Outlander Sport comes well equipped. You get air conditioning, cruise control with steering wheel mounted controls, a tilt & telescopic steering wheel, power windows and door locks and remote keyless entry.
Also standard is a 140-watt AM/FM/CD/MP3 audio system. This four-speaker system features steering wheel controls, digital signal processor, equalization control with speed compensated volume and the FUSE HandsFree Link System with USB input jack. That lets you control your iPod from the dash, a safety and convenience feature that should be standard equipment on all cars.
But for those who want more, with the SE model you can order the Rockford Fosgate premium sound system, which produces 710 watts of power from its eight channel amplifier. My tester had it, and it transforms the cruising experience.
My only complaint with the audio system was that when I used my iPod, the system took a couple of minutes to "read" it every time I got in the car. And then, it sometimes removed the previously set shuffle, so I had to manually re-do that. But once it was playing, all was well.
Another SE-only option is a panoramic sunroof, which my tester had. You can let the sun and air in, and, at night, push a button to illuminate it, surely a nod to the youthful customer base.
Fuel economy is respectable, at 24 City, 29 Highway for the four-wheel-drive system and 25/31 with two-wheel drive. I can't report on cumulative fuel economy because the trip computer reset every day, but I averaged 23 miles per gallon on my commutes, which combine freeway and city driving. That beats many cars on the road. Recent tests of a competitive Honda CR-V and a Kia Sportage delivered averages of 20.6 mpg and 23.3 mpg respectively, so the Mitsubishi is right in the hunt. However, these two competitors offer larger, 2.4-liter engines with higher horsepower.
The EPA's Green Vehicle Guide gives the car a 5 for Air Pollution and 6 for Greenhouse Gas, mid-pack performance, but there is one model listed with a 9 for Air Pollution. Find it.
Pricing starts at $19,275 for the ES with manual transmission and goes up to $23,775 for the SE with all-wheel drive. Of course, super sound systems and other options will add to the sticker, but Outlander Sports are very affordable vehicles, which may be the distinguishing feature that moves lots of them into driveways across America.
Mitsubishi has struggled in recent year in the U.S. market. The Lancer is a hit, but there aren't enough of them selling to carry the brand. The new Outlander Sport is the best shot they've had in years to attract more buyers. If you're shopping for a "cute Ute" you owe it to yourself to check out Mitsubishi's new entry in this rapidly expanding segment.
By Steve Schaefer © AutoWire.Net - San Francisco
The Bottom Line: The 2011 Mitsubishi Outlander Sport is a cute Ute with wide appeal, just like the front grill. It's a great crossover SUV that has one thing going for it that the CR-V and the RAV4 don't, which is a better price. Entry level Outlanders start at just $19,275 and that's a great price in the compact crossover market. Coupled with a distinctive front end, graceful side contours and clean rear end styling the Outlander Sport makes a bold statement on the road. If you want the tuner look, plus good gas mileage, in a practical package, than this is the car for you. You can't buy a better crossover for less money than Outlander. "Drive one, Buy one, Today ©"
Bottom Line Review provided by: Tony Leopardo © AutoWire.Net
The 2011 Mitsubishi Outlander Sport Bottom Line Review provided by: Tony Leopardo © AutoWire.Net
"Tony the Car Guy" is an automotive writer, editor and publisher in the San Francisco Bay Area. If you have a question or comment for Tony send it to TonyLeo@pacbell.net or visit AutoWire.Net at www.autowire.net - And remember: " You Are What You Drive © "

Column Name: Mitsubishi builds a cute Ute with wide appeal
Topic The 2011 Mitsubishi Outlander Sport
Word Count: 1,042
Photo Caption: The 2011 Mitsubishi Outlander Sport
Photo Credits: Mitsubishi Outlander Sport Internet Media
Series #: 2011- 08
Download the Microsoft Word version here: 2011 Mitsubishi Outlander Sport

Download the Original Image File here: 2011 Mitsubishi Outlander Sport