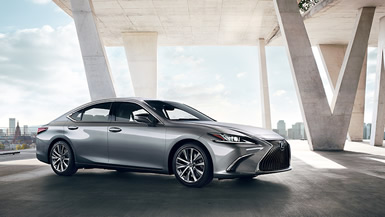 The 2019 Lexus ES Review: The new-generation Lexus ES makes the case that "all new" doesn't have to mean "very different." The 2019 version of Lexus' pantry-staple executive sedan offers one surprise, its sleeker, bolder, and mildly polarizing design, while delivering more of what makes it perennially popular with buyers.

The new ES, in contrast, charts a steady course. Yes, it looks quite different, with a lower, wider and longer shape that mimics the fresh Avalon platform upon which it's based. For a traditionally conservative car from a traditionally conservative brand, at least, the dramatic iteration of Lexus' spindle grille injects a serious dose of adrenaline.
When a new-generation car is introduced, manufacturers often take the opportunity to choose a new direction for it. That was the case with the car I drove last week, the 2019 Kia K900, which made the startling shift from smooth boulevard cruiser to sharp-edged sports sedan. It's also the path Toyota chose with the newest Camry, taking it in a thrilling visual direction and offering a more heart-rate-jolting feel from the driver's seat on certain trim levels.

Beyond that, the new generation takes everything that was great about the old ES and cranks the volume knob to 11. Its ride remains smooth and silent, even more so than in the past. Its lower, wider stance improves the feel in corners, too, without sacrificing its trademark comfy highway experience.

While the most driving enjoyment would come from the revised 3.5-liter, 302-horsepower V6 engine and eight-speed transmission on the ES 350, my tester was the slower, but more practical hybrid flavor.

Between its four-cylinder engine and two electric motors, the ES 300h makes a combined 215 horsepower while delivering 43 mpg in the city and 45 on the highway, according to government ratings. That's both more powerful and more efficient than the 2018 model.
It has the comforting, smooth feel of Toyota's contemporary hybrid system, too. This hybrid drivetrain, which uses the gasoline engine and regenerative braking to recharge its battery, is one of the most transparent and refined on the market. The transition between low-speed electric power and higher-speed gasoline power is almost imperceptible.

The interior is redesigned to add much of the driver-focused feel of its big brother, the LS. The driving position feels more natural than before, with a lower seating height and adjusted pedal and steering wheel angles that, for my average size, at least, fit like a glove.
It also implements my one complaint about the LC and LS: the awkward touchpad interface near the center armrest. Much like laptop computers, the ES uses a sensitive touchpad that allows your finger to control functions on a digital screen. It doesn't bother me when at a complete stop, but I never can seem to get comfortable using it while driving.

This system, Remote Touch Interface, feels fussy and too sensitive while in motion, when every bump or turn makes your finger move. I prefer simple touch screens but might one day get used to this Lexus interface, and perhaps even grow to love it, if given enough time.

Other than the goofy touchpad, the cabin is a heavenly place to spend time. All the controls and information are instantly accessible for the driver, with an easy-to-use button and knob layout that other luxury cars would be wise to imitate. And in typical Lexus fashion, its materials and construction are top-notch, with that glorious combination of supple, smooth leather, rich wood trim and granite-like solidity.

Pricing starts at $39,600 for the ES 350 or $41,410 for the hybrid ES 300h. It tops out at $45,060, before options, for the Ultra Luxury hybrid trim. The F SPORT version, with its head-turning styling and Adaptive Variable Suspension, is priced at $44,135.
What was tested? The 2019 Lexus ES 300h Ultra Lux with a base price of $44,960. Options on the test car: Blind spot monitor package for $1,900, wireless charger for $75, 18-inch wheel package for $950, the10.2-inch Heads Up Display for $500, navigation package for $1,920, heated steering wheel package for $480, illuminated door sills for $379 and the carpet trunk mat for $105. The total MSRP price as tested including the $1,025 destination charge came to: $52,294

Wheelbase: 113 in.
Length: 195.9 in.
Width: 73.4 in.
Height: 56.9 in.
Engine: 2.5-liter inline four-cylinder with hybrid electric motor with 215 total system horsepower
Transmission: Continuously variable
Fuel economy: 43 city, 45 highway

By Derek Price © AutoWire.Net - San Francisco
The 2019 Lexus ES Bottom Line Review provided by: Tony Leopardo © AutoWire.Net
The Bottom Line: The 2019 Lexus ES The Lexus ES gets a new design that keeps it true to its roots while adding a sleeker, more aggressive look than ever before. While the redesigned Lexus ES Hybrid delivers more of the same great formula. Lexus is also rolling out something new that seems to match its swept-back bodywork: an F SPORT package with a more aggressive look and feel.

The ES joins two of Lexus top-tier models, the LS and LC, with the brand's most driver-focused cabin. Dominated by a huge digital display, it's meant to put all the important controls and information within convenient reach. This new-generation design makes it catch the eye better than ever before without sacrificing its smooth, silent, practical, comfortable demeanor.
And maybe, just for those reasons alone, you should "Drive one, Buy one, Today ©".
This Bottom Line Review is provided by: Tony Leopardo © AutoWire.Net
"Tony the Car Guy" is an automotive writer, editor and publisher in the San Francisco Bay Area. If you have a question or comment for Tony send it to TonyLeo@pacbell.net or visit AutoWire.Net at www.autowire.net - And remember: "You Are What You Drive ©"

Column Name: Sleek and Efficient
Topic: The 2019 Lexus ES
Word Count: 996
Photo Caption: The 2019 Lexus ES
Photo Credits: Lexus Internet Media
Series #: 2019 - 01
Download the Microsoft Word version here: 2019 Lexus ES
Download the Original Image File here: 2019 Lexus ES