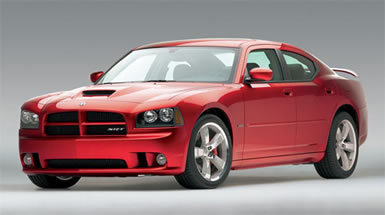 Car Review: If you noticed a line of teenage boys in front of my house last month, hereís why. The Dodge Charger SRT8 with its mighty 6.1-liter, 425-horsepower HEMI V8 was parked in my driveway for a week.
They can look all they want, but itís really not for them. At $35,000 and up, itís aimed at folks (70 percent male) who either had muscle cars before family obligations eliminated them or always wanted one but never got the chance.
The Charger is based on Chryslerís very successful 300C, which introduced the companyís hunkered-down look a few years ago. The 300C features slits for windows, chunky proportions, and a classic chrome egg crate grille that would look appropriate in 1956. The Charger differentiates itself with traditional Dodge styling cues, including a stern face and kicked up rear fenders.
Some fuss was generated when the new Charger arrived for 2006 with four doors. You see, the classic Chargers were big 2-door fastback coupes, and purists werenít sure they would cotton to this new fangled style of hot rod. Well, how about low 5-second zero to sixty times? And a quarter mile in 14 seconds? The controversy appears to have eased.
You donít need to buy the SRT8 model to enjoy a Charger. The tamest version comes with a fuel-sipping 190-horsepower 2.7-liter V6. If that seems a bit anemic, try the 3.5-liter 250-horsepower V6. Or step up to the 5.7-liter HEMI model with ďonlyĒ 340 horsepower. All engines run through four- or five-speed automatic transmissions, depending on the model.
Despite its mighty power trains, the Charger is much much better to drive than the old muscle cars of the 1960s and 70s. This one is battened down with gas-charged dampers and tuned anti-sway bars for level, smooth performance. Chrysler has installed Brembo brakes for maximum stopping power. In regular traffic youíll feel a sense of unused potential as the HEMI rumbles under its scooped hood. So find your self an empty, long freeway onramp and have some fun!
The biggest Charger claims fuel economy numbers of 14 City and 20 Highway. I averaged 15.2 mpg. Plus thereís a $2,100 Gas Guzzler Tax on the window sticker. Nobody said reliving your adolescence came cheap!
The EPAís Green Vehicle numbers show a slightly better than average score of 6 on the Air Pollution scale but a dismal 2 on the Greenhouse Gas score. Remember, thereís a lot of CO2 coming out of a six-liter V8 engine, no matter how you slice it.
The Chargerís interior has the same tasteful, tailored look of the Chrysler 300. Most of the effort in distinguishing the Charger is in or under the sheet metal. However, a deeply bolstered set of leather sport seats with grippy suede inserts goes a long way toward holding you in place during, um, assertive maneuvering.
The black interior plastic with silvery and chrome accents feels well crafted. The Charger is rated a ďLargeĒ car by the EPA, other than a touch of claustrophobia from the chopped window greenhouse, you can really stretch out in the car. I felt a little guilty driving it to work all by myself when I could have brought my entire department with me.
The Charger comes with a long list of standard safety features, including antilock brakes, traction control, an electronic stability program, brake assist, and an advanced multistage airbag system. Of course, sheer mass will protect you, too.
The SRT8 model comes with loads of good stuff standard. My Brilliant Black Crystal Pearl Coat (really) test car had 20-inch SRT design alloy wheels, and all the usual and desirable power assists and features you could want. I did notice that the otherwise worthy SIRIUS Satellite Radio had minimal information available on-screen. This seems to be a Chrysler corporate decision, as Iíve seen this lack of data in other Chrysler models too.
My car also came with the SRT Option Group 1, which delivers air filtration, automatic headlamps, dual-zone controls for the A/C, heated front seats, and the addition of automatic up for the power windows. With a power sunroof, the SRT8 topped out at a $40,320. Yep, A $40 grand hot rod!
My week-long test showed me that the Charger is easy to live with and very pleasant to drive, despite its macho appearance. The extra power tended to make me fearless in lane changing and passing, and healthy in my respect for any officers of the law. The thing looks fast even when itís floating along in the traffic flow.
Assembled over the US border in Canada, the Charger SRT8 boasts a Mexican engine and a German transmission. So international.
If you can swing the payments and the frequent refilling of the Chargerís 19-gallon tank, go for it. If anything, itís a chance to relive the sixties and seventies in a very comfortable, 21st century way. Thereís even a jack for your iPod. By Steve Schaefer © AutoWire.Net - San Francisco

Byline: Car Review provided by Tony Leopardo © AutoWire.Net
Column Name: This Charger looks fast even standing still
Topic: The 2007 Dodge Charger SRT8
Word Count: 888
Photo Caption: The 2007 Dodge Charger SRT8
Photo Credits: Dodge Charger SRT8 Internet Media
Series #: 2007 - 68

Download the Microsoft Word version here: 2007 Dodge Charger SRT8
Download the Original Image File here: 2007 Dodge Charger SRT8