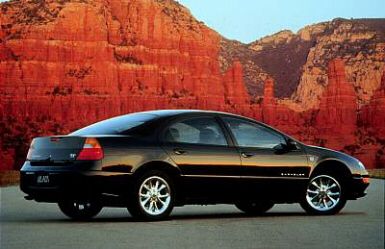 SAN FRANCISCO: Chrysler offered its legendary "Letter Series" 300 luxury muscle cars for the more affluent motorists and for winning stock car racers. The series started with the C-300 in 1955 and ended with the 300L in 1965. Chrysler, now DaimlerChrysler, resurrected the series with the 300M in 1999. Unlike the earlier 300s which came as hardtop coupes, and in many years convertibles as well, the 300M comes only as a four-door sports sedan.In the past few years Chrysler stylists have created many great looking cars and trucks & the 300M is definitely one of their best.
The 300M shares its front-wheel-drive platform with the Dodge Intrepid, Chrysler Concorde and Chrysler LHS. Chrysler is seriously marketing the 300M in Europe, so the 300M is about 10 inches shorter than the LHS for the narrower roads and smaller parking spots in these markets.
Unlike the early 300's that were powered by huge, powerful, and thirsty Chrysler "Hemi" V-8s, the 300M features a 3.5 liter, single-overhead-camshaft (SOHC) V6 with four- valves-per-cylinder. The engine is rated at 253 horsepower and produces 255 ft-lbs of torque. All 300Ms come with a four-speed "AutoStick" automatic transmission that can also be shifted manually without a clutch. The EPA numbers are 18 mpg city and 26 mpg highway.
For a base price of $29,690, the 300M comes loaded with standard equipment like power everything, leather upholstery, heated front seats, automatic climate control, anti-lock brakes, low-speed traction control, and a nine-speaker Infinity I sound system with AM/FM stereo/cassette/CD player. About the only major options are a sunroof ($895), Chrome wheels ($750) and a 4-disc in-dash CD changer with 11-speaker Infinity II sound system ($515). As a sign of the times, an ashtray and lighter is a $20 option.
For those that want even better performance, there is a "Handling Group" option. For $500, you get "firm-feel" steering, stiffer suspension, special 16-inch wheels, and high Performance tires. Also the electronic speed limiter comes off, so top speed is upped to an autobahn-like 140 mph with performance anti-lock brakes added to handle the greater speed.
Awhile back I had a chance to drive an old, but well maintained 1955 Chrysler C-300. My, how things have changed! While its handling was raved about back them, today's pickups actually handle better. And while the old Hemi-V8 still can't be matched, its full performance can be used only when you are traveling in a straight line.
Where the 300M really shines in comparison to its more expensive competition is interior space. The 300M provides first class accommodations for four full-sized, large and tall adults, and five if needed. The rear seating is almost limousine-like. The trunk is also huge and there is a 60/40 split seat if you need to carry some large or bulky items.
The 300M is in the same class as the much more expensive, high-performance sports sedans from BMW, Mercedes, Jaguar, Lexus & Infiniti. The 300M I drove handled exceptionally well, so it should satisfy all but the most serious driving enthusiast. All in all, the 300M offers great value for anyone wanting a large, serious, distinctive sports sedan. in comparison to the more conservative styling found in the European competition. By Bill Siuru © AutoWire.Net - San Francisco

Byline: By Bill Siuru © AutoWire.Net - San Francisco
Column Name: "Picking Up Where It Left Off 35 Years Ago"
Topic: 2000 Chrysler 300M Sports Sedan
Word Count: 617
Photo Caption: 2000 Chrysler 300M Sports Sedan
Photo Credits: Chrysler PR
Series #: 2000 - 1