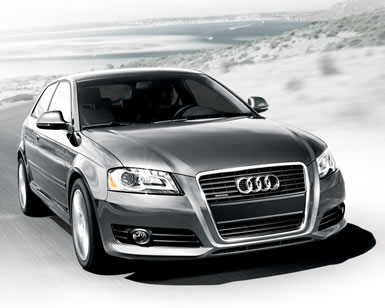 Audi Review: Audi's A3 premium compact car has the same dramatic front end as its bigger, far more expensive siblings. It also drives like a high-end European luxury car, despite its small car size.
Despite its lower price, the A3 doesn't skimp in the cabin. It has the same great build quality and expensive-feeling, stylish materials you'll find in Audi's top-end vehicles. Now you can get big car luxury in a small car package
When I first drove the Audi A3 after it was introduced a couple of years ago, I was skeptical it would sell very well. It wasn't that the A3 was a bad car, it was actually an unusually impressive one, but it ran completely contrary to conventional wisdom. Here in America, unlike in Europe, there's really no such thing as a "premium" compact car. Over here, compact cars are always cheap, and luxury cars are always big.
But this Audi breaks with tradition. It's definitely a premium car, with the kind of perfectly crafted cabin and high-tech features you usually only see in luxury cars that cost $50,000 or more. And it's also a small car, roughly the same size as a Volkswagen Golf. "This A3 is fantastic, but nobody's going to buy it," I thought at the time. "People are going to look at the size and think 'cheap.' And they're going to look at the price tag and think 'no.'"
The A3 starts around $26,000, which is about $10,000 more than a base Honda Civic. If you want it with the more powerful V6 engine, it boosts the price to nearly $35,000.
The price didn't stop more than 1 million people worldwide from buying the current generation A3, though, making it a huge sales hit for Audi. It's even been a modest success here in America, bringing some enthusiastic new buyers to the Audi brand.
That's no surprise. Once you drive an A3, you'll fall in love with it.
This car has the kind of sophisticated handling and premium performance that are rare in luxury sedans twice its price. It just oozes style and athleticism, from its gaping grille to its perfectly designed mechanicals.
It has a dual-clutch automatic gearbox that I think is the very best transmission in the world, hands down. It comes with all-wheel drive, a beautifully weighted suspension, and optional shock absorbers that use magnetic fluid to instantly change the damping rate as you're driving. The whole car is a stunning showcase of German engineering. I want to find something to criticize because, after all, that's the job of a car critic. It's just that this car makes it so incredibly difficult.
What was tested? The 2009 Audi A3 3.2 with a base price of $34,915.
Options on the test car: None. Total MSRP price including the destination charge is: $34,915.
Why avoid it? If you're really picky about your factory-installed radio's sound quality, you won't be happy with the A3.
Why buy it? Audi's compact A3 looks, drives and feels like a $50,000 luxury car, but it starts at half the price. It's a showcase of the latest German engineering and still gets good gas mileage.
Bottom Line: OK, the base radio sounds a bit tinny. But that's all I could find. I really hope America jumps on board the premium-compact bandwagon. When a car drives like a BMW 5-Series, looks like a supermodel and still gets great gas mileage, it comes mighty close to automotive perfection.
By Derek Price © AutoWire.Net - San Francisco
Byline: Audi Review provided by Tony Leopardo © AutoWire.Net

Column Name: Audi's compact A3 looks, drives and feels like a luxury car
Topic: The 2009 Audi A3 3.2
Word Count: 656
Photo Caption: The 2009 Audi A3 3.2
Photo Credits: Audi A3 Internet Media
Series #: 2009 - 21
Download the Microsoft Word version here: 2009 Audi A3
Download the Original Image File here: 2009 Audi A3