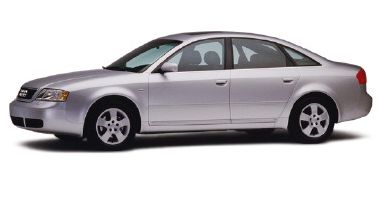 SAN FRANCISCO: I am an enthusiastic Audi fan. I like the attitude, I like the people behind the name, and I love the cars. The temper tantrum I threw when I realized I got the A6 for the week, rather than an S4, was unnecessary and short-lived. My last experience driving the A6 was back in the days when the only engine choice was the 200-horsepower V6. It simply lacked enough zip to suit me. This time around I was delighted. The 2.7 T version, with the new 250-hp bi-turbo V6 engine has definitely taken care of the power shortage.
Fashioned with loving craftsmanship, the A6 is a top quality piece. The character is easy to like – well-grounded and very stable, a euro-sophisticated, naturally refined and smooth individualist. The Ming Blue Pearl exterior was such a pretty shade, really rich and dark, that I'd consider it my first color choice. The A6 sedan is instantly recognizable as one of those good-looking kids from the Audi family. The headlights, hood and bumper blend together in a comfortable, familiar way. The rear end has the smooth style of the TT, and makes a stunning, unmistakable finish.
Audi's definition of luxury means more than simply what the car's stylish "Ambition" interior looks like, and the entire experience of this car makes that point. Although the A6 is not a large car, overall seating room, both front and rear, is very generous. The trim A6 can happily pass as a family sedan. The seats feel like miniature Dux beds, not hard, but very supportive.
The gadgetry is smartly dazzling – legible dials, arty typefaces and those surrealistic neon dash lights of ruby red and sapphire blue that I love. And the trunk is actually large enough to be truly useful. I think the A6 makes a perfect choice as a cross-country tourer, especially if you decide to take some back-road excursions. Anyone feel like joining me on a road trip from California to Germany?
Audi's Quattro AWD system is one of the best. You can't beat it for balancing the handling and providing added traction when needed. The six-speed manual transmission, in combination with the Audi's wide torque spread and the quick-spooling twin turbos, provides fantastic acceleration on demand. It's also available with the five-speed automatic transmission with Tiptronic. The 2.7 T is so quiet and silky smooth that it's hard to stay under the speed limit. You won't have a clue that you've cruising at 90 mph unless you look at the speedometer. Good on gas and a gas to drive, this A6 is a quiet storm.
Pricing started at $38,550, but when goodies such as the Cold Weather Package, Warm Weather Package, Sports Package, Convenience Package and Bose Audio System came into play, we have safely landed at $42,900, with an additional $525 for destination fees. The A6 2.7T is a superior sports sedan that offers style, comfort, power and a sweet ride. Test drive one today and experience Audi's quiet storm first hand.. By Carol Green © AutoWire.Net - San Francisco

Byline: By Carol Green © AutoWire.Net - San Francisco
Column Name: "Audi's Quiet Storm"
Topic: 2001 Audi A6 2.7 T Bi-Turbo Sport Sedan
Word Count: 572
Photo Caption: 2001 Audi A6 2.7 T Bi-Turbo Sport Sedan
Photo Credits: Audi Internet Media
Series #: 2000 - 45
Download the Microsoft Word version here: 2001 Audi A6
Download the original image file here: 2001 Audi A6 10k