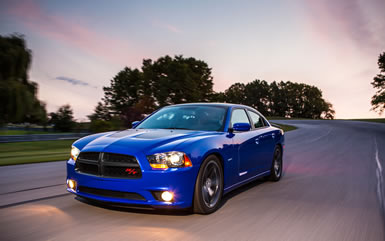 The 2013 Dodge Charger R/T Review: When I think of an American muscle car, I always imagine a stripped-down, bare-bones, 1960s-style coupe with nothing but four wheels and a big ol' engine. This week, though, I've been driving the Dodge Charger, a muscle car that shatters those stereotypes. Not only does it have four doors, making it the last of the V8-powered spacious, American sedans that once packed our nation's highways, that my test car came loaded with more luxury gadgets than an Apple Store.
Of course it includes the fancy Chrysler Uconnect system with a big digital screen on the dash, but it also has some surprises, like adaptive cruise control, high beams that turn on and off automatically, and heated and cooled cup holders.
It's the polar opposite of those stripped-down muscle cars in my head.
Granted, all those add-ons jacked the price of the test car up to $41,645, a huge premium over the $26,295 base model. They not only make it feel fancier, but also much more refined than I expected from a Charger.
One of the most pleasant surprises is the suspension, which has a taut, tightly controlled feeling that's unusual in a car this big. That well-sorted driving feel is partially the result of Dodge's $400 "Super Track Pak" option on the test vehicle, which adds Goodyear performance tires, a sport suspension, heavy-duty brakes and specially tuned steering.
The heart of any good muscle car, though, is the engine. You can get a V6 that's rated for 31 mpg on the highway in the basic Charger, but you'd be missing out on what makes this car truly unique: the fact that you can still get a HEMI V8 under the hood.
That alone makes this car an anachronism, the kind of car that waves its middle finger at fuel efficiency. It's rated for 16 mpg in city driving, the natural result of utilizing a giant engine that makes 370 horsepower and 395 pound-feet of torque. But oh, is it worth the fuel bill.
Putting a HEMI into a four-door family car may sound illogical, but whoever made that decision at the Chrysler Corporation deserves a free pass to car-guy heaven. The roar of this V8 under full throttle is enough to justify eternal bliss for its inventor, so rich is its exhaust note and thrilling its acceleration.
It's enough to make you forget the Charger has four doors and a roomy trunk. When you opt for the Hemi V8, that makes this car the only one I can think of that's equally fitting for the morning school run and the weekend quarter-mile run.
What was tested? The 2013 Dodge Charger R/T with a base price of $29,995. Options on the R/T model: Customer Preferred Package 29R for $4,000, Daytona Edition Group for $2,500, Driver Confidence Group for $995, Adaptive Cruise Control Group for $925, Navigation for $995, Super Track Pak for $400 and a Power Sunroof for $840. The total MSRP price as tested including the $995 destination charge came to: $41,645.
Engine: 5.7-liter HEMI V8 (370 hp, 395 lb.-ft.)
Transmission: Automatic five-speed overdrive with auto stick
EPA Mileage: 16 city / 25 highway
What's cool about the Charger? It's an American muscle car that happens to have four doors, and it's absolutely thrilling to drive with the HEMI V8.
By Derek Price © AutoWire.Net - San Francisco
The 2013 Dodge Charger R/T Bottom Line Review provided by:
Tony Leopardo © AutoWire.Net
The Bottom Line: With a 370 HP HEMI V8 the 2013 Dodge Charger R/T has American strength with an aggressive front end to match. The Charger's interior can be surprisingly luxurious for a domestic muscle car, with a long list of optional add-ons and technology packages. This four-door muscle car comes with ample power, plenty of gadgets and some bold street looks with attitude. That alone is why you should "Drive one, Buy one, Today ©"
Bottom Line Review provided by: Tony Leopardo © AutoWire.Net
"Tony the Car Guy" is an automotive writer, editor and publisher in the San Francisco Bay Area. If you have a question or comment for Tony send it to TonyLeo@pacbell.net or visit AutoWire.Net at www.autowire.net - And remember: " You Are What You Drive ©"

Column Name: Charger breaks from the stereotypes
Topic: The 2013 Dodge Charger R/T
Word Count: 757
Photo Caption: The 2013 Dodge Charger R/T
Photo Credits: Dodge Charger Internet Media
Series #: 2013- 20
Download the Microsoft Word version here: 2013 Dodge Charger R/T
Download the Original Image File here: 2013 Dodge Charger R/T