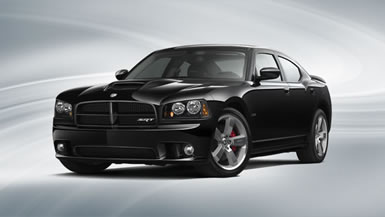 Dodge Charger SRT8 Review: Back in the 1960s, muscle cars defined America's automotive scene. These were big, heavy, bombastic cars that had loud paint schemes and even louder engines that were designed more for drag racing than mere transportation. Then the energy crisis of the 1970s killed the muscle car, but not for good.
Today, muscle cars have returned in a big way with retro-styled cruisers like the Chevy Camaro, Ford Mustang and Dodge Challenger. They look fantastic and have the steroid-pumping power to match, along with modern technologies that make them more comfortable and reliable than the originals.
They have a problem though. The styling that makes them look so good, a look that mimics their ancestors from decades past, also makes them a lot harder to live with in the real world. They have big trunks with tiny lids that make packing luggage a pain, two wide doors that like to slam into neighboring fenders in parking lots, and huge pillars in back that give you the exact same rear visibility that Ray Charles enjoys. Like a Hollywood diva, they're beautiful, but you wouldn't want to live with them.
The Charger SRT8, though, is different. Based on the same platform as the regular Charger, this four-door car with the SRT8 package adds a more taut suspension and a devastatingly huge Hemi V8 engine. It's 6.1 liters, to be exact, and makes 425 horsepower with the kind of frightening rumble that makes children weep.
The result is a car that's thrilling to drive. It's one of the fastest cars on the road and feels like it belongs in the '60s, with straight-line speed that makes your back tense up. That doesn't matter, because your back will spend most of its time slammed into the seat cushion from the pure acceleration.
The Charger SRT8 also comes with beefed-up Brembo brakes that make it stop just as brilliantly. Dodge is proud of these brakes, which is why the calipers are painted steal-me bright red and neatly framed by alloy wheels with gaping holes to show them off.
Those brakes are one of the few hints at the SRT8's raw power. Yes, it has a hood scoop, and yes, it has a badge on the back that Mopar enthusiasts will love, but it ultimately ends up looking like the plain ol' grocery-getting Charger. That's good news when you pass a police officer.
Inside, you won't get the same kind of quality and whiz-bang lighting you'll find in the new Camaro, this is an aging design after all, and wasn't even top-notch when it was first introduced, but you will find sporty bucket seats that have big side bolsters to keep you pinned in place through the corners.
That's a good thing, because the SRT8 can corner well too. It's not quite as precise as the Camaro, but it does handle far better than you would expect from something so big and heavy. There's enough body roll to let you feel the heft, but not so much that you can't have fun with it.
I won't insult your intelligence by mentioning the gas mileage. Muscle cars just aren't designed for that sort of thing, and the people who buy them don't really care.
I will mention how nice it is to have four doors and a real, usable trunk. The SRT8 gives you all the muscular performance of a coupe, only with a far more usable package. Does it look as good as the Challenger? Nope. But would I rather drive it in the real world, with kids and friends and trips to the Home Depot? Absolutely.
It's also interesting to note that new federal regulations are about to kick in that will effectively kill cars like this. The Obama Administration wants new cars to be green, and massive 425-horsepower sedans just aren't.
If history is any guide, technology will catch up, and 40 years from now we'll be able to buy cleaner, more efficient, more reliable and more comfortable muscle cars once again. And that's when the new "retro" models will hearken back to the good ol' days of 2010.
What was tested? The 2010 Dodge Charger SRT8 with a base price of $40,630. Options on the test car: A paint upgrade for $225 and navigation and audio upgrades for $2,875. Total MSRP price as tested including the $750 destination charge: $44,480.
Why avoid it? Gas mileage isn't impressive, and you get more refinement from the new Camaro.
Why buy it? It's as practical as any four-door family car, but the SRT8 Hemi package means it can rip up the pavement with raw power anytime you put the pedal to the metal.
By Derek Price © AutoWire.Net - San Francisco
The Bottom Line: The 2010 Dodge Charger SRT8 has a hood scoop, red brake calipers and SRT8 badges that set this high-performance version of the Charger apart from other flavors. This 425-horsepower Hemi beast is reminiscent of the great American muscle cars of the 1960s. Inside, bucket seats with big side bolsters keep you pinned in place through the corners, and luxurious options like a navigation system and high-end stereo system make it a great ride for long road trips.
Bottom Line Review provided by: Tony Leopardo © AutoWire.Net
"Tony the Car Guy" is an automotive writer, editor and publisher in the San Francisco Bay Area. If you have a question or comment for Tony send it to TonyLeo@pacbell.net or visit AutoWire.Net at www.autowire.net
And remember: " You Are what you Drive "

Column Name: Charger SRT8 has four-door Hemi muscle
Topic: The 2010 Dodge Charger SRT8
Word Count: 973
Photo Caption: The 2010 Dodge Charger SRT8
Photo Credits: Dodge Charger SRT8 Internet Media
Series #: 2010 - 24
Download the Microsoft Word version here: 2010 Dodge Charger SRT8

Download the Original Image File here: 2010 Dodge Charger SRT8