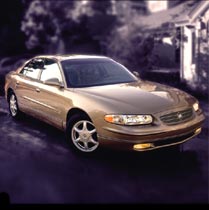 SAN FRANCISCO: The Olympic Games are over, but you can still buy Buick's 2001 Olympic Edition Regal. Created to commemorate the GM division's support of the U.S. Olympic athletes, the $1,915 Olympic package can be added to any 2001 Buick Regal model.
Buick is well known as a builder of premium American sedans, and the Regal is no exception. Smaller than the full-size LeSabre and Park Avenue, it fits in where Honda Accords dominate the midsize area. The difference is in how Buick treats that midsize space. The Regal, especially in GS guise, loads on the features that make freeway cruising a peaceful, pleasant interlude.
The car incorporates all of Buick's current styling cues inside and out, with rounded corners and smoothly integrated lighting, a little kick up in the rear fenders, wall-to-wall tail lamps, and an oval mouth of a grille. Now in its fourth year, this latest-generation Regal looks neither outdated nor cutting edge.
The interior carries over the body's soft transitions, highlighted by a dramatic sweep of dashboard with a prominent overhead shade. The dash's black center panel sweeps gracefully from one door panel to the other. Large numerals on the gauges and audio controls are easy to see for drivers of any age or prescription.
My Olympic Edition Regal arrived in an appropriate shade-a-glowing Gold Metallic. The Olympic Edition marks the start of Buick's association with renowned fashion designer Joseph Abboud, whose logo is affixed to the front quarter panels behind the wheel wells. Mr. Abboud's name will be featured midyear on a non-Olympic Buick model.
The Olympic editions also come in Sterling Silver Metallic and Graphite Metallic. Regardless of color, all Olympic Editions wear exclusive Sandrift lower body panels and Storm Gray grille and wheel trim, and they all flaunt Olympic logos on their tail lamps.
Inside, the Olympic logo is featured on the floor mats, and taupe leather and vinyl dress up the softly padded seats. The Olympic Edition package enhances the Regal with a power sunroof, a six-way power passenger seat, an electrochromatic dimming driver's outside mirror, and the wonderful three-dimensional Monsoon audio system with eight speakers and steering wheel mounted controls.
Buick has kept the Regal plan simple - four-door sedans in two model ranges, LS and GS, with one engine and an automatic transmission. No Buick is plain, and my GS tester arrived with a full palette of features. The automatic climate control system offers dual controls, so front passengers can set their vents for warmer or cooler air than the driver. Also on the menu are remote keyless entry, perimeter lighting, reclining seats, fog lamps, heated power mirrors, power windows with driver auto down, cornering lamps, and daytime running lamps that glow in an eye-catching yellow.
There's more. Buick's Convenience Plus package includes delayed entry and exit lighting with theater dimming, battery rundown protection, lockout protection, an auxiliary power outlet, retained accessory power, a theft-deterrent system, and cruise control.
Think that's a lot? The GS adds more: a driver's seat side airbag, a Driver Information Center with oil-life monitoring, fluid level warnings and handy mileage and distance-to-empty data, traction control, and fancy 16-inch alloy wheels. The GS has something called a Gran Touring suspension with
upgraded tires. The Regal doesn't drive like a Corvette, but I can only assume that the model without the Gran Touring suspension is softer, leans more in turns and has a more traditional Buick boulevardier ride.
The biggest difference between the LS and GS is in the engine compartment. Both cars share GM's venerable 3800 Series II V6 engine, but the GS gets a supercharger, which bumps horsepower from 200 to 240 and increases torque from 225 to 280 lb.-ft. Supercharger boost comes on smoothly, and only when you need it, taking just one or two miles per gallon as its price. The Regal GS does require premium fuel, however, and earns 18 city, 28 highway per the EPA.
Of special note, all 2001 Regals now come with GM's OnStar system standard. This 24-hour driver assistance system works with the touch of a button to convey live help and information from a central office using a cellular connection and global positioning technology. Everything from navigational support to emergency assistance is at hand. Recently, an OnStar-equipped vehicle was stolen with a child inside, and authorities used the global positioning system to track it. The child, along with the car, was recovered safely within minutes. OnStar is a powerful tool that ensures enormous peace of mind.
Another useful new feature is a trunk entrapment handle, which can be used by someone who is inadvertently locked in the trunk, such as a child at play, to escape. With all the goodies mentioned above, the Regal GS Olympic Edition retails at $28,110, including destination charge. Style, comfort, and safety features, as well as the distinction of a limited edition, give the Regal Olympic Edition a real competitive edge. By Steve Schaefer © AutoWire.Net - San Francisco

Byline: By Steve Schaefer © AutoWire.Net - San Francisco
Column Name: "Buick is well known for Premium American sedans"
Topic: 2001 Buick Regal Olympic Edition
Word Count: 891
Photo Caption: 2001 Buick Regal Olympic Edition
Photo Credits: 2001 Buick Internet Media
Series #: 2001 - 5
Download the Microsoft Word version here: 2001 Buick Regal Olympic Edition
Download the original image file here: 2001 Buick Regal Olympic Edition 10k