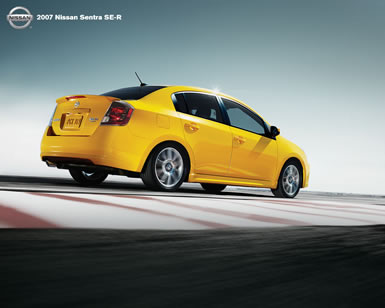 Car Review: Nissan's Sentra SE-R has more tasteful styling than some of its boy-racer competitors. It has a more grown-up driving feel, with a smooth highway ride and refined suspension.
While it still has plenty of hard plastic, the Sentra SE-R's interior actually looks nicer than you'd expect in an economy car. It's a well-designed cabin with good visibility and controls that are easy to use.
The first time I drove a Nissan Sentra SE-R, a 2002 model, if I remember right, it left me terribly disappointed. I was expecting a screamer akin to the Mitsubishi Evolution, or maybe even a scaled-back Subaru WRX, both ferocious cars that can test how healthy your heart is.
Instead, I thought the SE-R was just an economy car that was too loud; both in terms of its Maxwell House exhaust tip and middle-school styling. I didn't like it one bit.
Now fast-forward to 2008 and I find another Sentra SE-R sitting in my driveway, only this time I don't hate it. Perhaps it's because I've had a couple of kids, or the fact that the new Sentra is a much better car, but I thoroughly enjoyed spending a week driving this one-time object of scorn.
And that's because it has split personalities. On one side, it's a Sentra, which is a Japanese word that translates to mean, "Boring as the Fred Thompson campaign." Drive it on the Interstate and it settles in for a smooth, quiet lull that feels surprisingly refined for an economy car.
On the flip side, the SE-R acronym stands for Japanese words that, when carefully translated into English, mean "goes like stink." So there you have it: the Sentra SE-R means, "Boring as the Fred Thompson Campaign, but it goes like stink.
It's an interesting combination in a car, and I actually like it. It's docile and easy-going when you want it to be, but it becomes playful whenever you choose, just like the perfect Labrador retriever.
The SE-R's fun side is really enabled by a decent engine and a great suspension. The 2.5-liter, four-cylinder power plant makes 177 horsepower, which is enough to have fun, but not enough to tempt the Grim Reaper.
A remarkable suspension, though, makes good use of the available power with its Dr. Jekyll and Mr. Hyde response. It actually feels quite normal, even dull, when you're driving the Sentra like a normal car, but when you start to push it, the car pushes back with the sensation of a true sports sedan. The dramatic difference between normal driving and spirited driving is what gives it that split personality.
And, no surprise in a Sentra, the SE-R is actually quite affordable. It starts at $19,680, which is impressive considering its performance and level of standard equipment, including things like keyless entry, a trip computer, leather-wrapped steering wheel with shift paddles, plus a nice stereo.
Just don't expect it to come with lithium pills. It's a bipolar car, and it's perfectly fine the way it is.
What was tested? The 2008 Nissan Sentra SE-R with a base price of $19,680. Options include: XM Satellite Radio at $150, splash guards at $140, a stereo upgrade for $750, the moonroof package at $750, full floor mats at $165 and the intelligent key at $250. MSRP price as tested, including the $625 destination charge: $22,510
Why avoid it? It's not as exciting as some of its competitors.
Why buy it? It can instantly transition from boring economy car to thrilling sports sedan.
By Derek Price © AutoWire.Net - San Francisco

Byline: Car Review provided by Tony Leopardo © AutoWire.Net
Column Name: There are two sides to the Sentra SE-R
Topic: The 2008 Nissan Sentra SE-R
Word Count: 656
Photo Caption: The 2008 Nissan Sentra SE-R
Photo Credits: Nissan Sentra Internet Media
Series #: 2008 - 11
Download the Microsoft Word version here: 2008 Nissan Sentra SE-R
Download the Original Image File here: 2008 Nissan Sentra SE-R