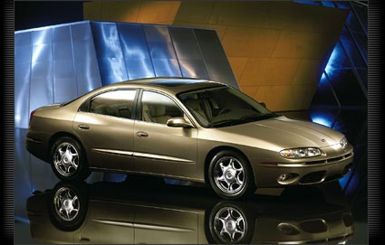 SAN FRANCISCO: They climbed into the back seat and off we drove towards Julius' Castle. "What is this? A Lexus?" Now I'll admit that I thought the Aurora was a pretty nice car, but here was someone who wasn't versed in car stuff and he thought it could be a Lexus. Pretty high praise if you ask me. You should have seen the look on his face when I told him it was an Oldsmobile Aurora. Then he asked how much. "About 35 Grand " He owns his own business and is doing quite well these days. The Olds Aurora is now on the short list for his next new car buy.
I've got to tell you, when I first saw the 2001 Aurora I was a bit under whelmed. Not that it wasn't a good-looking car; it just didn't stand out the way the original Aurora did. But the more I looked at it, the more I liked it. It is a handsome car. Lately I'm finding it's difficult to find fault with the fit and finish of today's vehicles. Go ahead and check one out - the cut lines around the doors, hood, and trunk are uniformly even and tight. First impressions are important, and when you look at a car and everything looks right the first time, it just gives you a feeling that the car was put together with care. The Aurora has that look.
I also like cars that have a bit of stealth about them (especially after my notorious speeding ticket). Flashy cars are nice but for rapid transit, give me one that doesn't stand out in a crowd. What could be more "part of the pack" than a medium to large four-door sedan?
And with Oldsmobile's 4.0-liter, DOHC, 32-valve V8 powering the Aurora, stealth might be a good thing. The V8 sends 250 HP through a 4-speed automatic transmission to the front wheels. The engine has proven itself in Oldsmobile's for the past few years and a version of it has powered the winner of the Indy 500. The engine sure sounded right too - it had a neat DOHC V8 growl from under the hood with a nice rumble out the twin tailpipes.
Inside the Aurora had all the right stuff for a "near" luxury car. Well, almost. I expected a power moonroof to be part of the package. Other than that there was leather seating, multi-adjustable power front seats with memory for the driver, burl walnut trim, automatic climate control with an air filtration system, and a very good Bose stereo system with cassette and CD players with eight speakers.
The Aurora is equipped with P235/55R17 tires on good looking, chrome plated, aluminum wheels. I'm sure they enhanced the handling. There is a down side though to large rim size (17") and low profile (55 series) tires. They can be harsh and transmit the little bumps too readily. I know that Oldsmobile sees the Aurora as a touring car, kind of a large sports sedan. That's fine but I'd have preferred a tire with a little more give to it.
I'm no suspension engineer but it seems to me that with the rigidity of today's auto bodies there should be no need to have such inflexible tires (a low profile tire has very little sidewall flex) in combination with firm suspensions. Either tune the suspension softer or spec out a tire with a slightly softer ride. Still, the Aurora is a fine car, especially the V8 version.
Oldsmobile builds two Aurora's - the V/8 one tested and one with a 3.5-liter, DOHC, 24-valve, 215 hp, V6. The V6 is essentially the V8 with two cylinders left off. Not having driven the V6, I can't really say, but I think I'd take the V8 (when there's more horsepower, I'll always take it). The V8 is rated at 17-mpg city and 25 highway while the V6 is 19 and 28, not that big a difference. The V6 weighs only 117 pounds less, that's not enough to make up for the 35 horsepower difference in my book. So what the heck, go for the big block and enjoy life.
The Oldsmobile Aurora with the V8 lists for $34,305 and as tested was $36,670 including options and destination charge. It seemed to be on par with V/8 cars costing a lot more. Should be worth a serious look and a nice test drive By Bruce Hotchkiss © AutoWire.Net - San Francisco

Byline: By Bruce Hotchkiss © AutoWire.Net - San Francisco
Column Name: "What is this? A Lexus?"
Topic: 2001 Oldsmobile Aurora
Word Count: 796
Photo Caption: 2001 Oldsmobile Aurora
Photo Credits: Oldsmobile Internet Media
Series #: 2000 - 28
Download the Microsoft Word version here: 2001 Oldsmobile Aurora
Download the original image file here: 2001 Oldsmobile Aurora 24k