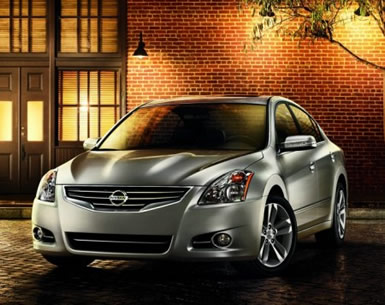 Nissan Altima Coupe Review: Four-door sedans are great for taking yourself and your friends and family somewhere in comfort and safety. But sometimes you want a little more style and performance to go with it.
You arenít looking for a Corvette or a Porsche, but youíll happily sacrifice the convenience of rear doors for a car with tighter handling and more driving pleasure. Thatís where the Altima Coupe comes in.
The Altima sedan is proving to be a worthy competitor in the midsize sedan market, but the coupe is much more than a sedan with two doors missing. It sits on a four-inch shorter wheelbase, is ten inches shorter overall, and its roof top is more than two inches closer to the pavement. You donít need to crawl into it like a sports car, but the pose on the road, both to the driver and the guy on the sidewalk admiring it, is lower and sleeker.
The boattail rear roofline helps, it has a fastback shape thatís more laid back than a sedan. The more aggressively styled hood and nose are new for 2010 too, and show some homage to the esteemed stylists at BMW. Seventeen-inch alloy wheels are standard.
On the outside, Altima coupes share only their undulating hood with the sedan. But under the hood, both cars use the same 2.5-liter four-cylinder or a 3.5-liter V6. My Navy Blue tester had the smaller one. Itís remarkable how much oomph you get from a four these days, its 175 horsepower (170 horses in California) move the 3,125-pound car along with enthusiasm. The V6 boasts 270 horsepower, but I say, if you donít need it, why bother?
My tester earned EPA fuel economy numbers of 23 City, 32 Highway, and I averaged 24.6 mpg. Good news on the green front, EPA numbers are 6 for Air Pollution and 7 for Greenhouse Gas, but thereís also a California model that earns 9.5 for Air Pollution. Buy that one.
The Tennessee-built Altima Coupe comes in 2.5 S and 3.5 SR models, with your choice of a manual six-speed transmission or an automatic in the form of a Continuously Variable Transmission (CVT). A chance to shift your own gears in anything besides an economy subcompact is a treat today.
Nissan is big on the CVT, which uses bands instead of gears, offering an infinite number of possible ďgearĒ ratios for maximized efficiency. Effortless to drive, the CVT, despite putting out unexpected moans, is smooth and effective. The revs easily drop to 1,500 rpm in town, hardly working the engine at all. The CVTís electronic brain knows the best way to use engine torque, so unless you are one of the dwindling group of manual shifting enthusiasts (count me in) it works just fine.
Cars today come pretty well equipped in their most basic configurations, and this Altima is no different. You get power assistance for windows, mirrors and locks. Thereís a tilt and telescoping steering wheel. Use the trip computer to figure your mileage. The car works with your Bluetooth communication device. The intelligent key sits in your pocket while you push the Start button.
Thereís always more, and thatís what the Premium Package gives you for $2,070. It includes XM Satellite Radio and a new-for-2010 Bose seven-speaker audio system with a handy USB port for your iPod. However, the systemís 4.3-inch display screen is surprisingly small and hard to read, my only complaint. You get a power moonroof with this package too. Thatís great for ensuring that you get your daily dose of vitamin D!
My tester had the Convenience Package, too ($1,070), which includes the nice leather on the steering wheel and the audio controls at fingerís reach on it. The eight-way power driverís seat is a nice touch and the auto-on headlights make sense.
The Altima Coupe has a very sporty cousin, the 370Z, and the dashboard reflects a little of that aesthetic. A trio of circular air vents over the driver-oriented center console echoes the classic Z triple gauges and the Fine Vision gauges themselves give an easy-to-read, upscale look. The 370Z is a more thundering ride, but the Altima Coupe is no mere grocery-getter.
Prices start at $23,660 for the manual-equipped 2.5 S and run up to $30,820 for the 3.5 RS with a manual. Both prices include destination charges. My tester came to $26,975.
The coupe shape is a little less practical than a sedan, but the lower, sportier design work well for young couples, of any age, who occasionally want to take a pair of friends along.
I normally get accustomed to a car after a week of driving it, but the Altimaís taut suspension, responsive control and smooth cruising made it one I wasnít eager to surrender.
By Steve Schaefer © AutoWire.Net - San Francisco
The Bottom Line: The 2010 Altima Coupe is Nissanís answer to an adult sports car. Two doors, a stick trans, plus a power moonroof, and your all set for a drive down the coast or a ride to the lake. This car is a smooth package of nice style, good looks and price. With 2 engines, 2 transmissions and several power and technology packages to choose from, you can own a great looking car with the options and drivetrain that will make you smile every time you drive it.
Bottom Line Review provided by: Tony Leopardo © AutoWire.Net
The 2010 Nissan Altima Coupe Review provided by:
Tony Leopardo © AutoWire.Net. ďTony the Car GuyĒ is an automotive writer, editor and publisher in the San Francisco Bay Area. If you have a question or comment for Tony send it to TonyLeo@pacbell.net or visit AutoWire.Net at www.autowire.net - And remember: ď You Are What You Drive Ē

Column Name: This is a car that will make you smile every time you drive it
Topic: The 2010 Nissan Altima Coupe
Word Count: 1022
Photo Caption: The 2010 Nissan Altima Coupe
Photo Credits: Nissan Altima Internet Media
Series #: 2010 - 30
Download the Microsoft Word version here: 2010 Nissan Altima

Download the Original Image File here: 2010 Nissan Altima