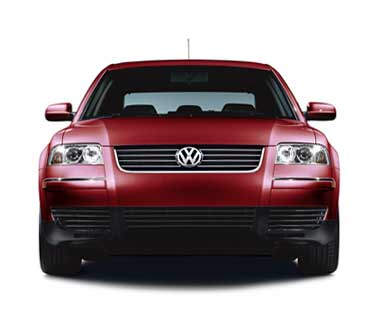 SAN FRANCISCO: Volkswagen has come a long ways since the original Beetle. The top-of-the-line 2003 Volkswagen Passat W8 with a starting price of over $38,000 puts it into pretty pricey company. And what do get for your money? For starters, this is the first German car in its market segment to offer an 8-cylinder engine.
The Passat W8 comes only in two models – the four-door sedan and a four-door station wagon for about $1000 more. The W8 models use the same body and trim as the other Passats. 4Motion full-time, all-wheel-drive and Tiptronic 5-speed automatic transmission are all standard equipment. Indeed, a sport package at $1500 is the only major option. The only distinguishing features are the W8 emblems, unique 16-inch alloy wheel and four chromed exhaust outlet tips – until you hit the accelerator.
The W8 gets it title from the fact that its powerplant uses two 2.0-liter V4s joined together to form a W. A traditional V8 would not fit. This setup is required to fit an eight-cylinder engine in the Passat's engine compartment. Volkswagen says V+V=W in its description of the engine. Other Passats are the significantly less expensive coming either with a 170-horsepower 1.8T, 4-liter, 4-cylinder engine or a 190-horsepower 2.8-liter V6.
The all-aluminum W8 engine features double overhead camshafts (DOHC) that is chain, rather than belt driven, plus four-valves-per-cylinder with variable intake and exhaust timing. This new 4.0-liter W8 engine produces 270-horsepower at 6000 rpm and 273 lb-ft of torque at 2750 rpm. Performance can be described in a single word – awesome.
This has to the quietest and smoothest engine I have found in any car I have tested in a long time. It is so vibration-free that I though it had shut off while waiting at a traffic light, so I turned the ignition key. Fortunately, the starter is designed not to engage when the engine is already running.
Tiptronic, developed by Porsche, is the only transmission offered now, though rumor has it that a 6-speed manual transmission may be offered down the road. Tiptronic is a 5-speed automatic with a shift gate that allows clutchless manual shifting. The W8 can accelerate the almost two-ton car effortlessly from 0 to 60 mph in 6.5 seconds. Top speed is an autobahn-like 130 mph. Fuel economy is a respectable 18 mpg city and 25 mpg highway. The fuel tank holds 21.1 gallons for some serious long distance cruising.
The 4Motion all-wheel drive system uses a Torsen sensing differential that distributes available torque 50/50 to the front and rear wheels under normal driving conditions. Under slippery conditions, the split, up to 67/33, can deliver power to the wheels with best traction. Electronic stability control system is also standard equipment. Standard safety features include side airbags up front, side curtain airbags and anti-lock brakes.
As expected in a luxury car there is high-grade leather upholstery and high-quality wood trim. Front seats are both heated. Fit and finish is excellent, and like all Passats, indeed all VWs, the car has a solid "built-in-Germany" feel. Other luxury segment touches include items like heated windshield washer nozzles and rain-sensing windshield wipers.
Passats are one of the roomy cars in its class. There is a surprising amount of legroom for rear seat passengers. However, the rear seat is only really designed to carry two adults, at least on long trips. The trunk is huge, but the opening is somewhat smallish making it difficult to load in bulky items. Unfortunately, with 4Motion the rear fold down seats are deleted, but there is a pass through for long items like skis. Of course, if you need hauling capacity you can opt for the Passat W8 station wagon.
Handling, steering, ride quality and braking are all great, as we have come to expect in a German luxury car. Incidentally, many components in Passats such as the four-link front suspension is shared with the world class Audi A4. And if you order the sport package you get 17-inch versus 16-inch wheels, high-performance tires and the sport suspension.
Instrumentation and controls are good with a couple of caveats. The dials for the fuel quantity and coolant temperature are on the small side. The controls on the steering wheel for the radio and cruise are easy to use, but the climate control system is a bit complicated to use. The computer display is perfectly located between the speedometer and tachometer.
While on the pricey side, the Passat W8 represents excellent value if you want a high-performance German built car with an eight-cylinder engine. The competition, namely the BMW 540i, Mercedes-Benz E500 and Audi A6 Quattro are substantially more expensive. The W8 is not Volkswagen's last move upscale. It is also marketing in Europe its ultra-luxury Phaeton that is motivated by a 420-horsepower W12, a 12-cylinder engine using TRIPLE V4s. With a $55,000 plus price tag, this W12 car is slotted against the BMW 7-series and Mercedes-Benz S-Class. Volkswagen is definitely movin' on up. By Bill Siuru & Andrea Stewart © AutoWire.Net - San Francisco

VW Home Page
Byline: Syndicated content provided by Tony Leopardo © AutoWire.Net
Column Name: Volkswagen is definitely movin' on up
Topic: 2003 Volkswagen Passat W8
Word Count: 892
Photo Caption: 2003 Volkswagen Passat W8
Photo Credits: Volkswagen Internet Media
Series #: 2003 - 3
Download the Microsoft Word version here: 2003 Passat W8
Download the original image file here: 2003 Passat W8 10k
Download the original image file here: 2003 Passat W8 11k