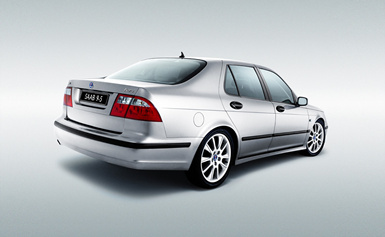 SAN FRANCISCO: Ever since Saab was absorbed into the General Motors Corp it has tried to walk a fine line between being a somewhat quirky car that "makes a Saab owner always a Saab owner" and a mainstream car that can attract new buyers. Saab has done a good job in accomplishing this with its premium series, the 9-5. And yes, the ignition switch is still between the seats. The Saab 9-5 series comes in three versions – Linear, Arc and Aero. Rather than being merely ascending trim levels, each is a distinct model aimed at the preferences of different types of buyers and drivers.
All three are available as a four-door sedan or five-door sport wagon. Rather than a base model, the Linear 2.3t is a true luxury car that will present the upscale buyer with all the amenities expected in this class of vehicle. This includes leather upholstery, walnut-trimmed instrument panel, power and heated front seats, power sliding sunroof, dual-zone automatic climate control, cabin air filter, power windows, power central locking, power and heated mirrors, steering-wheel radio controls, AM/FM/CD/cassette stereo with seven speakers, front and rear fog lights, anti-lock braking and traction control. Power comes from a 2.3-liter turbocharged four-cylinder engine. This dual-overhead camshaft (DOHC) engine with a low-pressure turbo produces 185-horsepower at 5500 rpm and 207 lb-ft of torque at 1800 rpm. A five-speed manual transmission is standard with a Sentronic five-speed automatic being optional.
The Arc 3.0t is touted as a sports-luxury touring car. It is powered by a 3-liter V6, low-pressure turbocharged engine that produces 200-horsepower at 5500 rpm and 229 lb-ft of torque at 2500 rpm. A 5-speed automatic transmission with winter and manual modes is standard on the Arc with a manual transmission not offered. In addition to the Linear's standard equipment, the Arc adds Electronic Stability Program (ESP), ventilated leather seats with a three-speed fan, heated front and rear seats and an eight-speaker Harmon/Kardon audio system. And all Saabs come with the GM OnStar system.
The Aero 2.3t is for those who want the ultimate performing Saab. It features a 2.3-liter HO High-
Output, turbocharged, four-cylinder engine rated at 250 horsepower at 5300 rpm and 258 lb-ft of torque at 1900 rpm. The five-speed manual is again standard and Sentronic is optional. Aeros get unique exterior styling cues and brushed aluminum dash trim replaces the walnut trim. Other items include bolstered leather sport seats and leather wrapped steering wheel and shift knob.
Each Saab series use different wheels and tires consistent with their own character - 16-inch, 10-spoke alloy wheels on the Linear; 16-inch five-spoke wheels on the Arc and 17-inch alloy wheels with 10 spokes come on the Aero with low- profile 225/45 VR-17 Michelin Pilot tires. The fuel tank holds 18.5 gallons and the 9-5's can tow up to 3500 pounds when properly equipped.
Saab refreshed the styling of the 9-5 for 2002, so changes for 2003 are minimal. Saab designs are evolutionary and Saabs always are easily recognized as Saabs, though the 9-5 is more mainstream than previous models. Changes for 2002 included smoother bumpers, an integrated grille, and clear-lens headlamps for the bi-xenon projector (optional or standard) headlamps. Tail lamps have been modified with clear lenses on the sedans and wagons got new tail lamps as well.
I tested an Aero 2.3t with the automatic transmission. The performance was impressive and you soon forget that the engine is only a four-cylinder and has only 2.3-liters of displacement. It is equal in performance, response and smoothness to most competitive six-cylinder engines.
Unlike earlier high-performance turbocharged, front-drive Saabs and other brands, there is neither torque steer or turbo lag. Saab, now GM's center of excellent for turbocharging, has solved both problems. If you prefer a V6, choose the Arc.
Steering is precise and very responsive. The Saab Aero 2.3t felt extremely stable at high speeds on the freeway and specially on twisting back roads. The five-speed automatic always picked the right gear ratio and did it very smoothly. Both road and wind noise is minimal. Ride quality is on the firm side, as might be expected in a performance-oriented sports sedan or wagon.
The Electronic Stability Program maintains control by selectively applying the brakes to individual wheels to correct for a skid. If you take a corner too fast, ESP corrects this by applying the brakes to the outer wheels to gently bring the car back into line. The system also works to retain control on a slippery road when the nose of the car starts to push wide instead of following its intended course.
The 9-5 is equipped with electronic brake-force distribution (EBD) and electronic traction control also. The 9-5's interior layout is excellent with great ergonomics. Everything is easy to see and use with large buttons on the climate controls and radio. The seats are comfortable, very supportive and have a virtually infinite number of adjustments. The rear seat is as comfortable for two adults, but probably not three. The materials are high quality and the fit and finish is excellent. The beverage cooler in the glovebox is a very unique feature on Saabs. On the wagons flip the rear seat bottoms up and fold the rear seat backs down to create an immense flat cargo area. For maximum carrying capability on the wagons, order the optional dealer installed pullout cargo shelf that turns the wagons into a mini-pickup, plus there are tie-downs in the cargo floor rails too.
If you want a serious, well mannered, great performing long-distance luxury car that does not look like most cars on the road, Saab 9-5s are well worth considering. I guess the Saab ad that says people who test-drive a Saab usually buy one is true. After my week long evaluation I bought a
Saab – a nice used 9-3, the 9-5's smaller brother. I was sold mainly on the Saab superb ergonomics and convenience I found in both series. List prices for the 2003 Saabs are; Linear 2.3t ($34,620), Arc 3.0t ($39.275) and Aero ($39,275) sedans. The sport wagon versions costs are; Linear 2.3t ($35,320), Arc 3.0t ($39,975) and Aero ($39,975). By Bill Siuru & Andrea Stewart © AutoWire.Net - San Francisco

Saab Home Page
Byline: Syndicated content provided by Tony Leopardo © AutoWire.Net
Column Name: A Saab owner is always a Saab owner
Topic: 2003 Saab 9-5 Seroes
Word Count: 1094
Photo Caption: The Saab 9-5
Photo Credits: Saab Internet Media
Series #: 2002 - 30
Download the Microsoft Word version here: 2003 Saab 9-5
Download the original image file here: 2003 Saab 9-5