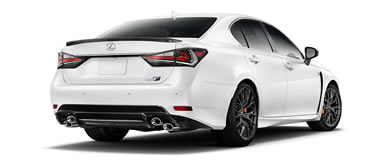 The 2017 Lexus GS200t Review: Call me old-fashioned, but when I turn the key of a $50,000 luxury car, I still anticipate hearing the velvety baritone rumble of a V8 engine. When I fired up the new Lexus GS tester in my driveway, though, I didn't hear a baritone. I heard a mezzo-soprano, a wispy, airy, higher pitched voice emanating from its turbocharged four-cylinder engine. Yes, a four cylinder. It's a far cry from the days when you could tell a luxury car apart from its mundane cousins based on just the cylinder count.
But it's also not unusual, as younger buyers and the reality of fuel-efficiency expectations mean more cars than ever, including premium models from upscale brands, strap turbochargers onto tiny engines to create big horsepower. Automakers are finding there is, indeed, a replacement for displacement.
In the case of my GS200t test car, the cylinders only displace 2.0-liters, the same volume as in the diminutive Mazda Miata two-seater.
What's remarkable, though, is that Lexus' twin-scroll turbo boosts its output to 241 horsepower and 258 pound-feet of torque, both respectable numbers. I never did get used to the sound that comes forth, but I was happy with the performance from the moment my toes touched the gas pedal.
If you need more power, you can step up to the GS 350 with a 311-horsepower V6, or the even faster GS450h hybrid that puts out 338 horses. You can get a V8 in your GS if you want it, but you'll have to pay up for the privilege. The high-performance GS F model starts around $84,000 and makes 467 horsepower from eight cylinders, something increasingly rare in today's luxury market.
The fact that the GS has a quiet, smooth ride is no surprise. Floating lucky drivers in serenity down miles of American highways, with a hint of sporty flair, has always been its reason to exist. The surprise is that it does so while looking so outgoing.
While Lexus was long known for its conservative, if not downright boring, body styling, the current generation GS dresses to get attention. It's trying desperately to turn heads, most obviously with its monster grille, but also by getting rather adventurous on the inside.
If your idea of a Lexus interior is "like a Camry, but nicer," you'll be shocked at just how avant-garde the GS's cabin looks and feels. It's taking cues from Audi by designing a space that seems more contemporary than classic, dominated by a gigantic digital display and the controls that make it function.
The look is very sleek and horizontal, necessitated by the dimensions of its optional 12.3-inch screen that delivers crisp, beautiful imagery. Unfortunately, it lacks Apple CarPlay and Android Auto, two systems that are becoming the industry standards for the intersection of smartphones and automobiles.
Its safety systems, though, are full-featured and come standard on every trim level.
Last year Lexus introduced its optional Safety System+ that came with Pre-Collision System (PCS), Lane Departure Alert (LDA) with Steering Assist, Intelligent High Beam (IHB) and Full Speed Dynamic Radar Cruise Control.
All those acronyms are impressively intuitive to use. I'm a big fan of the steering assist function that can keep the car centered in the lane reasonably well on its own, as long as the roads are clearly marked and you keep a hand on the steering wheel. I see it as a noteworthy, if still imperfect, step toward autonomous driving.
This year, that whole suite of features is standard on every GS, including the $46,310 basic trim. Also new this year is an available limited-slip differential on F SPORT models, something that moves it closer to a legitimate sports sedan for people who want better handling at the limits.
What was tested? The 2017 Lexus GS200t with a base price of $46,310. Options on the test GS are: 18-in wheels for $905, premium audio system for $1,380, the navigation system with 12.3-inch screen for $1,730, intuitive park assist for $500 and a trunk mat for $105. The total MSRP price as tested including the $975 destination charge came to: $50,175 By Derek Price © AutoWire.Net - San Francisco
Wheelbase: 112.2 in.
Length: 192.1 in.
Width: 72.4 in.
Height: 57.3 in.
Engine: 2.0-liter turbocharged four cylinder (241 hp, 258 lbs-ft)
Transmission: Eight-speed automatic
Fuel economy: 22 city, 32 highway
The 2017 Lexus GS200t Bottom Line Review provided by: Tony Leopardo © AutoWire.Net
The Bottom Line: The 2017 Lexus GS200t has adopted the brand's aggressive front end that is a good match for its contemporary, tech-centered cabin. And the optional 12.3-inch display provides plenty of digital real estate for the GS's navigation maps and connectivity features. Now a turbocharger delivers the power and efficiency from the small 2.0L engine in the Lexus GS. And it delivers a sumptuous ride and reasonably muscular acceleration along with good fuel economy. And maybe, just for those reasons alone, you should "Drive one, Buy one, Today ©".
This Bottom Line Review is provided by: Tony Leopardo © AutoWire.Net
"Tony the Car Guy" is an automotive writer, editor and publisher in the San Francisco Bay Area. If you have a question or comment for Tony send it to TonyLeo@pacbell.net or visit AutoWire.Net at www.autowire.net - And remember: "You Are What You Drive ©"

Column Name: Lexus enters a New Era of Luxury
Topic: The 2017 Lexus GS200t
Word Count: 929
Photo Caption: 2017 Lexus GS200t
Photo Credits: Lexus Internet Media
Series #: 2017 - 36
Download the Microsoft Word version here: 2017 Lexus GS200t
Download the Original Image File here: 2017 Lexus GS200t