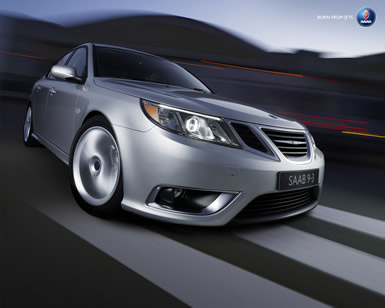 CAR Review: If you look up the word iconoclast you will undoubtedly see a picture of a Saab. Even though they are part of the General Motors family, there is almost nothing traditional about a Saab.
Sure they abandoned the "north / south" engine placement in favor of the more common transverse, front-wheel-drive configuration. But deep in the soul of every Saab I am sure there is still a little two-stroke engine waiting to go rallying.
When I was a lad growing up in Eastern Connecticut there were few choices for safe winter driving, and fewer still for fun. If you had a traditional American car you could mount your snow tires, throw on some tire chains, and load up the trunk with sand bags. Or you could buy a four-wheel-drive vehicle, which meant some clunky utility vehicle. But if you wanted fun in the snow you bought a two-stroke Saab, a funny, funky, front-wheel-drive Swedish car.
Those days, and those Saabs, are long gone. Saab, like every other automaker, has had to grow or die. So Saab now makes more mainstream cars, even if they are still iconoclasts.
The Saab 9-3 2.0T Sport Sedan is the "base" Saab. I put that in quotes because it is anything but base. Saabs have not been the Spartan mode of transportation for many generations. The 9-3 is a medium (The US EPA says it is a "premium compact") size, four-door sedan, with seating for five, and decent luggage room.
The styling is still familiar Saab, even with its European clues. You may not know it is a Saab from the back or sides, but one look at the front, the grille, and if you are even a tiny bit car-savvy, you will know itís a Saab.
Jnder the hood of the 9-3 2.0T is a 2.0-liter (surprise), DOHC, 16-valve, turbocharged, all-aluminum, four-cylinder engine that puts out 210 hp. Two transmissions are available, a 5-speed manual / automatic or a 6-speed manual. The car I drove had the automatic, which worked fine.
It is kind of funny; not that many years ago a 210-hp engine would have been considered powerful. Now it is just average. It is amazing what a few years and good computer programming can do for an engine.
Saabs have always been known as cars with spacious interiors and the 9-3 does not disappoint. Swedes are known as big people so it should be no surprise that five big guys can fit in the 9-3. One area the 9-3 Sport does not shine is in cargo space. Fifteen cubic feet is not that great.
But the 9-3 makes up for any storage shortcomings when you get behind the wheel. Saabs have always had a combination of suppleness and handling. Cars are a product of the country of origin. If they come from a northern climate, where the winters are long and cold, the will have great heaters and defrosters, and their suspensions will be tuned for roads that may not be as smooth as those in Southern California. But Swedes have a history of driving hard (it is that rallying tradition) so Saabs stick to the road. There is nothing ultra-sophisticated about the suspensions, just attention to detail.
The 9-3 has four-wheel disc brakes with ABS, Electronic Stability Control, and Traction Control. Contact with the earth, be it snow, icy, wet, or dry is through four premium P215/55R16 all-season tires. And they get the job done without imparting harshness to the cabin.
The Swedes are also known for building safe vehicles. Certainly the electronics listed above are part of the overall safety of the 9-3. Plus every 9-3 starts out with a strong, safe "cage" with a Pendulum B-Pillar Side Impact Structure. Then Saab adds in safety gear like the Saab Active Head Restraints front seats (to prevent whiplash), adaptive front air bags, and side air bags, including head curtain side air bags. If you should ever be in a collision this is the type of protection you really want.
The Swedes also care about fuel economy, heck you would too if you lived where gasoline cost around $6 bucks per gallon. The 9-3 2.0T Sport Sedan is rated at 19-city and 29-highway MPG with the manual transmission, and 19 / 26 MPG with the automatic.
Saabs have never been cheap, but then you get what you pay for. The base 9-3 2.0T Sport Sedan lists for $28,895. The automatic transmission adds $1,350, and the upgraded sound system with Navigation adds $2,145, so you can see that in no time at all you are over $30,000. There are a lot of cars in that price range, but you can only get "Saabness" at a Saab store.
Bruce Hotchkiss © AutoWire.Net - San Francisco

Byline: Car Review provided by Tony Leopardo © AutoWire.Net
Column Name: You can only get "Saabness" at a Saab store
Topic: The 2008 Saab 9-3 2.0T Sport Sedan
Word Count: 865
Photo Caption: The 2008 Saab 9-3 2.0T Sport Sedan
Photo Credits: Saab 9-3 Internet Media
Series #: 2008 - 14

Download the Microsoft Word version here: 2008 Saab 9-3 2.0T
Download the Original Image File here: 2008 Saab 9-3 2.0T