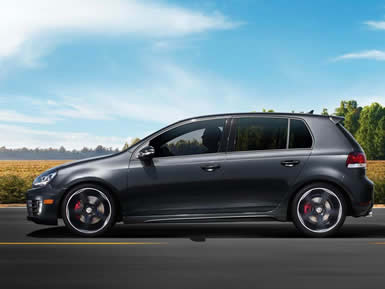 Volkswagen GTI Review: If you're shopping for a compact car, there are a few things you can always expect to find, like a low price and good gas mileage. But what about refinement?
Unfortunately, most small cars aren't on the leading edge of technology, smoothness and sophistication, and buyers generally don't mind. They're looking for something affordable and efficient. If the engine has emphysema and the suspension has polio, so be it.
The Volkswagen GTI, though, is different.
This compact car aims, above all else, to be refined. It's a little more expensive than most commuter cars, but it feels a lot more expensive, with the kind of performance, comfort and tech gear that you'd normally expect from a luxury brand.
Take the GTI's transmission. Normal cars in this class would have either a manual or automatic transmission, nothing fancy. But the GTI comes with one of the most impressive pieces of technology in any car at any price: a Direct Shift Gearbox (DSG).
The DSG is something you'll often find in exotic sports cars. Essentially, it's a robotic manual transmission that offers the perfect combination between a stick-shift and an automatic.
Like a stick-shift, it offers ultra-fast shifts that make the driver feel connected to the car. But like an automatic, there's no clutch pedal to get in the way. You can change gears with the paddles on the steering wheel, or you can leave it in fully automatic mode for normal cruising around town.
Another big difference is under the hood. Where most small cars would have a regular four-cylinder engine that may or may not sound like a lawnmower, the GTI adds a turbocharger and intercooler to create a powerplant that's as powerful and smooth as anything in its class.
Step on the gas pedal and the GTI responds with a torrent of torque that can easily spin the front tires. It makes 200 horsepower and 207 pound-feet of torque, absolutely ridiculous high numbers for a car this small, so it definitely lives up to the GTI's legendary performance.
And really, that's the story of the GTI. As much as it's a great car, one with the mechanical precision that feels so wonderfully German, it's ultimately a vehicle that lives within the broad shadow of its hot-hatch predecessors. It's a throwback car.
Volkswagen brought the original GTI to America in 1983, spawning a whole new type of car, the sport-compact, with its powerful engine in a small package. It was a hit right from the start.
It was also noted for its distinctive style. The classic GTI has black paint with little bits of red trim, big wheels and a sporty body completing the package. Today's GTI continues the trend with a strip of red trim around the grille and some huge, old-school phone dial wheels that evoke the 1983 original. It's stylish, but not in a flashy way, more like the kind of style hardcore VW enthusiasts would notice more than ordinary drivers.
Again, it's all about refinement.
The suspension is also surprisingly advanced. It's fully independent, with an unusual rear layout that improves handling and provides more space in the cabin. The details are boring, but the results are outstanding, with incredible grip, poise and control in the corners that you notice at speed.
What was tested? The 2010 Volkswagen GTI four-door with the Direct Shift Gearbox (DSG) transmission with a base MSRP price of $24,990. Options on the test car: A power sunroof for $1,000 and the navigation package for $1,750. The total MSRP price as tested including the $700 destination charge is $28,440.
Why avoid it? The base cost is just under $25,000 with the awesome DSG gearbox.
Why buy it? It's fast, refined and smart looking. It's nostalgic, too, with throwback styling that evokes the original hot hatch of the 1980s.
Best of all, it's about more than gas mileage and the window sticker.
By Derek Price © AutoWire.Net - San Francisco
The Bottom Line: Volkswagen's new GTI has distinctive red trim around the grille opening, carrying on a longtime tradition in this sport-compact trendsetter. The excellent materials and construction make the new GTI feel like it's a cut above most compact cars. It's a sporty and refined hatchback with a powerful engine. Overall, it's hard to find a reason to dislike this little car, assuming you can swallow the price. It's quick. It's sophisticated. It's cute. It's practical. And it stands apart from the crowd.
Bottom Line Review provided by: Tony Leopardo © AutoWire.Net
"Tony the Car Guy" is an automotive writer, editor and publisher in the San Francisco Bay Area. If you have a question or comment for Tony send it to TonyLeo@pacbell.net or visit AutoWire.Net at www.autowire.net
And remember: " You Are what you Drive "

Column Name: Sporty Volkswagen lives up to its reputation
Topic: The 2010 Volkswagen GTI
Word Count: 846
Photo Caption: The 2010 Volkswagen GTI
Photo Credits: Volkswagen GTI Internet Media
Series #: 2010 - 01
Download the Microsoft Word version here: 2010 VW GTI
Download the Original Image File here: 2010 VW GTI