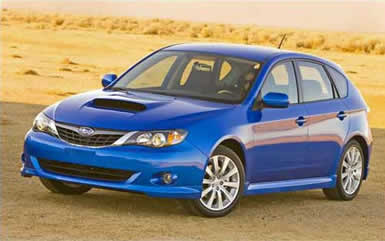 Sports Sedan Review: Subaru has had a winner for years with its rally car for the street WRX model. Based on its perfectly regular Impreza compact sedan, the WRX version uses turbocharging to give rocket performance with no hint of pretensin.
Driving enjoyment has never been an issue with the WRX, but those basic car origins havenít matched well with the $25,000 to $30,000 price tag. Well, thatís history now, because the 2008 Impreza is, as they say in the car biz, all new.
The new body is rounder, if not exactly prettier. Itís swoopier, with a lower, more aerodynamic-looking nose. Prominent style ridges give the sides a much more dramatic look. The white taillamp lenses lend an aftermarket, custom appearance right out of the showroom. On the WRX you can order an aero kit to make your ride look more like a real rally car.
One huge change is the companyís swapping the former five-door wagon for a five-door hatchback. Maybe the enormous growth of crossovers has softened peopleís antipathy to five-door styling these days. During the two 1970s gas crises, popular hatchbacks gave a ďcheapĒ reputation to hatchbacks that has persisted. In any case, the Impreza is a finer car today in many ways. And you can still have a four-door sedan if you want it.
Subaru experimented with a narrow grille when it introduced its Tribeca crossover in 2005. The public gagged on it, so not only is the new Tribeca conventional-faced, but the new Impreza features a horizontal motif too. Subaru apparently decided to cut its losses and go for conventional.
The new Impreza WRX sits on a 3.7-inch longer wheelbase, which makes it more stable on the road and also gives rear seat passengers significantly more legroom. Despite an identical exterior width, there are two inches more shoulder room inside. The four-door sedan has a much larger trunk than in the í07 model. The five-door, for its part, features a flat-folding rear seat that gives the new model much of the utility of the old wagon.
The new WRXís interior is a major departure from the old car. The dramatically sculpted dash imparts motion the minute you sit down. Although the doors and dash are hard surfaces, they donít look inexpensive, an issue with the previous model. The satin-finish trim pieces look upscale, although I already detected the beginnings of wear in high exposure areas of the center console.
The WRX, thankfully, still has a mighty turbocharged version of Subaruís 2.5-liter flat four under its bescooped hood. While the Impreza 2.5i model gets a decent 170 horsepower output with a matching 170 lb.-ft of torque, the turbocharged model jumps to 224 horsepower and 226 lb.-ft. of torque, which makes a huge difference in a 3,100-pound car. A new intake manifold, intercooler, and turbocharger for 2008 improve low-end torque and fuel efficiency.
The EPA rates the WRX at 19 City, 25 Highway with the five-speed manual that came in my Spark Silver Metallic five-door tester. I averaged 23.1 mpg, which isnít bad considering the stunning performance the WRX delivers. The green scores, Air Pollution and Greenhouse Gases, remain at 6 out of 10 for both, just like last year. Thatís slightly better than average.
The WRX comes pretty loaded. Performance features include Vehicle Dynamics Control, a sport-tuned suspension, and nice 17-inch alloys. Of course, all Subarus come with completely invisible all-wheel-drive.
Inside, you get automatic climate control, touch-screen navigation, a grippy leather steering wheel, heated ďsportĒ seats, remote keyless entry, and even a windshield wiper de-icer (yeah, you rarely need it in coastal California, but still nice to have.) Naturally, the windows, mirrors, and locks are all power, but thatís pretty much universal these days.
Subaru has been a safety-oriented manufacturer for a long time, so you receive high-tech airbags that adjust to the size and weight of the driver and passenger and deploy differently depending on whoís in the seat at the time of impact. The companyís Ring-Shaped Reinforcement Body Frame Structure with front and rear crumple zones gives the car five-star frontal crash ratings (the top rating). The side crash results are five stars for the front and four for the rear.
2008 Impreza WRX five-doors start at $25,495, including delivery. My tester, with its satellite radio and navigation package and optional $163 center armrest, came to $29,758. The Impreza 2.5i, with similar looks but without the muscle, starts at $17,640 in four-door configuration. The mighty STI version of the WRX, with 305 horsepower, will run you $35,640.
In an age of four-dollar-a-gallon gas and global warming concerns, itís good to be able to have some fun without driving a bulky muscle car. While the WRX is no fuel-sipping hybrid, it has loads of road going personality with a reasonable appetite and carbon impact, and it doesnít look like an econobox any more.
By Steve Schaefer © AutoWire.Net - San Francisco
Byline: Sports Sedan Review provided by Tony Leopardo © AutoWire.Net

Column Name: The WRX is a rally car for the street
Topic: The 2008 Subaru Impreza WRX
Word Count: 884
Photo Caption: The 2008 Subaru Impreza WRX
Photo Credits Subaru Impreza WRX Internet Media
Series #: 2008 - 60
Download the Microsoft Word version here: 2008 Subaru Impreza WRX
Download the Original Image File here: 2008 Subaru Impreza WRX