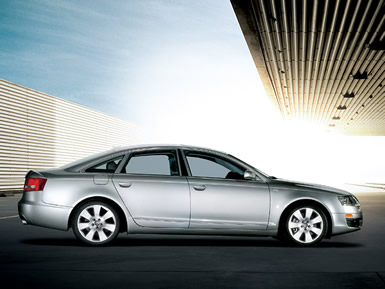 San Francisco: Audi's previous A6 was a real looker, but the all-new 2006 model is even better. A huge grille gives it a style like no other car on the road, and the overall look is both sophisticated and athletic - exactly like the car itself.

Every piece in the A6's cabin feels like it was fitted by an expert jeweler. High-quality materials and outstanding construction prove that Audi is still making some of the best car interiors in the world.

I used to think modern electronics were assembled with tight tolerances. Then I sat in this car. To test just how well the interior bits fit together in Audi's all-new A6 - a car previously recognized as having one of the best interiors money can buy - I compared my fancy cell phone to the various buttons, switches and pieces of trim in the A6's cabin. The car won in every way.

While an average cell phone has lots of itty-bitty buttons that fit almost perfectly to keep pocket lint and other crud from entering the phone, the pieces inside this Audi fit together even tighter. I couldn't even slide my fingernail inside most of the perfectly aligned gaps in the car, but the cell phone, on closer inspection, looked like a kindergarten class assembled it.

It's an incredible cabin with a level of detail I've never seen before - not even in $100,000-plus super luxury cars I've tested. Consider:
It has precisely cut wood trim that's surrounded by a tiny, perfectly straight band of chrome that's so small you hardly notice it's there.

It has tight-fitting, soft touch materials that envelop virtually everything that's not made of wood and chrome.

It even has subtle accent lights hidden under the foot wells and along the door armrests.
It's the kind of car you don't want to leave the tiniest speck of trash inside because it looks so perfect. It's beautiful in every way, inside and out.
In fact, I could find very little to fault in this car after a week behind the wheel. There are only two minor troubles: the brakes feel "grabby," which isn't a problem once you get used to it, and the opening for the trunk is a tad too small. Yeah, I know. Big whoop.
Everything else about the A6 is absolutely perfect, from its sexy new body to its velvety engine and transmission. From behind the wheel, this car feels exactly like you'd expect from a high-end German luxury sedan and drives at least as well as its main competitors: the BMW 5-Series and the Mercedes E Class.
Even compared to those German stalwarts, the A6 is very stable and composed in corners thanks to its optional all-wheel drive system and high-tech, carefully tuned suspension. While it feels almost sports-car-like in corners, with virtually no body roll through tight turns, it also soaks up the bumps and potholes for a silky highway ride. It's a good combination of performance and comfort.
The engine-transmission combination is also smooth as a chocolate milkshake, especially with Audi's 3.2-liter V6 engine that uses Le Mans-winning technology. Called the 3.2 FSI, this engine injects gasoline directly into the combustion chamber for faster response and better fuel economy. It makes 255 horsepower and gets 29 miles per gallon on the highway in two-wheel-drive models, according to the EPA. For even better performance, an optional 4.2-liter V8 makes 355 horsepower.
The V6 car starts at $40,820, while the V8 model, which comes with a higher level of standard features, starts at $53,770. Both models address the major problem of the previous A6: its size. This new version is 3.3 inches longer and slightly wider than the '05 car, setting it up for head-to-head competition with BMW and Mercedes. And this Audi is definitely ready for a fight.
What was tested? The 2006 Audi A6 3.2 Quattro ($43,970). Options: Sunroof package ($1,450), premium package ($2,500), technology package ($3,800), premium leather ($1,000). Price as tested: $52,720
Why buy it? Last year's A6 was a great car, but this one is unbelievable. Its interior is assembled so precisely it makes a cell phone look sloppy, and a new 3.2-liter V6 uses Le Mans-winning technology to deliver impressive performance and good fuel economy. It's gorgeous on the outside, too. By Derek Price © AutoWire.Net - San Francisco

Byline: Syndicated content provided by Tony Leopardo © AutoWire.Net
Column Name:

Audi's A6 does the 'Tighten Up'
Topic: The 2006 Audi A6 3.2 Quattro
Word Count: 787
Photo Caption: The 2006 Audi A6 3.2 Quattro
Photo Credits: Audi Internet Media
Series #: 2005 - 54 Download the Microsoft Word version here: 2006 Audi A6

Download the Original Image File here: 2006 Audi A6