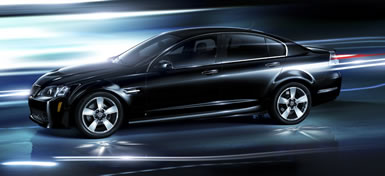 CAR REVIEW: Not since the new GTO came out in 2004 have we been so anxious for a new American car to hit the marketplace. The 2008 Pontiac G8 GT could easily be the best Pontiac this side of the muscle car era.
With rear-wheel-drive, a powerful and quiet V8, and handling that could
rouse Ferdinand Porsche out of his slumber, we may just have a verifiable hit on our hands, as long as you donít want touch-screen navigation or built-in XM satellite radio.
Going after the Dodge Charger, which currently holds the market on Detroit cool-ness and rear-wheel V8 power, Pontiac has made a leap and two bounds past the previous Bonneville, which the G8 replaced.
Comparing the Pontiac G8 and the Dodge Charger, you get two totally different philosophies and demeanors, even in top trim levels. The Pontiac wins hands done in looks, with Euro-styling, flared fenders, snarling hood with requisite scoops and that looks-fast-standing-still, hunkered-down attitude.
You also get a 6.0-liter L76 V8 with 361 horsepower and 385 lb.-ft. of torque and a six-speed automatic transmission with manual shifting at the lever. In the Charger, you get a 5.7-liter hemi V8 with 340 horsepower and 390 lb.-ft. of torque and somewhat bland, slab-sided styling with squared off rear lights and a somewhat fastback roofline. No bias here, eh?
Inside, the G8 is Euro-inspired with well-bolstered seats, clean and tidy
gauges and tactile switch gear within easy reach. Thereís also some bright work that lends an aire of sophistication to the G8; satin metal surrounds on the center stack that highlight the gearshift and cup holders and a satin metal line running from door to door that helps break up the dash in upper and lower sections. Another section of satin metal trim is on the steering wheel. This piece is much better than the similar styling on the Saturn VUE as itís not metal and not cold to the touch.
The rear seat is large, as you would expect from the big Pontiac, but itís also comfortable enough for long trips. And the trunk is huge, enough for a few golf bags and a weekís worth of your finest golf clothes, but please leave the funky pants at home.
Our only real gripe about the interior has to do with the top of the center stack: there is an LED display that shows secondary gauges like battery charge and oil temperature. But itís a waste of perfectly good real estate that could house a nice pop-up navigation screen or something else worthwhile.
As you can tell, power corrupts. Itís exhilarating to hit 80 miles per hour on a freeway on-ramp, without breaking a sweat. Or catching the apex, hitting the gas, while holding the correct gear, and squirting out of the corner like a bat out of hell, to coin a phrase.
We enjoyed the hustle and flow shown by the G8 on our test loop, especially the long, fast slow radius turns on the hilly section. Watch out Po-po, we got a mean driving machine heading your way!
Putting all the G8ís power to the pavement is easy with standard traction control and Stabilitrak stability control, but itís a real hoot to turn those off and just let the tires spin freely every once in a while. This is a lot easier to do when the carís not yours and youíre not buying the tires either!
Speaking of paying, we did get about 17 miles per gallon in the week we had the G8, in mixed driving, which puts our mileage at the lower end of the EPA estimates of 15 MPG city and 24 MPG highway. While not bad for a performance car, itíll surely put a big dent in the pocketbook with gas hovering above $4 nationally as this is written.
The G8 Base model comes with V6 power of 3.6 liters and 256 horses and 248 lb.-ft. of torque, and one less cog in the tranny, for those who want the G8 looks but not the power and a little better gas mileage and lower insurance fees. Pricing for the Base model starts at an MSRP of $27,595.
Standard equipment on both models include six air bags, air conditioning (dual zone on the GT), a Blaupunkt 11-speaker AM/FM/CD radio with auxiliary input jack, power windows / mirrors / locks with remote keyless entry, four-wheel disc brakes with ABS, four-wheel independent suspension, the aforementioned Stabilitrak and Onstar, along with a bevy of other nice features.
The GT model we drove started at $29,310 and had only one option; the $1200 premium package that includes leather seats, front seats with 6-way power and heat and leather on the shift lever. The total MSRP price, including a destination charge of $685, came to $31,245.
The bottom line is that the Pontiac G8 is a steal for what you can get in todayís muscle cars for the price.
By James E. Bryson © AutoWire.Net
Byline: CAR Review provided by Tony Leopardo © AutoWire.Net

Column Name: GTOís Big Brother is here now!
Topic: The 2008 Pontiac G8 GT
Word Count: 888
Photo Caption: The 2008 Pontiac G8 GT
Photo Credits: Pontiac G8 Internet Media
Series #: 2008 - 33
Download the Microsoft Word version here: 2008 Pontiac G8 GT
Download the Original Image File here: 2008 Pontiac G8 GT