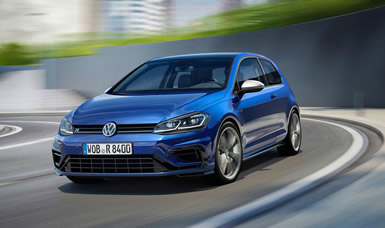 The 2018 Volkswagen Golf R review: This car is a bad influence on me. It sits low, handling is light, responsive and tossable. It's quick, has excellent lateral support, smooth shifter, torquey, great visibility …. why the heck are these other cars in my way? Accelerate, zig right, zag left, accelerate again, oops too fast. No matter, into a neutral all-wheel drift, recover while accelerating. That's five or six cars dispatched already. Speed limit barely exceeded, I still need to show better judgement …
Featuring a rumbly 292 horsepower turbocharged 4 cylinder engine the 2018 Volkswagen Golf R has the torque that is immediate, and the acceleration that is satisfying. Reportedly rated at 22 mpg city and 31 highway, these are very solid numbers for a performance car.
The manual transmission 0-60mph time is said to be 5.2 seconds. The manual doesn't have that jerk-your-head-back engagement going into second gear or third gear at wide open throttle, too many all-wheel drive drivetrain components. Maybe it's the dampening, or both.
Sixty miles power is reached at the top of second gear. A steady 80 mph is about 3000 rpm in 6th gear and while perhaps not ideal for fuel economy, downshifting isn't necessary for getting around the ever present dawdling Prius, er, I mean other vehicles.
Refinement is prevalent throughout. When the clutch is fully engaged at idle, the vehicle can move at a crawl versus a herky-jerky lunging threatening to stall. Activating the electronic parking brake elicits an audible response from the rear of the car, as does the selection of reverse when the backup camera is actuated from its hiding space behind the rear emblem. Normal function sounds behind the driver other than the exhaust are rare and fun.
There are a few quirks. When using Waze while in Apple Car Play mode, the audible directions switch the audio source from radio to phone but that seemed to sort itself out from my fumbling around with the controls. The height of the steering column shaft absolutely must be raised, longer inseam drivers will hit their left knee against it while trying to have the steering wheel angled more parallel to the driver, and it makes ingress and egress difficult with the right knee even when it's at the top of the arc. Pushing the manually adjusted wheel in makes it worse, because that brings the steering wheel rim lower still! If you're a traveling salesperson, this might get bothersome.
The exterior has no chrome and a subtle blackout treatment and looks really sharp despite the basic hatchback design. Inside, the refinement is at a premium level. For example the wide and deep door pockets are lined with a carpet-like texture which keeps items from rattling around such as modern sunglasses that don't seem to fit in any overhead sunglass compartment on the market. Despite the contoured fit of the seats, the upper back feels unsupported but leaning your head back meets the padded headrest nicely. It also seems rather rare to have a black headliner these days, a welcome change but this example was missing a sunroof. Once everything is adjusted, outward visibility excellent.
Thanks to the positive action shifter and light clutch feel, driving in commuter traffic is as effortless as a manual transmission car could be. The low end torque and maneuverability allow for easy placement and changing lanes as opposed to waiting for the revs to climb for power. Steering is quick, roughly 3 turns lock-to-lock but the turning radius is the give away that the engine is transverse mounted, a slight but noticeably greater than some larger, rear-drive only vehicles.
The multi driving mode selection has cool graphics along with a custom setting offering an array of configurations from chassis control, steering effort, engine sound, lighting, climate control, etc. When reaching for the navigation screen setting, the submenu pops up, a clever touch, pun intended. By Rob Eckaus © AutoWire.Net - San Francisco
The 2018 Volkswagen Golf R Bottom Line Review provided by:
Tony Leopardo © AutoWire.Net
The Bottom Line: The 2018 Volkswagen Golf R with the 6-speed manual transmission offers the involving driving experience that makes you yearn for a weekend track day, while offering a smorgasbord of configurable settings, logical ergonomics, and what must be a best-in-class interior refinement.
This is really a fantastic daily driver that can be a practical economy car, with plenty of available power. And just add a sport setting push button and you're a throttle position away from being an eager track rat with sharp styling cues, yet still blending in to the daily commute, without screaming for attention.
And maybe, just for those reasons alone, you should "Drive one, Buy one, Today ©".
This Bottom Line Review is provided by: Tony Leopardo © AutoWire.Net
"Tony the Car Guy" is an automotive writer, editor and publisher in the San Francisco Bay Area. If you have a question or comment for Tony send it to TonyLeo@pacbell.net or visit AutoWire.Net at www.autowire.net - And remember: "You Are What You Drive ©"

Column Name: The Golf R – The refined HooliganTopic: The 2018 Volkswagen Golf R
Word Count: 890
Photo Caption The 2018 Volkswagen Golf R
Photo Credits: Volkswagen Internet Media
Series #: 2018 - 09
Download the Microsoft Word version here: 2018 Volkswagen Golf R
Download the Original Image File here: 2018 Volkswagen Golf R