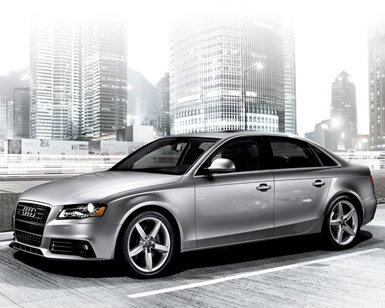 Audi A4 Review: I have had a love and hate relationship with just about every Audi I have ever driven, and the 2009 Audi A4 is no exception. Let me hit the love side of the equation first.
I think Audi designs and builds some of the best looking cars on the planet. The A4's shape is almost erotic; the curves entice you to fondle the car, to run your hands over it. Almost nothing sticks out into the air stream, allowing quiet passage at most legal, and illegal, speeds. The paint is of show car quality, rich, smooth, and deep.
Audi does some amazing things with their suspensions too. First, they start with a platform that is very stable and stiff. Then they pay attention to the details of the suspension. It is a juggling act to get a suspension that handles well yet delivers a decent ride. The A4, with its 5-link, upper and lower wishbone suspension that uses aluminum components, and its trapezoidal-link independent rear suspension gets the job done. The A4 3.2 FSI was a joy to drive whether on winding country roads or the Interstate.
The engine, a DOHC V6 uses direct fuel injection for more power and cleaner burning. The compression ratio is an astounding 12.5to 1, a ratio that used to be seen only in racecar engines. All of this results in 265 hp and 243 lbs. ft of torque. The power goes through a 6-speed automatic transmission (with Tiptronic) to Audi's Quattro all-wheel drive system with its rear-biased torque split (40% front / 60% rear) makes sure that all four tires do their job at all times.
Even though the A4 3.2 FSI weighs 3,737 lbs. (about 10% lighter than the previous A4), it can get from zero to 60 mph in 6.3 seconds. Top speed is electronically limited to 130 mph. Performance is not this engine's only forte either; fuel economy is rated at a respectable 26 mpg highway, a 10% improvement over the previous model, thanks to the direct injection and less weight.
A quick, fast car needs excellent brakes. The A4 3.2 FSI has 4-wheel disc brakes with 12.6 inch, ventilated front rotors and 11.6-inch solid rear rotors. The car stops. The parking brake is electro-mechanically activated, something I have had doubts about in the past but over the years I have not heard any horror stories so I guess I have to accept progress.
The 2009 A4 is about 4.6 inches longer than its predecessor, significantly increasing knee room. Like most 5-passenger cars, four people will be more comfortable. The front two seats are just about perfect, offering support during spirited driving and comfort for the long haul.
The A4 has a larger trunk at 16.9 cubic feet than any of its immediate competitors. Fold the rear seat down and that increases to 34 cubic feet.
The driving experience of a car includes more than how it handles, how quickly it accelerates or stops, or how fast it will go. It includes how well and how easy everything works. This is an area I had trouble with on the A4.
When the point of all the electronics and computer-operated gadgets seems to be to impress rather than actually accomplish anything, well you have to question the rationale.
Case in point is the seat heaters. I am a big fan of seat heaters; they are a wonderful addition to a cold morning. Generally, they are easy to use (although a few domestic cars of the past had the switches in pretty dumb spots); there is a little button with an outline of a seat with squiggle lines (heat). You push the button to turn the heater on; pushing it more than once usually changes the heat setting from high to medium, to low and off. Not on the A4 though.
First you push the little seat button, then a diagram comes on the central screen that is operation center for everything, climate control, sound system, navigation system, etc., then you have to twist this knob on the console … Except I never could get it to work. I suppose I should have read the owner's manual but you know when something that should be very simple is made difficult for no purpose, well forget it. To be fair, this is not unique to Audi or the A4; too many automakers seem to think that technology is the answer to everything, forgetting that it is only a tool that is supposed to make life easier.
Audi see itself as competition to BMW, maybe Acura and Infiniti, and they are priced accordingly. A base A4 2.0T lists for about $40,400; an A4 3.2 FSI S Line starts at about $46,200. The A4 3.2 FSI I drove went out the door for just over $50,000. Only you can decide if this car is worth it to you.
By Bruce Hotchkiss © AutoWire.Net - San Francisco
Byline: Audi Review provided by Tony Leopardo © AutoWire.Net

Column Name: Only you can decide if this car is worth it to you
Topic: The 2009 Audi A4 3.2 FSI
Word Count: 898
Photo Caption: The 2009 Audi A4 3.2 FSI
Photo Credits: Audi A4 Internet Media
Series #: 2009 - 28
Download the Microsoft Word version here: 2009 Audi A4
Download the Original Image File here: 2009 Audi A4