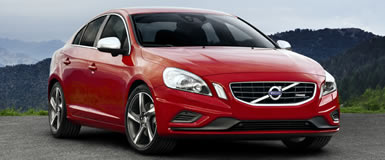 The 2012 Volvo S60 Review: Volvo, long known for offering boring, boxy, solid (but safe) transportation, has become much more performance-oriented over the last decade or so. The S60 is something of a rocket car. There are now three levels of performance for the handsome S60.
The T5 model uses a 2.5-liter 5-cylinder engine with 250 horsepower and 266 lb.-ft of torque. Then, you can step up to the T6 AWD (all-wheel-drive) model, which boasts a 3.0-liter turbocharged inline six-cylinder that cranks out a generous 300 horsepower and 325 lb.-ft. of torque. And, you can now select the T6 R-Design AWD. It ups the ante to 325 horsepower and 354 lb.-ft. of torque.
Thank Polestar Performance Tuning, headquartered in Gothenburg, Sweden. They are Volvo Car's official Motorsport and Performance Partner. Polestar has collaborated with Volvo since 1996 and is currently responsible for all of Volvo's major undertakings in motorsports.
All S60 models use Volvo's second-generation, six-speed automatic transmission with sport mode. New valves and lower friction mean faster gear changes than ever before.
Just to drive the high performance point home, my test car came in Passion Red paint! I swam through a sea of silver Camrys and Accords on my commute and knew I was piloting something they couldn't even imagine. The R-Design is a stealth car, and with its prodigious horsepower and torque, it's no wonder the car jumped ahead like a hungry racehorse when I touched the accelerator.
Inside, the look and feel is upscale, but cool and collected, that famous and desirable Danish modern of many a Volvo over the years. The matte black, padded surfaces, pressed and shaped into forms that pumped up the energy, encourage the sense of speed and aggression. The silvery "hook" of trim that eventually culminates in the door handles is remarkably elaborate for a Volvo, but this isn't the same old company.
Despite the dramatic power, fuel economy is rated at 18 City, 26 Highway (average 21). I got 18.6 mpg, not much above the City rating, despite driving mostly on the highway. Still, a lot for such a vigorous car. The EPA's Green Vehicle Guide gives the car a 4 for Air Pollution and a 4 for Greenhouse Gas.
There is no "entry level" Volvo S60. Even the T5 gets Dynamic Stability and Traction Control, leather wheel and shifter, 17-inch alloy wheels, a high-performance audio system, dual-zone electronic climate control, and much more.
Besides additional power and all-wheel drive, the T6 AWD brings leather seats, 18-inch alloy wheels, the "Dynamic Chassis" (replacing the T5's "Touring Chassis") and driver-selectable speed-sensitive steering.
The T6 R-Design model, at the top, gets the "Sport Chassis," more exotic 18-inch alloys that expose the brake calipers, a power glass sunroof, rear spoiler (zoom!), sport pedals and a whole bunch of R-Design appearance goodies. These range from, on the outside, a special lower front spoiler, rear diffuser and piano black gloss grille with R-Design emblem. Inside, feast your eyes on the unique R-Design themed leather seats, blue watch dial instrument cluster goes great with the blue Volvo logo on the leather sport steering wheel, aluminum inlays, floor mats, and leather gearshift lever.
There's more. My car had a $2,700 navigation system with voice activation. There was also a Climate Package, which added heated front seats, heated windshield washer nozzles and a rain sensor. I'm guessing that I would not need this package on my own car in the mild California climate.
With all these extras, my T6 R-Design AWD test car came to $46,875. However, you can pick up a T5, starting at a more reasonable $32,175, including shipping costs.
Last year, I spent time with this car's ancestor, a beautiful red 1966 Volvo 122S, appropriately named Old Red. That car was dated-looking for its time, but was a beautiful rendition of the solid, sturdy, reliable Volvo of yore. Even before the era of Volvo's box styling it was a treat driving it, but motoring about in the new S60 is actually exciting.
Volvo has been about safety for years. They pioneered the seatbelt, for example. Well, as it turns out, in mid-December, five Volvo models were named 2012 Top Safety Pick winners by the Insurance Institute for Highway Safety. No other car manufacturer had more models on the list. Top Safety Pick winners included the Volvo C30, S60, S80, XC60 and XC90.
"Safety has been a hallmark of Volvo since we were founded in 1927," said John Maloney, president and CEO of Volvo Cars of North America.
With new Chinese ownership, it looks good for Volvo in the long term. There is a lot of upheaval in the car business now, and Volvo's Swedish competitor, Saab, has gone bankrupt. Let's hope that Volvo continues to introduce exciting new cars, and that smart shoppers buy them.
By Steve Schaefer © AutoWire.Net - San Francisco
The Bottom Line: The 2012 S60 is Volvo's answer to a mid level sports sedan. This car has the power, handling and refinement to be a true daily driver that you will never get tired of. With 3 engines and 3 trim levels to choose from there is a mix and matched drivers car at every price point. From a base price of $32,000 to near $50K Volvo can build you your dream S60 that reflects your driving needs. Smart buyers choose Volvo. Now, more than ever - You should "Drive one, Buy one, Today ©"
Bottom Line Review provided by: Tony Leopardo © AutoWire.Net
The 2012 Volvo S60 Bottom Line Review provided by: TonyLeopardo © AutoWire.Net - "Tony the Car Guy" is an automotive writer, editor and publisher in the San Francisco Bay Area. If you have a question or comment for Tony send it to TonyLeo@pacbell.net or visit AutoWire.Net at www.autowire.net - And remember: " You Are What You Drive©"

Column Name: Smart buyers choose Volvo.
Topic: The 2012 Volvo S60
Word Count: 1,016
Photo Caption: The 2012 Volvo S60
Photo Credits: Volvo S60 Internet Media
Series #: 2012 - 8
Download the Microsoft Word version here: 2012 Volvo S60
Download the Original Image File here: 2012 Volvo S60