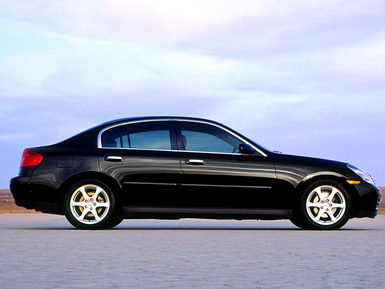 San Francisco: As Infiniti ramps up for the luxury performance marketplace it has created a performance oriented luxury car with an emphasis on rear-wheel-drive with a front engine. In this new category comes an attractive new vehicle, the 2003 G35 Sport Sedan.
This new sedan is a pleasure to drive as well to look at. Fast taking its place among the sporty sedans out there today this new beauty offers it all. We especially liked the rear reclining seats, a very comfortable feature for rear passengers. The Sedan interior is spacious, with plenty of leg and headroom, particularly noticeable in the rear seating. The new platform allows for a wider track and long wheelbase, bringing interior room up to 98.0 cubic feet. Trunk size is also ample and accommodates all manner of luggage.
The G35 Sedan has gotten nothing short of rave reviews, from the press and the public alike. I haven't talked with one potential customer who hasn't commented on its sharp exterior, luxurious, yet sporty interior and downright class. It's also appealing across the generations, from the age group it was designed for (35+) to those in there 50s.
As a rear-wheel-drive sedan the G35 Sedan will lead Infiniti's new image in the marketplace, from "just" a luxury brand, to a performance luxury nameplate. Competing with BMW's 3-Series, Infiniti knew its competition and has poised itself well. They've included such niceties as remote keyless entry, a first aid kit, emergency wallet key, Infiniti Vehicle Immobilizer System and electronic master key.
The Sport Sedan is currently available in two models: the G35 Sedan and G35 Leather. Several packages are available, including the G35 Sedan Leather Model, Premium Package, Winter non-Sport Package, Winter Sport Package, Wood Package, Sunroof Package, and Sport-Tuned Package. A third, the G35 Sedan Sport 6M/T will be available beginning in the next model year. The Premium Package includes a sunroof, reclining rear seats, Bose audio system, a Sport-tuned suspension, 5-spoke aluminum alloy 17-inch wheels, and Aero rear spoiler. Other options include a Bose navigation system, heated front seats, heated outside mirrors, sunroof and wood trim. The Sport Sedan is available in seven exterior colors and all are equipped with Vehicle Dynamic Control for stability in all weather conditions.
Changes for production include Xenon headlights added to the Leather Luxury model and a sunroof added to the Premium model. Also available is Satellite radio with a choice of XM or Sirius service. The G35's V6 engine is located behind the front axle, allowing for the use of a low hood line. This flows into the angled windshield contributing to the G's sporty silhouette, as well as improved aerodynamics. An optional rear spoiler is available adding to the car's coefficient of drag measurement of only .26. Aluminum is used for the hood to reduce weight and provide better fuel economy. The roof panel and side panels are laser-welded to enhance body rigidity and reduce vibrations. The increased stiffness and rigidity improve driving stability, ride comfort, noise levels and harshness.
The G35 Sport Sedan Specs are:
Engine: 24-valve, 3.5-liter DOHC V6, 260-horsepower, rear-wheel-drive
Transmission: 5-speed automatic with manual shift mode
Vehicle Dynamic Control available
Wheelbase: 112.2 in.
Height: 57.9 in.
Width: 68.9 in.
Length: 186.2 in.
Weight: 3,336 lbs.
EPA: 19 mpg city /24 mpg highway

All G35's are equipped with Vehicle Dynamic Control (VDC) for better stability on wet pavement. The braking system utilizes power-assisted 4-wheel vented disc brakes, 4-channel, 4-sensor ABS, and Electronic Brake force Distribution. This all contributes to a distribution of braking that matches load condition. Brake Assist is available for panic braking.
We especially like the seat design in the G35. Rather than "one seat fits all," notes Infiniti, they have designed a unique front driver and passenger seat. The driver's seat features a special center mound shape (damping urethane foam) to support the driver, while the passenger seat has a flatter-shaped lower cushion. The rear seats are bucket seat style and in the Leather model, recline. This is a real plus.
And the spoiling goes on. When a buyer takes home a G35, he or she continues to receive goodies in the mail, from a matching Infiniti key chain to a gift-wrapped insurance cardholder for the glove compartment. This of course appeals to many drivers, particularly the ones that are used to being waiting on and catered to. Women especially like the extra attention.
By Susan Frissell © AutoWire.Net - San Francisco

Byline: Syndicated content provided by Tony Leopardo © AutoWire.Net
Column Name: Infiniti joins the luxury performance marketplace
Topic: 2003 Infiniti G35 Sport Sedan
Word Count: 798
Photo Caption: 2003 Infiniti G35
Photo Credits: Infiniti Internet Media
Series #: 2003 - 10
Download the Microsoft Word version here: 2003 Infiniti G35
Download the original image file here: 2003 Infiniti G35 49k