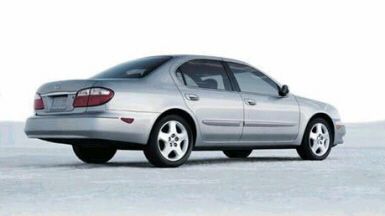 SAN FRANCISCO: My wife looks at cars the way grocery shoppers compare brands of canned olives. She doesn't see much difference between them. But, she know what she likes, and she likes Infinitis. She enjoys the smooth, quiet ride, the firm but comfortable seating, the fine stereo system & the subtle good looks.
When the first I30 arrived, in April of 1994 as a 1995 model, it was easy to dismiss it as a dressed-up Nissan Maxima, which essentially it was. The Maxima is a fine automobile, but Infiniti had established its credentials with the large, uniquely configured Q45, and the I30 wasn't that. Today, though, the I30 has become Infiniti's top seller, and despite a slight similarity to the Maxima and a few shared pieces underneath, the 2000 I30 is its own car.
For one thing, the new I30 was designed in Atsugi, Japan at the Nissan Technical Center, while the Maxima hails from Nissan's design facility in Southern California. Major differences in the body, including totally different front and rear styling, set the two cars far apart.
The I30 also gets luxury touches like a full leather interior package, automatic temperature control, an eight-way power driver's seat, mirrored threshold plates, and an Infiniti trademark oval analog clock on the dash. These upgrades help it compete with the popular Lexus E300 and Acura TL sedans.
Cars in this "entry level luxury" field can't run with the $50,000 cruisers, but they must offer something special, and this Infiniti does. For one thing, there is a 37-horsepower boost to 227 horsepower from last year's car (5 hp more than the new Maxima). Better airflow, including new intake and exhaust manifolds, Nissan's Variable Induction System air intake control, and a special muffler is responsible for this improvement. Fuel mileage is a respectable 20 city, 28 highway.
Nissan has bestowed upon this I30 the road feel of a BMW, with some vibration transmitted through the steering wheel and pedals which brings the car to life without intruding upon the restful silence in the cabin. Steering is softer than a BMW's, but not at all floaty, and stays sharp in road going maneuvers.
In that peaceful interior, the Bose 200-watt seven-speaker AM/FM/cassette/CD can spread its crystalline sound around without distraction. This isolation from harshness with preservation of road consciousness is a major distinction between regular midsize cars and the entry-level luxury vehicles.
This year's I30 is 4.1 inches longer than the '99, on a wheelbase that's been stretched two inches. This translates into additional legroom and 2.4 additional cubic feet of passenger space. Rear legroom in the I30 has always been good, but now it's downright generous.
Buyers may select the I30 or the I30 Touring (t); both offer a long list of Standard Equipment. These include electronic four-speed automatic transmission, 16-inch alloy wheels (17s on Touring models), fog lamps, power windows, power locks, and even power fuel door and trunk releases in the left armrest. Wood tone trim is evident but not overdone. Add in steering wheel-controlled cruise control, seats with position memory, apower sunroof and two real luxury touches: an electric sunshade for the rear window (also seen in Mercedes products) and a driver's seat that can automatically move back when the car is turned off for easier entry and exit.
Safety is a given in today's cars, and the I30 comes well prepared. It has four front airbags, the new child seat tether anchors, front crumple zones, and something called "front seat active head restraints." These help prevent whiplash injuries in certain kinds of accidents.
The I30 won J.D. Power's Best Entry Luxury Car in Initial Quality for 1999, and this new 2000 model should be even better. The doors slam with a solid thunk, the fit and finish are virtually perfect, and the new design is not just handsome, but beautiful, from the sensitive chrome detailing to the jewel-type halogen headlights up front.
The price is a segment-competitive $31,589 for the standard I30. Look out Acura and Lexus! There's a new kid in town! By Steve Schaefer © AutoWire.Net - San Francisco

Byline: By Steve Schaefer © AutoWire.Net - San Francisco
Column Name: "Look out Acura & Lexus!"
Topic: 2000 Infiniti I30t Touring
Word Count: 680
Photo Caption: 2000 Infiniti I30t Touring
Photo Credits: Infiniti PR
Series #: 2000 - 2
Download the Microsoft Word version here: 2000 Infiniti I30t