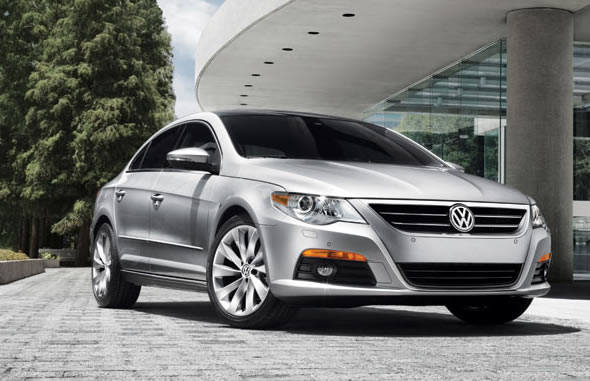 Volkswagen CC Review: After lunch one day last week, I walked into the parking lot, sat in the car, and couldn't find where to put the key. The Volkswagen CC I was driving had an unusual electronic key that inserts into the dash, not the steering column.
Then I looked beside me and saw a woman's purse in the passenger seat, which is when I realized I wasn't in the Volkswagen at all. I was sitting in someone else's brand new Lexus.
That says a lot about how far Volkswagen's cars have come. The silver CC, a swoopy, sexy version of the Passat, looked so much like the silver Lexus GS sitting next to it that I totally confused the two when I wasn't paying attention. The Volkswagen was just that good.
This awkwardly named CC, which stands for Comfort Coupe, isn't really a coupe at all. It just looks the part, taking the rather mundane looking Passat and giving it a lowered roofline and very sleek, Porsche-like rear end that makes it far more stylish than an ordinary sedan. It has four doors but looks like it should have two.
It feels like a luxury car on the inside too. Volkswagen, along with its sister brand Audi, continues its tradition of creating some of the most finely crafted interiors in today's cars. Materials are all soft to the touch and feel like they're assembled in one solid piece, without any wiggles or loose bits.
You can get some Lexus-like features in the CC too, including a navigation system with a 32 GB hard drive, a rearview camera and parking sensors that help you squeeze into tight spots.
In the base form, with a 2.0-liter turbocharged engine that makes 200 horsepower, the CC is actually a bargain. Offering the sophistication and style of a German luxury car, at a starting price of only $27,100.
But if you want V6 power, you'll have to pay more, a lot more. That version powered by Volkswagen's 3.6-liter VR6 engine, which makes 280 horsepower costs nearly $12,000 more than the four-cylinder car with a starting price of $38,700. That puts it closer to the range of a true European luxury car, but to be fair, it comes with an awful lot of standard equipment.
Interestingly, the CC feels like the spiritual successor to the Phaeton, Volkswagen's famously, wonderful luxury sedan that was an enormous failure for the company. While it was one of the best luxury cars in the world, few people bought it because they didn't want to spend such big bucks for a car with a VW logo on the hood.
Still the Phaeton's outstanding engineering, handling, cabin and quality seem to have filtered down to the smaller Passat-based CC. If it means more people will be confusing a Volkswagen for a Lexus, then that's a great thing.
What was tested? The 2009 Volkswagen CC Luxury model with a base price of $32,350. Options on the test car: Bluetooth with voice control for $275, the technology package for $2,640 and the premium stereo package for an even $1,000. The total MSRP as tested price is $36,265.
Why avoid it? The VR6 version is awfully expensive, starting nearly $12,000 more than the base CC.
Why buy it? It's a German luxury car without the luxury price. It has very good performance from its base engine and a gorgeous body.
The Bottom Line: Volkswagen's CC is a prettier version of the Passat sedan. It still has four doors but the roofline of a coupe. The interior design and the quality of materials and construction are excellent, making it feel like a true luxury car. The CC shows Volkswagen's luxury side plus this sleek sedan has the sensuous lines of a sports coupe
By Derek Price © AutoWire.Net - San Francisco
Bottom Line Review provided by Tony Leopardo © AutoWire.Net

Column Name: CC shows Volkswagen's luxury side
Topic: The 2009 Volkswagen CC Luxury
Word Count: 693
Photo Caption: The 2009 Volkswagen CC Luxury
Photo Credits: Volkswagen CC Internet Media
Series #: 2009 - 57
Download the Microsoft Word version here: 2009 VW CC
Download the Original Image File here: 2009 VW CC