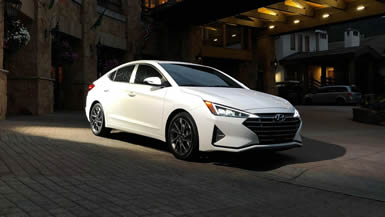 The 2019 Hyundai Elantra Sport Review: Long known for being affordable, basic transportation, the Hyundai Elantra has been getting more sophisticated with every update. This year it takes a big leap in terms of safety and driving dynamics.

If you buy the SEL trim or above, you'll now get Hyundai's SmartSense package of safety and convenience features including forward collision avoidance, lane keep assist, driver attention alert and a new feature called Safe Exit Alert that will sound an alarm if a vehicle is approaching from behind. The goal is to warn you before someone opens the door in front of an oncoming vehicle.

Outside, the Elantra gets a thorough visual refresh for 2019 that includes a new hood, fenders, fascia, grille and headlights, including LEDs applied to the Limited and Sport trims. It also gets a revised look in back and new wheel designs.

The inside is updated with a new instrument cluster in front of the driver and a fresh center stack with revised air vents, audio and temperature controls and a new storage tray that makes a great place to lay your cell phone.

Some of the most interesting changes, though, come to the version I tested, the new Sport trim, which is designed to offer better over-the-road dynamics for people who like the thrill of driving.

Unlike some sedans, the Sport variation isn't just about interior stitching, badges and a slightly firmer suspension. Hyundai seems to be taking it more seriously by giving the Sport a dual-clutch transmission with paddle shifters, its own multi-link rear suspension design and an exclusive 1.6-liter turbocharged engine.

It adds some styling upgrades, including special door trim, sport seats, a flat-bottomed steering wheel and other small changes that give it a more aggressive overall look.

The biggest difference is the dual-clutch transmission, which I absolutely loved driving. You can get it with a six-speed manual, something I might love even more, but the fast response and delicious mechanical feedback from the dual-clutch automatic makes the difference negligible. It's much more rewarding and tactile than the traditional six-speed automatic in other Elantras.

While the other Elantra trims get less powerful engines, either a 147-horsepower, 2.0-liter four-cylinder on most versions or the tiny, 1.4-liter turbocharged engine in the fuel-economy-focused Eco model, the 1.6-liter turbo in the Sport trim provides dramatically better acceleration while still delivering decent gas mileage. It's rated for 201 horsepower, 195 pound-feet of torque and 33 mpg on the highway.

The question, then, becomes who this car is designed for. The Elantra Sport feels like it occupies a more sophisticated niche, something odd to say about what used to be a cheap economy car, but it's the truth. It delivers great performance, reasonable fun in corners and has styling that's much more mature than the similar hot hatchbacks.

Pricing starts at $17,200 for the base Elantra SE and ranges up to $23,700 for the Sport model with the dual-clutch transmission.
What was tested? The 2019 Hyundai Elantra Sport with a base price of $23,700. Options on the test car: The Premium package for $2,250 and carpeted floor mats for $135. The total MSRP price as tested including the $920 destination charge came to: $27,005.

Wheelbase: 106.3 in.
Length: 181.9 in.
Width: 70.9 in.
Height: 56.5 in.
Engine: 1.6-liter turbocharged four cylinder (201 hp, 195 lbs.-ft.)
Transmission: 7-speed dual-clutch automatic
Fuel economy: 26 city, 33 highway

By Derek Price © AutoWire.Net - San Francisco
The 2019 Hyundai Elantra Sport Bottom Line Review provided by:
Tony Leopardo © AutoWire.Net
The Bottom Line: The Hyundai Elantra gets a fresh look for 2019 with changes inside and out, including new safety equipment and a powerful Sport model. While less noticeable than the exterior changes, the 2019 Elantra's interior gets a new center stack with a storage tray and new gauge cluster behind the steering wheel.

Why buy it? Performance, safety and style all get an upgrade in the 2019 Hyundai Elantra. With a dual-clutch transmission, and a more powerful 201 HP engine on the new Sport mode, they make it more rewarding to drive. It feels like a sophisticated sports car thanks to the styling and safety upgrades. And maybe, just for those reasons alone, you should "Drive one, Buy one, Today ©". And remember: "You Are What You Drive ©"
This Bottom Line Review is provided by: Tony Leopardo © AutoWire.Net
"Tony the Car Guy" is an automotive writer, editor and publisher in the San Francisco Bay Area. If you have a question or comment for Tony send it to TonyLeo@pacbell.net or visit AutoWire.Net at www.autowire.net - And remember: "You Are What You Drive ©"

Column Name: Sophisticated and Affordable
Topic: The 2019 Hyundai Elantra Sport
Word Count: 816
Photo Caption: The 2019 Hyundai Elantra Sport
Photo Credits: Hyundai Internet Media
Series #: 2019 - 20
Download the Microsoft Word version here: 2019 Hyundai Elantra Sport
Download the Original Image File here: 2019 Hyundai Elantra Sport