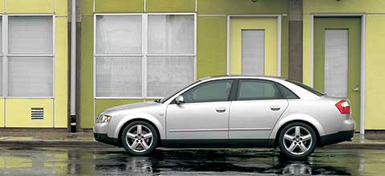 SAN FRANCISCO: Introducing the 2003 Audi A4 & A6 series with CVT, the Multitronic continuously variable transmission. The bottom line is great value in a car that combines the latest technology in an upscale German-built sports sedan.
San Francisco: For several decades the continuously variable transmission (CVT) has been touted as the transmission of the future. The difference between a geared transmission, either manual or automatic, and a CVT is that the latter provides essentially an infinite number of gear ratios versus four, five or at most, six ratios. This allows the engine to always supply power to the wheels in the rpm range that gives the best performance and/or fuel economy and do it smoothly and seamlessly without any shift points. Besides giving better fuel economy, typically a 5- to 15-percent improvement over a traditional automatic transmission, CVTs are simpler. The latter is becoming more important as electronically automatic transmissions become ever more complex and expensive. Indeed, it now cost almost as much to manufacture an automatic as building an engine. For the consumer, less complexity mean fewer things to go wrong and lower cost repairs.
The CVT is far from new having been invented by Dutch engineer, Van Den Brink in the 1950s. A CVT first appeared in the tiny Dutch-built DAF 600 in 1959. Named "Variomatic" it was used in DAFs until 1975 when Volvo purchased DAF. Volvo carried on production of DAF-designed cars until 1991 and Variomatic continued to be offered as an option. CVTs has been used several other cars such as the Subaru Justy, Honda Insight and Toyota Prius hybrid electric vehicles, the Saturn Vue SUV and even the new BMW-built Mini.
Unlike a regular automatic transmission, which does the shifting with gears and fluid couplings, the CVT uses a simple set of pulleys connected by a belt. Each pulley is split in half, like the bottoms of two saucers. As the pulleys are parted, the belt rides closer to the center for at low vehicle speeds. When the pulley halves are squeezed together, the belt moves toward the outer edge of the pulley for higher speed operation. With moveable pulleys on either end of the belt the power transmission can vary in infinitesimal amounts. That is why the CVT gets the name continuously "variable".
The CVTs challenge for many years is that they were limited in the amount of power they could transmit, thus they were used only in low-power, sub-compact cars. Audi engineers overcome this limitation by replacing the belts with a vanadium-plated, steel, link-plate chain used in conjunction with the hydraulically adjustable sets of beveled split pulleys. Using feedback from the engine management system, the Audi CVT selects the precise gear ratio to delivers the ideal amount of torque to match load conditions at any given moment.
The Audi multitonic® CVT is now offered in the A4 1.8T, A4 3.0 V6 and A6 3.0 V6. The 1.8T is a 1.8-liter turbocharged four-cylinder engine that produces 170-horsepower at 5900 rpm and 166 pound-feet at 1950 rpm. The normally aspirated 3.0-liter V6 produces 220-horsepower at 6300 rpm and 221 pound-feet of torque. The multitonic CVT is now only available with Audi FrontTrak front-wheel-drive. Audi engineers are still working on adapting a CVT for use with Audi's quattro, all-wheel-drive system. This means you can order an Audi A4 and Audi A6 sedan as well as the A4 Cabriolet with multitronic®. Avant station wagon models are offered only in quattro form.
And how well does multitronic® work? Only the very observant will notice the difference between it and today's smooth automatic transmissions. Listen and feel carefully and you might notice a momentary hesitant at launch, but shifts are velvet smooth. Indeed, the Audi designers artificially programmed shift points in. Otherwise, the CVT would work electric car-like, so Audi felt drivers would prefer a more conventional feel in an automatic tranny. Like many automatics today, there is a manual shift mode. In this case like a six-speed manual. Control is either via the console mounted shift lever, or buttons located on the steering wheel like in a Grand Prix racecar.
I drove both the A4 1.8T and the A4 3.0 V6. Surprisingly, even with a 50-horsepower difference, I found that it would take a stopwatch to tell the difference. The turbocharger on the 4-cylinder does its job so well. According to Audi, the engines are so fuel-efficient and clean that they qualify for California's Ultra Low Emissions Vehicle certification. The fuel tank holds 18.5 gallons, great for long distance cruisers – Audi's forte.
A4 1.8T A4 3.0 V6
Multitronic 20 mpg city/29 mpg hwy 19 mpg city/27 mpg hwy
5-speed Manual 22 mpg city/31 mpg hwy N.A.
The rest of the package is typically Audi, meaning great. The styling, which was new for 2002, is handsome and a bit understated. Handling and ride quality is excellent, definitely German tight and taut. I made a lengthy trip with the A4 1.8T and was not a bit tired after 3-4 hour stints behind the wheel. Instrumentation, controls, interior room and cargo space bring no complaints.
Even these "entry level" Audi feature advanced technology like computer-assisted traction control and an electronic stabilization program (ESP) for skid control. Other standard equipment includes automatic climate control system with dual-zone thermostats and carbon micro-filtration. There is also an AM/FM/CD sound system with a six-CD changer in the dash. Safety-wise there are dual front airbags, front-seat side airbags, curtain-style head protection airbags and anti-lock brakes with Brake Assist. Significant options include Xenon headlamps, rear side-impact airbags, OnStar, Bose 200-watt premium audio system, and a sunroof. Prices for the A4 1.8T start at $26,760 and $32,250 for the A4 3.0 V6.
The bottom line – great value in a car that combines the latest technology in an upscale German-built sports sedan. By Bill Siuru © AutoWire.Net - San Francisco

Audi Home Page
Byline: Syndicated content provided by Tony Leopardo © AutoWire.Net
Column Name: The transmission of the future here today
Topic: The 2003 Audi A4 with CVT
Word Count: 1032
Photo Caption: The 2003 Audi A4
Photo Credits: Audi Internet Media
Series #: 2002 - 37
Download the Microsoft Word version here: 2003 Audi A4
Download the original image file here: 2003 Audi A4