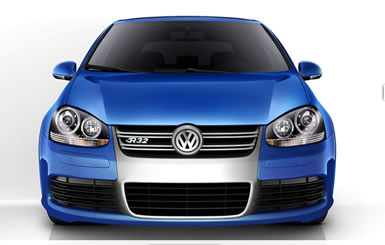 CAR REVIEW: Decades ago, Volkswagen gave its Rabbit and Golf a boost and made it into the GTI. There wasn't that much more juice on tap, but with a firmer suspension and a few visual extras the spunky little three-door hatchback created a ton of enthusiasm for pocket rockets. The GTI is the ancestor of today's Volkswagen R32.
Some drivers are never satisfied. Today's GTI is tough and sporty, but the R32, which stands for Racing and a 3.2-liter engine, out muscles it. Compact on the outside, but surprisingly heavy at 3,547 pounds, the R32 can shuttle five people effectively. And with 250 horsepower and 236 lb.-ft. of torque, it does it very quickly through VW's 4Motion all-wheel-drive system.
Volkswagen claims a zero-to-60 time of 6.5 seconds. And that's without a turbo.
VW's narrow angle VR6 engine has a V of only 15 degrees. That means all six cylinders share a single aluminum alloy cylinder head. That formula has worked for speedy VWs for quite a while now.
The EPA gives the R32 fuel economy numbers of 18 City, 23 Highway - pretty good considering the car's potency. I scored an average of 21.4 mpg, based on 1,919 miles, which included my test and the few drivers before me who didn't reset the trip computer.
The EPA awards the new R32 a 6 for both Air Pollution and Greenhouse Gases scores - a little above average, especially good considering that six-and-a-half-second zero-to-sixty run.
The R32 comes only with VW's six-speed Direct Shift Gearbox (DSG). It essentially is a manually controlled automatic, through a floor-mounted shift lever or paddles on the steering wheels. Simply flick the left paddle to downshift or the right one to shift up. Racers appreciate the virtually immediate gear changes possible with this double-clutch device. I missed the manual six-speed from my 2004 R32 test car, but I realize that the good, old-fashioned manual transmission is going the way of hand crank starters, carburetors, and eight-track players.
The previous R32 was, like this one, sold as a limited edition of 5,000. After supplies of the previous R32 got snapped up, there was a drought until these new cars returned on the new body design. Still recognizable as a "two-box" shaped VW Golf and Rabbit, the R32 adds a more aggressive face with unique grille and front spoiler and body-color bumpers.
Body color spreads to the side strips, mirrors, door handles and outside mirrors too. The rear flaunts a roof spoiler. The sporty 18-inch alloy wheels have 20 spokes apiece! Of course you get R32 badging, but even with that, it's easy to not know how potent this baby is, especially in the Candy White paint of my tester. What kind of candy are they talking about, anyway?
VWs boast some of the best executed interiors in the industry. The seats in my tester were supremely comfortable and supportive. The dash and doors look strong and solid, and the design is easy to use. The R32 gets sparkling brushed chrome accents.
Of course, there are racy alloy foot pedals and an "R" integrated into the seats. The fat, leather-wrapped steering wheel feels hefty in your hands. My tester had the optional iPod attachment in the center console, which killed off the six-disc CD changer, but allowed control of the little player from the car's knobs. With the iPod, you don't need to carry CDs anymore and soon you can add them to the list of automotive dodo birds from a few paragraphs back.
With all that power underfoot, it's good to have electronic brake-pressure distribution. This system varies the amount of brake force for each wheel based on road conditions. Brake assist makes sure you get the maximum braking during emergencies. You can see the VW's sturdy blue brake calipers though the wheels. There are lots of airbags in case of an unavoidable crash.
With its power and features, not to mention its limited edition status, the R32 prices out at $32,990 plus $640 for destination charges. My tester added a $1,800 navigation system to that. For entertaining driving, combined with reasonable mileage and a decent carbon footprint, the VW R32 is about ideal.
By Steve Schaefer © AutoWire.Net - San Francisco

Byline: Car Review provided by Tony Leopardo © AutoWire.Net
Column Name: R32 is Racing and a 3.2-liter Engine
Topic: The 2008 Volkswagen R32
Word Count: 763
Photo Caption: The 2008 Volkswagen R32
Photo Credits: Volkswagen R32 Internet Media
Series #: 2008 - 27
Download the Microsoft Word version here: 2008 VW R32
Download the Original Image File here: 2008 VW R32