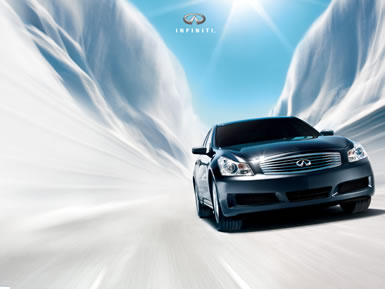 Infiniti Review: Infiniti's G37 sedan feels more like a sports car than most of its competitors. It's light, nimble and powerful, rewarding drivers with its make-you-smile handling.
Infiniti upgraded its materials in the G37's cabin this year, offering more soft-touch panels that feel luxurious. And if you're in the business of selling cars these days, it's popular to call your slightly sporty sedan a "four-door sports car."
That only makes sense, after all, customers don't want to imagine themselves driving the Mommy Mobile wearing frumpy clothes on their way to the super center to buy a can of baby formula.
No, car buyers want to see themselves as Dustin Hoffman driving his Alfa Romeo with the top down through glorious, golden sunshine. But they can't have an Alfa Spider because they need four doors, so they settle for the next best thing: the "four-door sports car."
That's unfortunate, because most of these vehicles are, indeed, cars and do, indeed, have four doors. But the "sports" part is woefully lacking. Not in this Infiniti.
This car, the G37 Sedan, drives far more like a sports car than most of its competitors. Equipped with the performance package and a manual transmission, the G37 can provide the kind of white-knuckled thrills that you'd normally find in, say, the Porsche Boxster, only with far more luxury and an actual back seat.
Even BMW, often thought of as maker of the world's sportiest sedans, doesn't quite match the nimble, lightweight, turn-on-a-dime feeling in the G37. BMW ultimately makes some impressive driving machines, but they're brutal, muscular fullbacks. This Infiniti is a swift wide receiver.
With rear-wheel drive, 328 horsepower and exceptional balance, the G37 is the kind of car that makes you want to turn off the traction control and flog it through the twisties. It's sensitive, communicative and playful.
It's also quite luxurious. Leather seats come standard, along with a key that lets you start the car wirelessly, and a 7-inch color display on the dash. Optional features include a navigation system with a hard drive to store your music and a rear-view camera that lets you see better when backing up. It even has a standard 10-speaker Bose stereo called the "Studio on Wheels."
A couple of improvements are worth noting. The G37 has a new 3.7-liter V6 engine this year improving performance, even though last year's engine was no slouch. And it has a seven-speed automatic transmission that should help with fuel economy.
What was tested? The 2009 Infiniti G37 Sedan 6 speed MT with a base price of $34,250. Options on the test car include: The Premium package $2,500, illuminated kick plates $350, rear deck spoiler $520, navigation package $2,150. Total MSRP price as tested including the $815 destination charge: $40,585.
Why avoid it? Some people may find the ride harsh, especially with the sport package. It's more about crisp handling than highway smoothness.
Why buy it? This is a luxury car for people who appreciate performance as much as they do comfort. It drives exceptionally well, looks sharp and has lots of technology.
Bottom Line: The G37 starts around $33,000, which isn't a bad price for BMW-like performance and luxury. It compares well with the BMW 5-Series in some ways, but it costs less than the smaller 3-Series.
By Derek Price © AutoWire.Net - San Francisco

Byline: Infiniti Review provided by Tony Leopardo © AutoWire.Net

Column Name: The G37 4-door luxury sedan is playful and communicative
Topic: The 2009 Infiniti G37 Sedan
Word Count: 622
Photo Caption: The 2009 Infiniti G37 Sedan
Photo Credits: Infiniti G37 Internet Media
Series #: 2009 - 22
Download the Microsoft Word version here: 2009 Infiniti G37
Download the Original Image File here: 2009 Infiniti G37